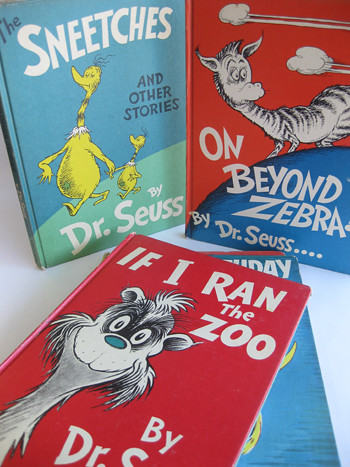 Photo courtesy of flickr
Recently, Dr. Seuss Enterprises announced that they would stop publishing six of Dr. Seuss's books after a group of "experts" deemed that his books portray "people in ways that are hurtful and wrong." The decision, however, to "cancel" Dr. Seuss's books is simply wrong. It's a modern day book burning that is unfortunately becoming all too familiar in our increasingly illiberal society.
A free, liberal society is a marketplace for all ideas — something we've strived for in America since our nation's founding. Banning Dr. Seuss's books is a very dangerous precedent. If the author of beloved classics such as Cat and the Hat and Green Eggs and Ham can be canceled, then anyone can. Holding past figures to contemporary standards or tastes raises such a high bar that it will eliminate more books and deprive future generations of being exposed to a wide range of views, controversial though some of them may be.
The great irony of the situation lies in the content we deem acceptable for children. Violent and graphic video games are defended, and getting upset that your young child witnessed a singer on a stripper pole during the Super Bowl Halftime Show is viewed as a sign of being uptight. But a children's book — a book that teaches children to enjoy reading — that's the problem in our society. How can this be? Dr. Seuss's politically incorrect phrases enrage woke censors, but where are they for the flagrant and obscene words that populate thousands of songs?
To sum it up, look to Ebay. Ebay, a website which sells used products, announced that they would remove the six canceled Dr. Seuss books from their website. However, Adolf Hitler's "Mein Kampf," the most anti-Semitic and hateful book written in history, continues to be bought and sold through the website. But Dr. Seuss, that's what we need to crack down on, right?
It must be acknowledged that Dr. Seuss's books were written in a different time, and it's understandable that some would find his illustrations offensive. But Dr. Seuss was a progressive liberal; in fact, his book titled "The Lorax" was an early environmentalist advocacy book. Had he written his books today, he likely would have drawn illustrations differently and chosen his words more carefully. But he didn't write his books today. He wrote them starting in the late 1930s — a time when the US was at war with two brutal, evil powers: Nazi Germany and Imperial Japan. This was the context that shaped many of his views.
Dr. Seuss has written incredible books with powerful themes. The Sneetches is perhaps the most powerful of them. In the book, some of the Sneetches (made-up creatures) have stars on their bellies while others don't. At first the Sneetches with stars discriminate against those without them. But, by the end, all the Sneetches learn that no Sneetch is superior to the other, with a star or without one. Written in 1961, this piece denounces anti-Semitism and all forms of bigotry and racism, capturing the powerful themes of the Civil Rights Movement.
"The Sneetches got really quite smart on that day / The day they decided that Sneetches are Sneetches / And no kind of Sneetch is the best on the beaches. / That day, all the Sneetches forgot about stars / And whether they had one, or not, upon thars," Dr. Seuss concluded his powerful story.
Indeed, Dr. Seuss stood up to racism of all kinds. He wrote his books so kids would not just learn to enjoy reading but so that they would learn that racism is wrong. Banning his books accomplishes nothing other than depriving children from his books' powerful themes of openness and tolerance.
To be sure, Dr. Seuss does not meet today's woke liberal standards, but he was a liberal storyteller nonetheless.