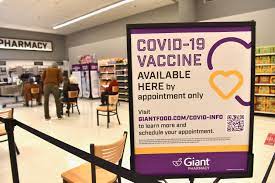 Photo courtesy of Wikimedia Commons
Montgomery County Public Schools has already begun phasing students into in-person learning and will be welcoming more students throughout April, but many county residents are concerned because a large number of MCPS teachers have not yet received their vaccine.
According to social studies teacher Nathan Schwartz, MCPS employs approximately 13,000 teachers but only about 4,500 have been given a vaccine.
Math teacher Laura Brager is one of the teachers who did not receive a vaccine through MCPS.
"I never received an email from Johns Hopkins. I'm sure there are a lot of logistics that I don't fully understand, but I do think it's unfair to expect teachers to be back in the building without providing sufficient help in getting them vaccine appointments. I went ahead and got an appointment on my own. I'm happy that I did because, at this point, if I had waited for MCPS, I would definitely be back in the building before being fully vaccinated," Brager said.
The State of Maryland had prioritized school educators receiving the vaccine by placing them in phase 1b but after the initial 4,500 appointments made by MCPS staff, MCPS announced that the vaccine would not be available for five weeks causing many teachers to return without being vaccinated.
The remaining significant number of teachers must find other ways to get vaccinated, Schwartz being one of them.
"…Roughly 8,000 to 9,000 teachers have to figure out getting the vaccine on their own which is what I did. The county has told teachers that it takes up to five weeks to get the vaccine to them. That was about three weeks ago but most teachers have not heard anything since then. So what that ultimately means is that many teachers will be going back into the classroom without being vaccinated," Schwartz said.
Many teachers protested outside of the school board building voicing their complaints about the school system's plan of bringing students back to school in the middle of a pandemic. Parents and students have long advocated for a safe return to school which puts additional pressure on teachers who would like to be in school but also want to protect themselves and their families.
"I understand that families that haven't had their kids back at school want their kids back at school but you can see it puts teachers in a tough place. Do they [teachers] want to teach in person? Or do they want to protect themselves and their families? I'm certainly one of the lucky ones because that won't be a problem for me and I'm excited and happy to go back but others are not," Schwartz said.
Considering that Maryland Governor Larry Hogan has also put pressure on school districts to open up, proponents have argued that the state and county should have made it a priority to vaccinate teachers and educators in order to prevent and lower the number of teachers getting sick.
"I think all teachers being asked to return should be offered the option to be vaccinated as even with the safest precautions, it's still risky to be exposed to groups of people," English teacher Jenelle Peterson said.
Now that the one-dose Johnson and Johnson COVID-19 vaccine has been authorized by the FDA, Maryland will be allocating 50,000 doses this week to vaccine providers. The additional amount of vaccines will be distributed to the remaining amount of people in phase 1 who have not received the vaccine including teachers and educators.