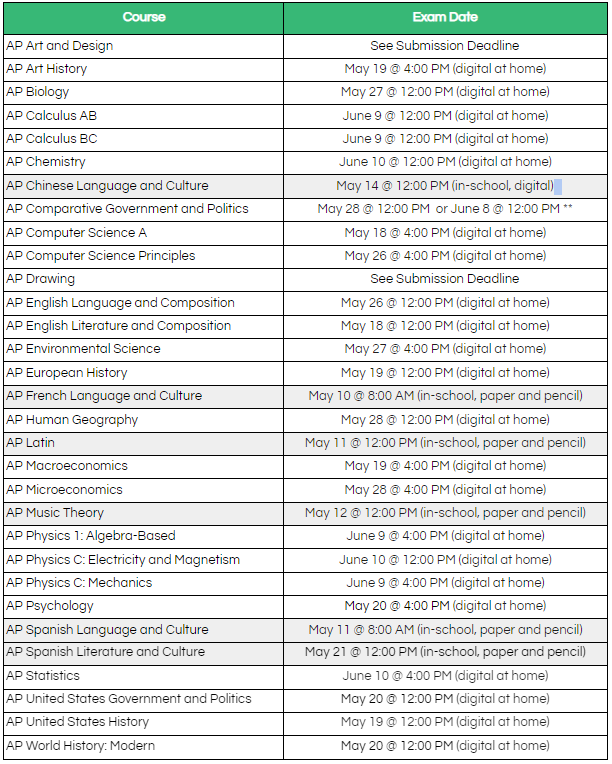 Photo courtesy of WJ Administration
Recently, the WJ administration released its 2020-2021 AP exam schedule for students and parents. This came in light of the College Board's announcement to provide both on-paper and digital exams as well as provide the option for at-home testing, allowing school districts to decide for their own students.
As the county has begun in-person instruction, MCPS schools will be continuing with at-home digital testing for most exams, similar to the format of last year's AP testing experience. Exceptions include the music theory and world language exams, which are required to be in-person.
The College Board's announcement came with a declaration that the testing period would be spread out over three different sessions throughout a two-month period from May to June. Taking from this, WJ's testing schedule begins with its first exam, AP French Language and Culture, on May 10 and its last exam, AP Statistics, on June 10.
Unlike the previous year's abbreviated online exams, this year's digital testing option will be a modified version of traditional in-person exams, although with a few differences.
"I don't know too much about how AP testing is going to go this year, but I am glad that it's full length at least because it was kind of stupid that they based your entire score on one or two essays last year. I was lucky last year in that I didn't have any technical [or] WiFi problems during the test, but I know a lot of people did. I think CB is doing something about that though, which is good. Also, most people in the country are taking it online, so I don't understand why the prices for each exam [are] so much higher now," senior Lan On said.
While both the in-person and online exams for this year span the full two to three hours length, the online version does not allow for students to switch between questions during exams; students must answer each question sequentially.
"[The] College Board has said that people won't be able to move back on questions [for online tests], only forwards, and this is hugely detrimental to any testers who aren't neurotypical — students with ADHD or autism, to name a few — or have been diagnosed with anxiety or depression. A lot of these students, and a lot of students overall, rely on being able to go back and forth between questions in a given section, so they can think through different problems or make sure to do ones they're feeling the most confident about, and if they don't have this opportunity, their scores will suffer a lot," junior Sophia Meytin said.
This year, the online exam will not be completely the same as its in-person counterpart: some online exams will have shortened free-response portions and instead have lengthened multiple-choice sections.
A difference between this year's digital testing from last year's comes from the fact that unlike the previous year's online testing, this year's exams will not have the option for file submission. Students will not be allowed to take a picture of hand-written work and must instead type out all work. In addition, submissions must be made through an external downloaded application instead of the website used last year.
MCPS's decision to nonetheless continue with digital, at-home testing has sparked both positive and negative reactions within both staff and students.
"For us, we've kind of been on-target, and so it's a bit of a momentum killer, in my mind. We were aiming for May 4th all year, and now it's a month later… Certainly, I'm disappointed that we have to wait until June [for] it," AP Calculus BC teacher John Chase said.
"Online-restricted testing is inherently biased towards wealthier students who can afford a better computer or a bigger monitor or more than one graphing calculator, so poorer students or ones that just have less access to technological resources are getting the short end of the stick as well… When you combine the inherent wealth bias with the lack of adequate accommodations or even just basic testing setups for students that need them, this paints a picture of a testing experience that is neither sustainable nor equitable," Meytin said.
WJ's AP testing schedule can be found here: https://docs.google.com/document/d/1zFKpALet-YnoyeJAnTtyVrN-eHu31oRqgb1PtAZDO7I/.