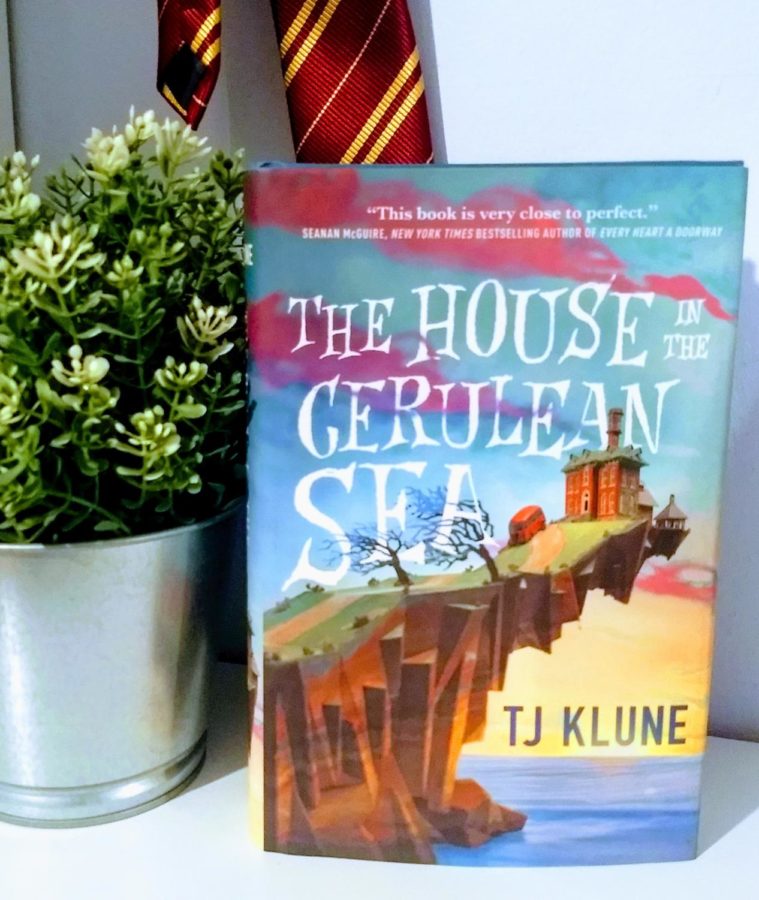 Photo by Stella Hadamer
Hello! Welcome to the Pitch book club's first official review! First off, let's introduce its members: Stella (that's me), Cyiza, and Aya. We are sometimes joined by guest reviewers from the Pitch staff and may even feature some other WJ student opinions. You can participate by filling out the form in the Pitch's Instagram bio (@humansofwj) and by looking out for the next book of the month! You can even vote for which book you would like that to be using the link previously mentioned.
Book of the Month: "The House in the Cerulean Sea" – by TJ Klune
Linus Baker is a by-the-book caseworker in the Department in Charge of Magical Youth. He's tasked with determining whether six dangerous magical children are likely to bring about the end of the world. Arthur Parnassus is the master of the orphanage. He would do anything to keep the children safe, even if it means the world will burn. And his secrets will come to light.
-Blurb from the back of the book
Reviews:
Stella – 5 stars
This was my favorite read of 2021 – by far! I usually don't read lighthearted contemporary fantasy but this book showed me just what I was missing. And that was joy and laughter. It sounds a bit cheesy but I genuinely laughed out loud, cried with the characters (not an exaggeration I actually did shed a tear for this beautiful novel), and rejoiced with every small victory. The main character, Linus Baker, is a misguided bureaucrat who is sent on an assignment to the island of Marysas where he is tasked with determining whether an orphanage of six magical children should be kept open or shut down forever. It is on this island in the cerulean sea that he finds his true family. His heart slowly thaws and soon he finds himself willing to do anything to protect these wonderful children. Full of magic, humor, and messages of anti-prejudice this incredible creation should be read by anyone and everyone. This book will be sure to boost both your serotonin and your capacity for finding love in unexpected places.
Aya – 4 stars
"The House in the Cerulean Sea," is a modern-day children's book for adults. I'm not going to lie, when I first began reading it I was a little skeptical about the recent hype surrounding it "The House in the Cerulean Sea," is a character-driven book with such warm and well-developed characters. The narrator, Linus Baker, is a lonely, middle-aged man who works for the Department in Charge of Magical Youth whose life changed forever when he's called for an important meeting. Baker goes on a top-secret mission to the Marysas Island Orphanage where he meets six dangerously gifted children. We watch the main character and narrator develop from a lonely and sad man to a man who opens up his heart to these unique children. This story had such complex characters who learn to grow into their potential. "The House in the Cerulean Sea," was such a whimsical story that reminded me of "Miss Peregrine's Home for Peculiar Children." Overall, this was a page-turner and a lighthearted story full of loving, complex characters.
Cyiza – 4 stars
This was such an unexpected fun read! There was so much hype surrounding this book and I was trying to keep hopes to a minimum but I was completely blown away. I've read reviews where people have described the book as like a hug, or a comfort book of sorts and I couldn't agree more, it reminded me of the books that I would read when I was younger since it has this sort of whimsical element, but for adults. The characters especially were my favorite part of this fantastical world from Linus to Lucy and all of the others. The dynamic between them was wonderful and humorous. It was super sweet and I definitely cried more than a couple times, the characters, children and adults alike were beautifully written and different. Though there was a touch of romance which was amazing but what I loved the most was that this was a story mostly about growth. Everyone needs to read this truly heart-warming story, and not only bask in it's cuteness, but also its underlying message of empathy, understanding and knowing that there's much more to life.
Favorite Quotes:
"Hate is loud, but I think you'll learn it's because it's only a few people shouting, desperate to be heard. You might not ever be able to change their minds, but as long as you remember you're not alone, you will overcome."
"Humanity is so weird. If we're not laughing, we're crying or running for our lives because monsters are trying to eat us. And they don't even have to be real monsters. They could be the ones we make up in our heads. Don't you think that's weird?"
"Just because you don't experience prejudice in your everyday doesn't stop it from existing for the rest of us."
"Change often starts with the smallest of whispers. Like-minded people building it up to a roar."
"When something is broken, you can put it back together. It may not fit quite the same, or work like it did once before, but that doesn't mean it's no longer useful."
"A home isn't always the house we live in. It's also the people we choose to surround ourselves with."
-All quotes by TJ Klune from "The House in the Cerulean Sea"