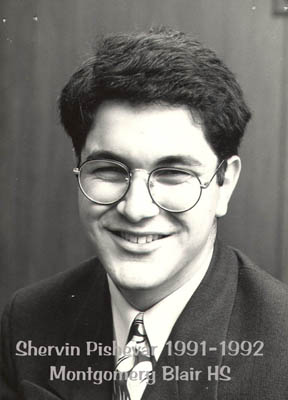 Photo courtesy of MCPS
The position of Student Member of the Board (SMOB) is a highly coveted position in Montgomery County. With full voting rights, the position of SMOB is quite significant. All middle and high school students in MCPS vote for the SMOB, making elections for the position a challenging race. But after the single-year term ends, what does the rest of life look like for SMOBs?
Here is a condensed review of some SMOBs' paths:
Shervin Pishevar
Pishevar was born in Tehran, Iran, and is the son of Abraham Pishevar, a television and radio executive. Abraham was placed on Ayatollah Khomeini's (Former Supreme Leader of Iran) execution list for broadcasting instructions on leaving Iran for foreign nationals, prompting the family's move to Silver Spring, Maryland. Abraham worked as a cab driver and enrolled Pishevar in Montgomery Blair High School.
Pishevar was elected as SMOB in 1991 and served for one year. He then graduated high school and went to the University of California, Berkeley. Pishevar became an entrepreneur and founded WebOS in 1997. The company established the concept of a Web-based operating system and Pishevar was called "Bill Gates' worst nightmare" by the Financial Times.
Pishevar went on to start many more companies like HyperOffice, webs.com and SGN. Additionally, Pishevar has invested in numerous tech startups like Uber, Postmates, Lyft, Airbnb, Dollar Shave Club, Poshmark and many more. His net worth is estimated at over $60 million.
Timothy Hwang
Hwang was born in Michigan, the son of two South Korean immigrants. His family later moved to Potomac, Maryland where he was enrolled in Wootton High School. At age 14, he founded his own non-profit organization called Operation Fly, which was inspired by his church mission trip to Guatemala. When he was 16-years-old, he was recruited by the Obama campaign.
Hwang graduated from Wootton in 2010 after serving as the 32nd MCPS SMOB and was admitted to Princeton University. While finishing his degree at Princeton, he started the company FiscalNote with four other software developers, having only $20,000 collectively. They were living in a Motel 6 in Silicon Valley.
Hwang's mission was to "unlock government data and invent the future of law" which started to develop during Hwang's years at Harvard Business School, prompting Hwang to leave Harvard. Hwang convinced Mark Cuban, owner of the Dallas Mavericks and Shark Tank star, to become a lead investor in his company along with Jerry Yang, the founder of Yahoo. He later raised more than $230 million from other companies. Hwang moved FiscalNote to Washington D.C. where his firm has grown to become one of the largest software employers in D.C.. Fiscal note uses data from state statutes, federal regulations and court rulings to predict the outcome for pending legislation. That data is then released to clients like lobbyists, politicians and corporations.
Ben Moskowitz
Moskowitz was the first and to this day the only SMOB from Walter Johnson High School. Starting his years at Walter Johnson in 2004, Moskowitz was elected as the SMOB in 2007 where he served for one year.
Moskowitz graduated from WJ and went on to the University of Pennsylvania for four years and then to Yale Law school for another four years. Moskowitz now works as Associate Director at the Mayor's Office of Legal Counsel in Washington, DC.
David Naimon
Naimon was the first-ever MCPS SMOB who served from 1978-1979. Naimon attended Northwood High School and went on to Princeton University from 1979-1983 and then the University of Virginia School of Law for four years.
Naimon now works as the Deputy Associate General Counsel for Public Health and Science at the U.S. Department of Health & Human Services and is a member of the Montgomery County Board of Elections.
Traci Williams
(Photo from 2008)
Williams was not only the first female SMOB but also the first African-American SMOB. Williams served from 1980-1981 and was the third ever SMOB. She graduated from Walt Whitman High School and went on to be an accomplished theatre artist and artist educator.
Sadly, she passed away at age 45 on December 14, 2008, from cancer. Williams is remembered as having displayed "uncommon grace, dignity, and strength of character as she worked to assure respect and authority for the voice of the student by successfully fighting for the expansion of the SMOB's voting rights and ensuring that the SMOB votes on key issues affecting MCPS," SMOB Quratul-Ann Malik said.
John Foubert
Foubert graduated from Montgomery Blair High School in 1986 after serving as the 8th SMOB for one year. Foubert went to The College of William and Mary and University of Richmond, eventually earning his Ph.D. at Maryland College Park.
"[Foubert] is Dean of the College of Education at Union University, Principal of Dr. John D. Foubert, LLC, and serves as the Highly Qualified Expert for Sexual Assault Prevention for the U.S. Army. Dr. Foubert founded the national nonprofit organization, One in Four, an organization that worked for 20 years to apply research to rape prevention programs on college campuses, in communities, and in the military," according to johnfoubert.com.
Foubert has written numerous books about the prevention of sexual violence, managing life in college residence halls and the harms of pornography. Foubert was the first scholar to document a decrease in sexual violence resulting from a prevention program. He also founded the non-profit organization One in Four in 1998 which is committed to ending rape through the most effective methods established through scientific research.
Eric Steinberg
Steinberg served as the 9th MCPS SMOB and attended Walt Whitman High School. He attended the University of Vermont and the University of Kent in England. Steinberg went on to receive an acting fellowship at the University of California at Irvine. Steinberg has played in Pretty Little Liars, CSI: Crime Scene Investigation, Stargate SG-1, NCIS, CSI: Miami, and Star Trek.
https://www.montgomeryschoolsmd.org/boe/smob/history.aspx
Potential:
Andy Herscowitz: Chief Development Officer at U.S. International Development Finance Corporation (manages projects in underdeveloped countries) https://www.dfc.gov/who-we-are/executive-staff/andrew-m-herscowitz
Kurt Hirsch: Chief Administrative Officer & General Counsel at Jellyvision https://www.linkedin.com/in/kurt-hirsch-b349623/
Chan Park: Director of Congressional Affairs at Microsoft https://www.linkedin.com/in/chanpark1/
Alison Serino: Principal of Westland Middle School in MCPS https://www.linkedin.com/in/alison-serino-0402547/
Jonathan Sims: Associate Professor of Strategic Management at Babson College https://www.linkedin.com/in/jonathansims/
Geonard Butler: Assistant Chief, Juvenile Section (Public Safety Division), Office of the Attorney General for the District of Columbia
https://www.linkedin.com/in/geonard-f-butler-ii-35899911/
Dustin Jeter: Teacher at MCPS and Varsity Football Coach at Springbook High School
Sagar Sanghvi: Former CFO at Instacart https://www.linkedin.com/in/sagar-sanghvi-5161a370/
Sebastian Johnson: Advocacy Chief of Staff at Arnold Ventures
Sarah Horvitz: Director Political and Membership Engagement at Planned Parenthood Federation of America
Quratul-Ann Malik: Co-Founder and CEO, herDomain (not confirmed) https://generalassemb.ly/instructors/quratul-ann-malik/21313
Alan Xie: Senior Product Manager at Microsoft https://www.linkedin.com/in/alanrenxie/?trk=public_profile_samename_profile_profile-result-card_result-card_full-click
John Mannes: Investor at Basis Set Ventures. Human hunting for intelligent machines. https://www.linkedin.com/in/johnmannes/
Dahlia Huh: Analyst at Spencer Stuart
Eric Guerci: Student at Princeton University
Matt Post: Student at Yale
Ananya Tadikonda: Student at University of North Carolina at Chapel Hill