Six LGBTQ+ books to read for Pride
It can be hard to find any YA books with LGBTQ+ leads at all, let alone any really good books. When members of our community are so often put as side characters and token representation in books, it is immensely powerful to be able to read books where people like us are the main focus, where our love stories are represented. With Pride month coming up, now is the perfect time to start celebrating by reading some amazing queer books. I unintentionally started working on this list months ago as I scoured through the Montgomery County Public library website to find books with LGBTQ+ characters. Therefore, most of the books on the list can be found in an MCPL library (check the book search function on the website). I have also included links to their Amazon pages.
As a disclaimer, these are obviously only a small portion of the LGBTQ+ books out there. Some of the ones included are from outside suggestions but a lot of them come from my own reading experience. Through the process, I have realized that a lot of my book selections don't have people of color as the main lead. There are many books out there with LGBTQ+ protagonists of color; so this process has shown me that as a White person, I clearly have a bias that I need to pay more attention to. With this in mind, I have made an effort to include highly regarded LGBTQ+ books that offer more diverse perspectives. There are many other books out there and I encourage you to keep exploring and check out this website: https://www.bustle.com/articles/156314-23-lgbtq-books-with-a-poc-protagonist-because-its-time-to-diversify-your-reading-list
Anyway, on with the list:
Title: "The Music of What Happens" by Bill Konigsberg
Genre: Realistic fiction, romance
Summary: Told from the perspectives of two very different boys who run a food truck together over the summer: Max, an out dude-bro, who is reeling from a recent traumatic incident with an older boy, and Jordan, a not-chill poet with a spiraling-out-of-control mother. As the summer progresses, they figure how to face their issues together and grow as people. The book deals with complex issues such as toxic positivity, really well and is an enjoyable read.
Link: https://www.amazon.com/Music-What-Happens-Bill-Konigsberg/dp/1338215507
Title: "Simon vs the Homo Sapiens Agenda" by Becky Albertalli
Genre: Realistic fiction, romance
Summary: Simon Spier is in the closet to everyone in his life except Blue, the pen name for another closeted gay guy at his school who he emails with. This setup is working okay until his emails fall into the wrong hands and before he knows it, Simon is being blackmailed by someone he thought was a friend. Simon has to deal with lying to everyone in his life and his growing feelings for Blue
Personal note: This is a classic YA LGBTQ+ book and I can't tell you how many times I have reread it. It was made into a movie, but the book is much better; even if you have seen the movie, you should read the book.
Link: https://www.amazon.com/Simon-vs-Homo-Sapiens-Agenda/dp/006234868X
Title: "Dress Codes for Small Towns" by Courtney Stevens
Genre: Realistic fiction, coming-of-age
Summary: Billie McCaffrey doesn't fit in anyone's box. She loves her small town and her tightly-knit group of friends, so she doesn't feel the need to define herself to anyone, even to herself. But as tensions in the friend group start forming over the summer, Billie starts questioning her sexuality and gender identity, especially as she realizes she may be in love with more than one of her friends.
Personal note: I really liked how this book offered up a more positive representation of a small town and close-knit community. It is pretty unusual for queer teens in YA books to plan on returning to their small town after college, so Billie's love and pride for her community is really refreshing. The story has a lot of plot but it is really well balanced and enjoyable.
Link: https://www.amazon.com/Dress-Codes-Small-Courtney-Stevens/dp/0062398512
Title: "The Henna Wars" by Abida Jaigirdar
Genre: romance, realistic fiction
Summary: Nishat is a lesbian, but she is also a Muslim. So when she comes out to her Bengali parents, they insist that she hides this part of her identity away. However, this is increasingly hard as her childhood crush Flávia comes back into her life. Things become even more complicated as Flávia and Nishat both choose to run henna businesses for their school business competition and Nishat has to deal with her feelings for Flávia as well as her anger about her appropriating her culture. The book also takes place in Ireland, and throughout the book, we see Nishat struggle with her feelings of displacement and being stuck between two worlds.
Personal note: Nishat has a really close relationship with her sister, which is a highlight of the book for me. Link:https://www.amazon.com/Henna-Wars-Adiba-Jaigirdar/dp/1624149685/ref=tmm_hrd_swatch_0?_encoding=UTF8&qid=&sr=
Title: "Juliet Takes a Breath" by Gabby Rivera
Genre: Realistic fiction
Summary: Just after coming out, Juliet Milagros Palante leaves the Bronx and heads to Portland, Oregon, to intern under one of her favorite authors. Unsure if her mother will ever speak to her again, Juliet embarks on a journey of self-discovery as she tries to figure out what being a Puerto Rican lesbian means for her.
Link: https://www.amazon.com/Juliet-Takes-Breath-Gabby-Rivera/dp/0593108175
Title: "Dreadnought" by April Daniels
Genre: Superhero, action
Summary: Fifteen-year-old Danny Tozer is a closeted trans girl, struggling with how her body is betraying her through puberty when the superhero Dreadnought crashes down and dies in front of her. Before he dies, he transfers his powers to her which somehow also physically transitions her into the right body. As she deals with living her life in her new body and people's reactions, she also explores her superpowers and learns how to be a hero.
Personal note: I really liked how this book shows Danny's transformation as a person as she grows into her new powers and learns how to stand up for herself.
Link: https://www.amazon.com/Dreadnought-Nemesis-Book-April-Daniels/dp/1682300684
Honorable mentions:
"What if it's us?" by Adam Silvera and Becky Albertalli
"Between Perfect and Real" by Ray Stoeve
"The Necessary Hunger" by Nina Revoyr
"We Contain Multitudes"by Sarah Henstra
"An Absolutely Remarkable Thing" by Hank Green
"The Art of Starving" by Sam J. Miller
"Leah of the Offbeat" by Becky Albertalli
"Quiver"by Julia Watts
"Symptoms of Being Human" by Jeff Garvin
Your donation will support the student journalists of Walter Johnson High School. Your contribution will allow us to purchase equipment and cover our annual website hosting costs.
About the Contributor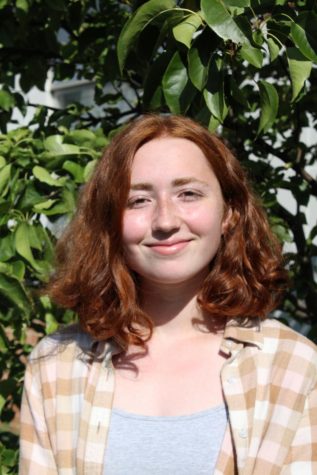 Cora Flynn, Print Feature Editor
Cora Flynn is a senior and in her second year on the Pitch. Aside from writing for the Pitch, Cora spends her time running, making art and hanging out...