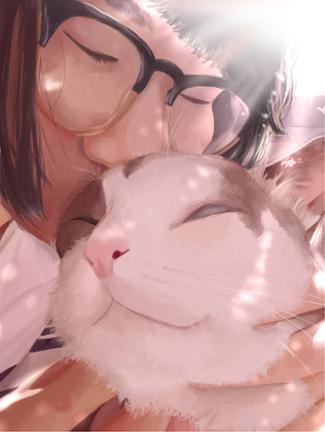 Photo courtesy of Jamie Raskin
Junior Yun Ji Choi was declared the winner of the 2021 Congressional Art Competition for Representative Jamie Raskin's 8th district. Her winning piece, titled "Promise To Keep You Safe", will be displayed inside the U.S. Capitol.
The digital piece depicts Choi in an intimate moment with her cat, Oliver. "I want people to feel a sense of calmness and joy when they look at this drawing, almost as if they are experiencing how I was feeling at that moment. And overall, I just want people to understand how deep a relationship between a person and their pet is, and how each bond is unique, as no animal or person is the same," Choi said.
Raskin has publicly praised her work. "It's a beautiful rendering of the relationship between a person and an animal. It's just a gorgeous piece of art," Raskin said.
Choi was certainly surprised upon discovering her win. "I'm just very grateful that this all happened, I honestly submitted on a whim … I never expected that anything like this would happen," Choi said.
She is dual-enrolled in the arts magnet program at Einstein High School. Most of her experience as an artist has come from creating individualized works to develop her abilities. "I do remember painting a ceiling tile during 8th grade in my art class, and of course, I have joined numerous competitions," Choi said.
Her art style is influenced by various social media artists and her preferred medium is digital. "I really like how there are so many ways you can manipulate an image, like using the lasso tool. And the fact that you are given wide ranges of colors, brushes, and canvas sizes at your will, which definitely lowers the costs of art materials," Choi said.
Also, the subject matter of her works often have a positive connotation. "I don't like to touch around darker subjects as it demotivates me to continue the piece. I really just like to draw what makes me happy, like the shows I watch, the games I play, my family and my friends," Choi said.
In addition, she wants to pursue a career in the arts. "I really hope that I am able to go to one of my top colleges and be able to make a living off of a hobby that I have poured my life into," Choi said.
Like numerous other artists, Choi has faced challenges due to being in quarantine and managing school. "But, amidst all that stress, even the small doodles in my sketchbook or on the margins of my notebooks, art genuinely helped me focus and provide some form of escapism," Choi said.
Overall, she was satisfied with the outcome of her now award-winning piece. "When I finished that drawing, I felt extremely proud that I was able to make something to what I envisioned, and able to express all my feelings in that work. This was also one of my first times where I actually attempted to do a semi-realistic piece of art, so I was glad I was able to execute it well," Choi said.