WJ football goes to Washington game
A few days prior to the October 17 game of the Washington Football Team vs. the Kansas City Chiefs, Coach Larry Hurd was contacted by the WFT with news that WJ football was chosen to be their "team of the week". He was only offered 24 tickets to the game, even after asking to bring the whole team.
Due to the limit, Hurd took an approach which was most fair; choosing to only take those who were fans of the WFT. Confused with what his intent was with this information, Washington fans raised their hands when asked. Little did they know, they were in for a treat to attend the Sunday game vs. the Chiefs.
Although there were no Chiefs fans on WJ football, the boys were able to go behind the scenes and hang in the hallway outside of the Chiefs locker room and were able to meet the coaches before watching the team come onto the field.
"It was really cool because most of us haven't had that experience before," senior Christian Langford said.
The team stood on the goal line during the National Anthem and was introduced over the loudspeaker. They were escorted to their seats in the nosebleeds once the game began.
"This was a very positive and exciting opportunity for these boys," Hurd said .
The 24 boys selected were able to go for free as long as they were vaccinated.
About the Contributor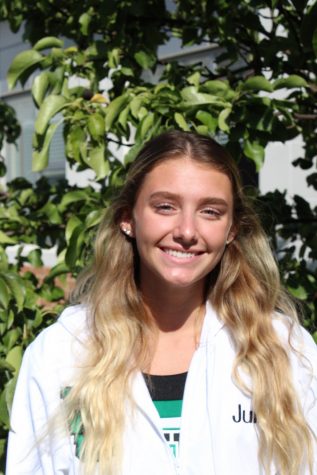 Julia Garms, Print Opinion Editor
This is Julia Garms' first year on the Pitch as a Print Opinion Editor. She is excited to produce articles for the WJ community to read and enjoy. In addition...