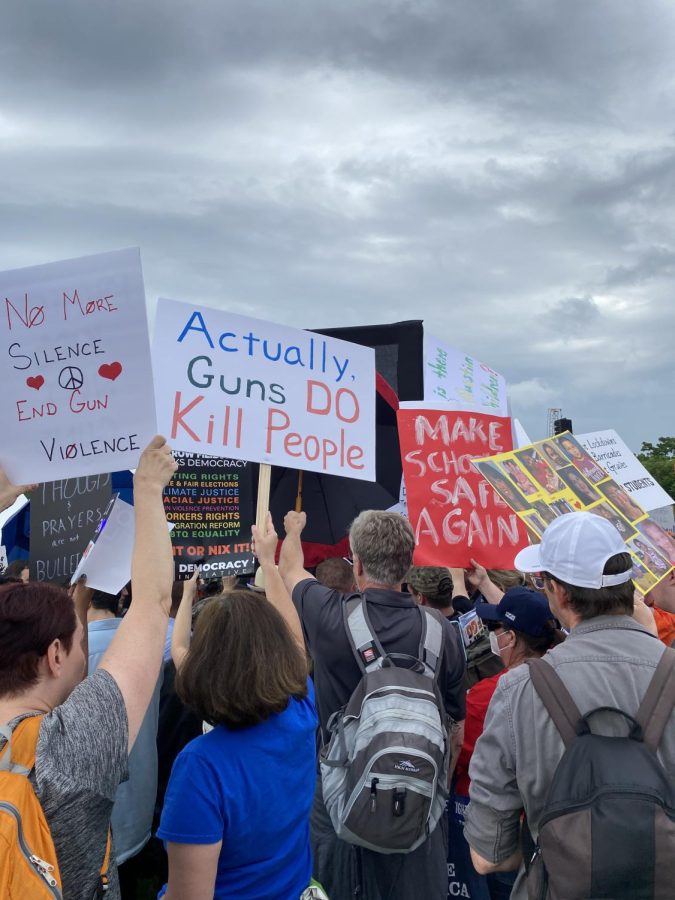 Photo courtesy of Sofia Reyes
On May 24, the nation was shaken when a gunman shot and killed 19 students and two teachers at Robb Elementary School in Uvalde, Texas. 17 other people were injured, including the shooter's grandmother before he left for the school.
The shooter sent out private messages to a 15-year-old German girl before the incident, telling her he was going to shoot his grandmother, then saying "Ima go shoot up a elementary school rn (right now) [sic]."
There has been misinformation about how long it took the shooter to enter the school. Regional director at the Texas Department of Public Safety Victor Escalon initially said that the gunman, Salvador Ramos, spent 12 minutes outside of the elementary school after crashing his vehicle into a ditch. This information has since been corrected, as the gunman entered the school within five minutes after the crash.
Three officers arrived at the scene minutes after Ramos, but the gunman had already barricaded himself inside a joint 4th grade classroom and opened fire. Two of the officers were grazed after approaching one of the doors to the classrooms.
The authorities received multiple 911 calls from inside the classrooms, the first call being made at 12:03 PM by a student, followed by two more calls where they told the operator that there were multiple people dead but many still alive.
Despite this, the commander classified Ramos as a "barricaded subject" instead of an active shooter. Border patrol did not breach the classroom for approximately 80 minutes after the shooter entered. Ramos was killed around 12:50.
There were also rumors that a teacher had propped open a door, which allowed Ramos to enter the school. These rumors have been debunked.
"We did verify she closed the door. The door did not lock. We know that much and now investigators are looking into why it did not lock," Chief Communications Officer for the Texas Department of Public Safety Travis Considine said.
It's upsetting to many people to know that something as simple as a maintenance check could have prevented so many deaths.
"There should be better maintenance checks on whether doors lock. Because active shootings in schools are common, door functions need to be something maintenance checks," an anonymous student said.
The teacher, who has remained anonymous, closed the door after hearing gunshots outside the school. Texas authorities originally said that Ramos was wearing a plate carrier vest that did not have ballistic plates inside of it. They have since retracted the statement that Ramos was wearing body armor.
"I think it's sad that that's what we have to deal with right now. They were just elementary school kids, and that fact by itself is just heartbreaking," freshman CJ MacDonald said.
The father of one of the victims has joined an employee at Robb Elementary in taking steps toward filing a lawsuit against the maker of the semiautomatic rifle used in the shooting, Daniel Defense. They have not yet announced a lawsuit against the gunmaker, but have threatened to initiate the suit if Daniel Defense does not provide information about the company's marketing towards young adults.
"I definitely think they have grounds to sue. People need more intense background checks into mental health state and criminal records before. I think guns should not be distributed to people under 21. The 2nd amendment is outdated, especially with the new technology that's been coming out," an anonymous student said.
Freshman Sophia Reyes went to a march on June 11 in protest of the lack of gun regulation that is blamed to the events that took place in Uvalde
"I went to the march because I believe […] having the march will spread awareness about the issue and Congress can see the people's opinions on gun rights […] It was really good because a lot of people came out to speak and hearing personal stories about the youth and families being affected was really impactful, " Reyes said.