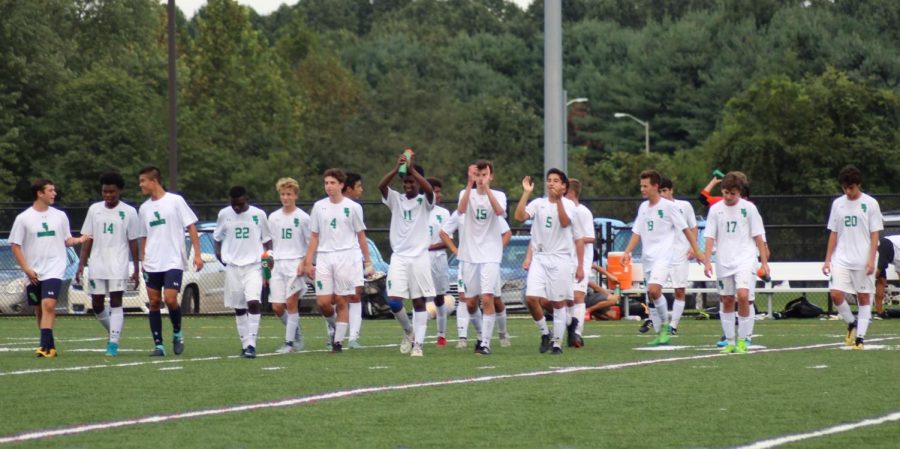 Photo courtesy of John Meyers
Boys soccer has had a season of marked ups and downs. The team now has a 4-5-1 record heading into the playoffs following a dramatic 4-3 win in overtime against Watkins Mill, a 3-1 loss to Wootton and a 2-0 loss against Richard Montgomery all in the past week.
The win against Watkins Mill was an end-to-end thriller. Neither team was able to get more than a one goal lead over the other and WJ only managed to lead against Watkins Mill at the last second when they scored the game winner. Goals from Eduardo Ruiz, Ashraf Al Kebsi, Baasil Saleh and a last-gasp winner from Amir Gugssa eventually lifted the Wildcats over the Wolverines in overtime. Sophomore Ashraf Al Kebsi, who made his debut and scored his first goal for varsity in the win, reflected on how much this goal meant to him and the effort he has put in this season to help the team.
"I put blood, sweat and tears into my training sessions in order to reach my goal of getting pulled up to varsity this year. When I got pulled up I felt so accomplished.However, it didn't stop there. I wanted to do well and score goals on varsity as well.In my first ever game, I scored an important equalizing goal which led to us winning the game later on," Al Kebsi said.
The following two games for WJ didn't go as planned. Two back-to-back losses set the team back a bit, but Al Kebsi believes the team still have what it takes to make a good postseason run.
"I believe that we will put up a fight and have a good run in playoffs. Even though we did lose two out of the three [games this week], we know the small adjustments that we have to make and that the losses don't define us as a team. We have the talent, skill, and most importantly the heart to go far in the play offs," Al Kebsi said.
Junior Haris Pikis agrees that the team is in good shape for playoffs and only have minor improvements to make.
"We've been improving our fitness levels and working harder in practice to be in better shape for the rest of the season."
The team chemistry has been noticeable at recent games and seems to have improved since the beginning of the season, shown by their communication and camaraderie.
"[The team chemistry] has definitely improved since the beginning of the year. We had a lot of returning players this year, but with all the new players the team chemistry wasn't very good at the beginning of the season.
Despite the team's best efforts, they lost their first round playoff game versus Churchill on Thursday,  Oct. 25, by a score of 5-2.