European Soccer Season Preview
More stories from Alex MacDonald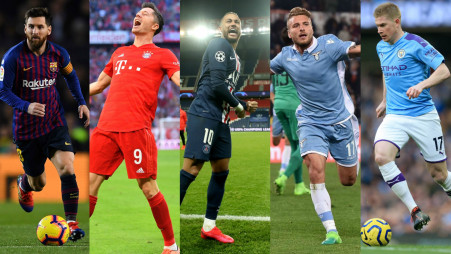 With limits being placed on soccer in Montgomery County this fall, and MLS being mediocre at best, there will be plenty of time to invest in overseas soccer leagues. The five best leagues in the world according to FIFA are the Italian Serie A, German Bundesliga, French Ligue 1, English Premier League and Spanish La Liga, not necessarily in that order. These leagues contain some of the best players in the world and the most innovative tactical minds. All of which makes for interesting seasons.
La Liga (Spain)
Title Contenders
Real Madrid: Real are always favorites for the league title; they have won La Liga 34 times. Real have a squad that is typically loaded with talent. Club captain Sergio Ramos is going strong and will be one of the first names in the starting lineup every week. However, Ramos is aging and we might see more of Eder Militao in central defense this season. The midfield three of Luka Modric, Toni Kroos and Casemiro is excellent but again, aging at ages 35, 30 and 28 respectively. It would not be a surprise to see Federico Valverde or Isco get big minutes this season. Gareth Bale would be an option in attack but he has made it clear that he wants to leave Madrid and is unlikely to feature for Madrid next season. The striking role is Karim Benzema's he scored 21 and assisted 8 last season; he was the team's outstanding performer last season. In the coaching department, it looks like club legend Zinizine Zidane will continue coaching the team for the foreseeable future.
Atlético Madrid: Last season Atlético played well but were clearly in a transition phase, they brought in a lot of players that summer who needed time to get used to the intense and physically demanding tactics of coach Diego Simeone. Atlético does not score many goals so it is important that their defense plays well and stays healthy. However, Manchester City has reportedly made an 82 million dollar bid for Jose Maria Gimenez which would leave Atlético shorn of an excellent defender and short on cover at center back this season. That would mean big minutes from Mario Hermoso and a bigger role for Felipe. who will also have to stay healthy. Midfielder Thomas Partey has been an excellent performer for the past three seasons and has been linked to Arsenal, should he leave that would be another key loss. Though, Hector Herrera could take his place in the lineup. Atlético will also be looking for greater contributions from João Felix, 6 goals and one assist is not bad, but it needs to be better this season to challenge for the league title. As of now, it looks like Atlético will sign Luis Suarez from Barcelona, both weakening Barcelona and giving Atlético a world-class finisher. This is dependent on Atlético being able to offload Alvaro Morata to Juventus. Diego Simeone will continue as coach for this season, however, he lost his No.2 German (Mono) Burgos. Burgos played a crucial role in Simeone's staff; Atlético score a lot of goals from set-pieces and Burgos is the coach who designs the set-piece routines, he also analyzes upcoming opponents. While Burgos played a crucial role, he is replaceable. All in all, the consistency and stability of Atlético will make them contenders this season.
Dark Horse
Barcelona: Barcelona is in trouble, in August as Barcelona got Smashed 8-2 in the quarter-final of the champions league by Bayern Munich. They fired their coach, Quique Setein, three hours after that disaster. Then to make matters worse superstar Leo Messi tried to leave Barcelona to go play for Manchester City. Only a combination of creative legal interpretation, some bribes and a bit of loyalty kept Messi at the club. Striker Luis Saurez has been deemed "surplus to requirements" and is on the way out, he managed to get a release agreement and it looks like he will join rivals Atlético Madrid. Arturo Vidal, Jean-Clair Todibo, and Samuel Umtiti could also be on the way out. More recently the club president It's not all bad on the personnel front Memphis Depay is said to be leaving Lyon and going to Barcelona. The Dutch attacker will boost the attacking options at the club and could blossom into a world-class attacker in Spain. Meanwhile, former Barcelona player Ronald Koeman was appointed to coach the team.
Fans are still unhappy though. "It does matter what he does as long as we have the same board", sophomore Barcelona supporter Rama Rugaba said.
Barcelona is going to hold a vote of no confidence after a petition calling for a vote of no confidence collected 20,687 signatures of Barcelona club socios (members), they only needed 16,520 signatures to get a vote. The sitting president Josep Maria Bartomeu will almost certainly be voted out. Quite what will happen after the vote of no confidence is unknown, this has not happened for 40 years so no is sure what the outcome will be. Barcelona is a mess right now, making success highly unlikely, but there is too much quality in that squad to write them off.
Most Exciting Team
Villareal: Villareal scored the third-most goals and conceded the fifth or sixth most goals, their games are clearly entertaining. They will be coached by Unai Emery this season and he has to redeem his reputation after the abject failure at his last job. To help him he has Gerrard Moreno who is coming off an excellent season in which he scored 18 goals and assisted 5. He also has the excellent center back duo of Pau Torres and Raul Albiol. Moi Gomez and Samuel Chukwueze provide intelligent movement and dribbling on the flanks. However, Villareal lost two standout performers from last season. The combative defensive midfielder Andre-Frank Zambo Anguissa returned to Fulham at the end of his loan and playmaker Santi Cazorla moved to Saudi Arabia. However, Villareal managed to replace them effectively with ex-Valencia duo Francis Coquelin and Dani Parejo. All in all, Villareal will not challenge for the league title this season but they are still worth the watch; they will provide goals and exciting individual players.
Promising Player
Samuel Chukwueze: Chukwueze is a 21-year-old Nigerian who plays on the right-wing for Villareal. He is a left-footer which means that he frequently cuts inside to unleash shots on his left foot. Chukwueze is an extremely good dribbler, and his ability to beat his marker is very good. Combine that with his speed and you have a deadly combination. Something that goes unnoticed is Chukwueze's brains. His ability to come up with solutions to beat his markers and find space after beating them is unbelievable. It is not all good Chukwueze tends to overcomplicate things and lacks an end product. But Chukwueze's 3 goals and 2 assists in 37 appearances is not bad and it is safe to say that those goals and assist totals will increase as his end product and decision making improve. Improvement in those areas comes with age he is only 21 and if he gets better in those areas he could become a world-class attacker.
Premier League (England)
Title Contenders
Liverpool: Liverpool ran away with the league last season, they were completely dominant before the COVID enforced break and won the league by 18 points leaving them six games to spare. Their key men are their winger Mohamed Salah and Sadio Mane, who scored 37 goals and assisted 17 combined. Mane and Salah were responsible for 54 goals combined or 64% of Liverpool's 85 goals. The fullbacks were also vital in a facilitating role last season too. Andy Robertson and Trent Alexander-Arnold combined for 25 assists and 6 goals last season or 36% of Liverpool's goals. The arrival of Diogo Jota from Wolverhampton Wanders will provide injury cover, competition for the front three, and might be able to take some of the scoring burdens off Salah and Mane. In the heart of the defense Virgil van Dijk was excellent and cemented his place as the best defender in the premier league and the world. The midfield three are not as offensively potent or creative as they should be though. The three most used midfielders Jordan Henderson, Gergino Wjinldum and Fabinho only combined for 10 goals and 8 assists. However, the arrival of Thiago Alcantara from Bayern should help. "Thiago will help boost the midfield tremendously and will easily fit into the Liverpool style of play," WJ senior and Liverpool supporter Ryan Hoffman said. There is a similar problem in the striking position too, Roberto Firmino, however good he is at pressing and linking play; does not score enough goals. He scored 9 and assisted 8 last season which is not bad but needs improvement if Liverpool wants to challenge for the league title again.
Manchester City: After winning two league titles in 2018 and 2019, Manchester City was comprehensively beaten to the league title by Liverpool. Goals were never City's problem; they have scored 102 goals, 17 more than Liverpool. Their problems were in defense, key center-back Aymeric Laporte missed 26 games last season with a knee injury. This forced Fernandinho back into the center of defense, Fernandinho is a good defensive midfielder but his lack of pace, discipline, and height were exposed. The defensive issues led to the city conceding 35 goals, which may only be two goals more than Liverpool. But those 35 goals led to 9 losses which is 6 more losses than Liverpool and is 18 points left on the board. Those are the margins that City need in their favor if they want to challenge for the league title. To help do that they have signed Nathan Ake.
"I think it's a great signing…he's versatile, has good pace, and is also a ball-playing defender," WJ junior and Manchester City fan Rucheek Kupachi said. Ake will probably end up partnering with Laporte in defense. Meanwhile, City also signed Fernan Torres as a replacement for the departed Leroy Sane. Pep Guardiola will continue as the coach but do not be surprised to hear people starting to talk about his future. Guardiola's contract expires in June of 2021, so this may be his last season in charge of City. Clashes between Liverpool and Man City will likely decide where the title goes this season.
Dark Horse
Leicester City: Last season was rough off the field for Lecister. Their owner Vichai Srivaddhanaprabha died less than 500 yards from Lecister's stadium when his helicopter crashed killing everyone on board. His last major act was to hire ex-Celtic boss Brendan Rodgers, he had great success coaching Celtic and before that might have won a league with Liverpool if Steven Gerrard had not slipped. During his first season in charge, Leicester backed up Rodgers in the transfer window bringing in Dennis Praet, Youri Tielemans, and Ayoze Perez with the funds generated from Harry Mcguire's departure. With those new arrivals, Rodgers was able to get Leicester into fifth place. Last season's team was based on their defense, their back four was Calgar Söyüncü, Jonny Evans, Ricardo Pereira and Ben Chilwell all of whom had exceptionally good campaigns. Söyüncü, in particular, formed an excellent partnership with Evans in the heart of that defense. Evans bought the pace, brains, and composure while Soyoncu brought aggression, strength, and physicality. Wilfred Ndidi played the screening role in front of the back four, he also had an excellent season and emerged as one of the best defensive midfielders in the world. His covering, pace and tackling ability allowed Leicester to play two creative midfielders, James Maddison and Youri Tielemans, ahead of him. Upfront, the ageless Jamie Vardy, the league's top scorer and goalkeeper Kasper Schmeichel are the only two survivors from the 2016 title triumph that play regularly. This season Leicester will have to deal with the loss of Ben Chilwell and a long-term injury to Ricardo Pereira, to this end they signed Timothy Castagne, a fullback who is comfortable playing on either side of the defense. Leicester also signed winger Cengiz Under on loan from Roma, they also have winger Rachid Ghezzal, striker Islam Slimani, forward Fousseni Diabate, midfielder Adrien Silva, and center back Filip Benkovic all returning from loans. With Chelsea having to bed in a lot of questionable signings and Tottenham having a handicap with Jose Mourinho as a coach, Leicester has a chance to climb into the top four or perhaps even threaten the league leaders.
Most Exciting Team
Leeds United: Leeds United won the Championship or second division last season by 10 points to gain automatic promotion back to the premier league. Leeds have the most die-hard fans in the premier league. By extension Leeds has the most intimidating stadium: Elland Road. Leeds's star attraction is their coach Marcelo Bielsa nicknamed El Loco, or the crazy one; he is known for his incredibly entertaining style of play and being a bit eccentric. He requested that the city of Leeds paint a blue line from his house to Leeds' training ground so he would not have to think about how to get to training giving more time to think about soccer. Leeds like to press man to man, but they take this to the extreme. Disregarding the normal practice of having a set defensive shape without the ball, Leeds's players focus solely on stopping their direct opponent. In attack, they play quick vertical combinations and are always looking to go forward. The problem with Bielsa's approach is that his tactics are extremely demanding physically and mentally. Leeds do not have the depth to cope for a full premier league season, but by the same token, they did a pretty good job in the longer championship season so that may not be a problem. Leeds are extremely entertaining to watch and will give every team in the premier league problems because the big leagues are not ready for Leeds.
Promising Player
Kalvin Phillips: The Yorkshire Pirlo nickname is ironic, but there are neatly a few things about Kalvin Phillips; one of his many strengths: playmaking, his position: defensive midfield, and his role: deep-lying playmaker. Phillips passing range is very good; he can play line-breaking passes to more advanced midfield colleagues, chip the ball onto the chest of his striker or ping passes out to his wingers. Not only can he play those passes but he also does so accurately and at the right time. He seemingly always makes the correct decision. Phillips's ability under pressure is also impressive,.He typically receives the ball while he is being pressed by an opponent so he has to protect the ball in addition to finding a pass to play. Phillips is a very aggressive presser and an effective tackler. He is generally focusing on the opposition's most advanced midfielder and he chases him all over the pitch for 90 minutes. Phillips has no glaring weaknesses to his game; if there is a minuscule problem, it's discipline. He has been yellow carded nine times and sent off once for the last two seasons. It can only get better for Phillips Leeds as a club with ambitions to play in the Champions League, and he can only benefit from staying in his hometown.
Serie A (Italy)
Title Contenders
Juventus: Winner of the last nine scudetto (league titles) it would be idiotic to not consider Juventus amongst the favorites to win the title. However, Juve is not as strong as they have been in the past. After last season's champions league exit, Juve fired their coach Maurizio Sarri and appointed U-23 coach Andrea Pirlo to replace Sarri. While Pirlo's playing career undoubtedly makes him a legend of the game, it is yet to be seen as to whether he can be a good coach. His UEFA pro license score is encouraging; he got 107 out of a possible 110. Juventus have been boosted by a couple of new arrivals, most notably Dejan Kulusevski, who was voted Serie A best player last season. Juventus also got American international Weston Mckennie on loan from Schalke, though it is yet to be seen if he has the quality to play for Juventus. He played well for a limited Schalke team last year, but playing for Juventus is a different beast and he will face stiff competition for his place in the matchday squad. The deal for Barcelona's Luis Suarez collapsed after allegations that Suarez knew the questions on his Italian citizenship test before he took it. Instead, Juventus decided to bring Alvaro Morata on loan for this season. Morata is a replacement for Gonzalo Higuain who retired to the MLS.
Internazionale Milano(Inter Milan): Inter Milan came in second by one point last season. They struggled with squad depth particularly in midfield, crucial duo Nicolo Barella and Stefano Sensi missed 10 games and 16 games respectively. The arrival of Arturo Vidal will help solve this problem, but it is a short term solution given his age. The good news on the personnel front is that the defense was excellent; the back three of Alessandro Bastoni, Milan Skrinar and Stefan de Vrij only conceded 36 goals last season. In attack, Inter had the excellent striking duo of Lautaro Martinez and Romelu Lukaku who helped them score 81 goals last season. If Inter have a problem it's that they draw too many games they drew 10 games to Juventus's 5. If even one of those 10 draws ended as a win, Inter would win the league. To help do that they have brought in wingback Achraf Hakimi from Real Madrid, defender Aleksander Kolarov from Roma and Alexis Sanchez from Manchester United. Those signings will help but it is key to hold onto coach Antonio Conte he is a proven winner in Italy and England and has the inter-squad playing above their abilities. If Inter loses Conte, they lose any chance at a scudetto.
Dark Horse, Lazio: Pre-COVID it looked like Lazio would be the team to challenge Juventus for the title. But poor form after the COVID enforced break meant they slumped to fourth by the end of the season. Lazio made a few tactical changes that made them do so well, for starters they moved Luis Alberto into left midfield from his normal "10" role and shifted Sergej Milinkovic-Savic to right midfield. They also purchased Francesco Acerbi to play in the heart of the back three and brought Joquin Correa to partner Ciro Immobile in attack. Immobile had a very good season, he scored 36 goals, assisted 9, was the highest scorer in all of Europe and won Serie A forward of the season. One potential problem is an over-reliance on Immobile for goals; he scored 46% of Lazio's goals, the next highest goalscorers had 9 each. Lazio struggled after the break was a loss of momentum, pre-COVID Lazio was flying and smashing teams, but after the break, they lost 5 of their last 12 games. This season Lazio has not made any big changes. Vedat Muriqi was brought in from Fenerbahce to give them a more physical target-man in the squad as a backup. While Simone Inzaghi has been recalled as coach. Lazio did well last season and, if it wasn't for COVID, might have won the scudetto.
Most Exciting Team
Atalanta: Atalanta were the highest scorers in Serie A; they scored 98 goals over their 38 games. Atalanta is by no means a balanced team; they conceded 48 goals which is not great, but it makes their games entertaining. They play a fast-paced, attack-minded brand of soccer envisioned by Gian Piero Gasperini. They have four very talented attackers in the forms of Josip Illicic, Duvan Zapata, Luis Muriel and Papu Gomez. Muriel and Zapata are quick powerful goal scoring forwards. Gomez is a playmaker who plays behind the two forwards, and Illicic is a hybrid capable of playing in the front two or behind the forwards. The attackers are backed up by a pair of excellent wingbacks, Robin Gosens on the left and Hans Hateboer on the right. Gosens and Hateboer provide excellent work rate; getting forward to support the attack in wide areas and retreating to become the widest members of the back five. Hateboer and Gosens complement each other nicely, Hateboer is the better crosser and better passer of the two, while Gosens is the better defender. In midfield, they have a rotation of four excellent central players Ruslan Malinovskiy, Remo Freuler, Mario Pasalic and Marten de Roon. Freuler and de Roon typically start the game while Malinovskyi comes in around the 60th minute and Pasalic provides injury cover for all three. Meantime their back three is nothing special; they shipped 48 goals and selection was a bit inconsistent. Atalanta finished in 4th last season which was not a fluke, but if they want to win a scudetto, they need to tighten up their defense.
Promising Player
Gianluca Mancini: Mancini is an imposing physically imposing center-back who is on loan at Roma from Atalanta. Mancini stands at 6'2" and has a good vertical leap that makes him very good in the air, an making him an offensive threat at corners and indirect free-kicks, as well as a master defender in aerial duels. In defense, Mancini is extremely aggressive; he looks to step out of the defensive line to confront attackers or to intercept passes. While Mancini is not as good a passer as some other center backs, he is still comfortable on the ball, but he usually plays simple sideways passes more risky vertical passes. Because of his aggression and aversion to vertical passing, Mancini is usually paired with a more conservative partner who is better on the ball. Mancini has two weaknesses–his aggression forces him into lots of "must-win" situations, and he gives away roughly two freekicks per game and has 14 yellows, which is problematic; however, hs discipline will improve as he gets older. As of right now, Mancini will remain at Roma, part of the loan deal with Atalanta was a 13million euro obligation to buy, which they exercised. Mancini was a mainstay in the Roma defense last season, and he will likely continue as a fixture in the Roma defense for years to come.
Ligue 1(France)
Title Contenders
Paris Saint Germain (PSG): Winners of the last 3 Ligue 1 titles, PSG go into this season as favorites to win a fourth title in a row. PSG have two genuine superstars in Neymar and Kylian Mbappe and several other attacking stars such as Angel di Maria and Mauro Icardi. With that kind of attacking talent, goalscoring is not going to be a problem. Get the ball to the feet of Neymar, Di Maria and Mbappe and you can reasonably expect the goals to arrive. To that end, PSG has several creative midfielders: Marco Veratti, Leandro Paredes and Julian Draxler. Goals and creativity are no problem for PSG, but defense is, and they will be weaker defensively this year due to the loss of Thiago Silva. Silva's loss leaves a leadership and experience vacuum in the backline. That vacuum might be filled by Presnel Kimpembe or Marquinhos but it is uncertain if they are up to the task. The coach of PSG is currently Thomas Tuchel, and he has a difficult task: keeping all the players happy and creating a coherent team on the field. This is especially difficult at PSG because they have lots of stars on the same team not all of them will be playing regularly so there are always rumors of unrest in the locker room. It has been a fairly open secret that PSG has several cliques, the Brazilian clique centered around Neymar and the rest of the world clique. If Tuchel can keep the lid on the dressing room and get PSG to play well, they will win the league.
Olympique Marseille: Olympique Marseille has won the most Ligue 1 titles, but have not won since 2010. Last season Marseille was in a distant second place they were 12 points off of winners PSG. Their issue last season was goals they only scored 41 goals which is a bit low. Consequently, they tied 8 games, leaving 16 points on the field. Marseille needs to increase their goals output and find a way to grind out tight games. Oddly they have not signed any attackers to help increase they're attacking output, they must be confident that Florian Thauvin and Dimitri Payet can supply goalscorer Dario Benedetto with chances. Thauvin was injured almost all of last season so they might be banking on his output to increase their attacking output. Marseille signed center-back Duje Caleta-Car to sure up their defense. In the dugout, Andre Villas-Boas is back in Europe after a stint in China. He is trying to redeem his reputation in Europe after two high profile failures earlier in his career. His high pressing 4-3-3 have put Marseille back in contention for a league title. If they can grind out results in tight games, they might be able to dethrone PSG.
Dark Horse
Olympique Lyonnaise (Lyon): Lyon came in 7th after a turmoil filled season in which they fired their coach Slyvinho. Then appointed Rudi Garcia who the fans hated due to his association with rival Olympique Marseille. The club at one point threatened to sue their supporters for defamation after online abuse and fans posting cartoons that depicted Garcia as a clown. Lyon was affected by the toxic atmosphere at home but they did not perform that badly last season. Their defense was tight, conceding only 27 goals and their attack got 42 goals. It would seem that Lyon conceded goals when they could not afford it and was found wanting in tight games or just got unlucky. This season they will have Memphis Depay who was sidelined for most of last season with a ruptured cruciate ligament. Lyon will have to hold onto to him, allegedly Barcelona are interested in acquiring his services and are close to reaching a deal. They will also do well to hold onto midfielder Houssem Aouar, with Arsenal lurking. Lyon is at the mercy of the owner Jean-Michel Aulas if he chooses to sell Aouar and Depay Lyon are in trouble. Rudi Garcia will have to win over the fans this season and work with Aulas to hold onto their key players if they want to challenge for the Ligue 1 title this season.
Exciting Team
Stade Rennais (Rennes): Rennes came in an unexpected third last season. They were driven by an airtight defense and good goalkeeping; those factors meant they only conceded 24 goals tied for second best in the division. Their midfield was boosted by the arrival of Steven N'Zonzi from Roma on loan, his presence in midfield will add extra defensive muscle to the midfield. Up front M'Baye Niang and Adrien Hunou score the goals. Hunou is quick with excellent movement and a knack of being in the right place at the right time, Niang is a pacey dynamic presence who likes to work the wide channels. They only scored 18 goals between them last season and the contribution from the wingers was similarly lackluster. But the Brazilian winger Raphina is expected to improve; he was just hitting form before COVID ended the season. The lack of goals did not matter last season because they had an excellent defense but if they want a shot at the title they will have to score more goals. They will also need to hold on to their goalkeeper Eduard Mendy amid interest from Chelsea. Rennes has found a talented young coach in Julien Stephan, even if his tactics are a bit conservative. He has been able to utilize the young talent at his disposal and forge a coherent unit that knows his game plan inside and out. Stephan's work might be able to bring Rennes success if he gets a little luck and the talent stays put.
Promising Player
Eduardo Camavinga: Camavinga recently became the youngest player to play for France since the second world war, he made his international debut at 17 years 9 months, and 16 days old. For context, Camavinga is younger than the person writing this; and Camavinga was able to force his way into a midfield with seasoned international stars like N'Golo Kante, Paul Pogba and Blaise Matudi. Camavinga usually plays as a defensive midfielder but is comfortable playing further up the field as well. Camavinga is a bit different from most defensive midfielders; he likes to move the ball upfield via dribbling rather than passing. This is not a problem but it does introduce an element of risk into his play, if Camavinga gets dispossessed then the other team has an excellent counterattacking opportunity. However, Camavinga is a very good dribbler and rarely gets dispossessed in dangerous areas; it's usually the third or fourth attempt at a tackle that gets him, and by that time he is well upfield. Of course, being a defensive midfielder Camavinga is good defensively, he is a very good tackler despite having a lanky build. His interception numbers are also good, this due to his freakish anticipation he seems to have sixth sense telling him where the ball is going next. Another bonus is his excellent discipline. He was only yellow carded four times last season, normally players who are in action regularly at age 17 have some issues with discipline but Camvinga has no such issues. Camavinga is being courted by several large teams like A.C. Milan, Bayern Munich and Real Madrid and it is just a matter of time before he leaves Rennes for greener pastures.
Bundesliga (Germany)
Title Contenders
Bayern Munich: Winners of the last 8 Bundesliga titles and winner of the most titles in Bundesliga history with 29 titles, it would be silly to call Bayern anything other than a powerhouse of German soccer. They have done this through a clever recruitment strategy: Buy the most promising players in the Bundesliga. It is a simple strategy but it works well because it weakens Bayern's rivals and gives Bayern a stockpile of talented players that might pay off or can be sold for a profit. They also recruit well outside of Germany following a similar approach, recruiting young players. Their signing of Alphonso Davies is that policy in action. They signed Davies from the Vancouver Whitecaps when he was 19, and moved him to left-back where he has become one of the best left-backs in the world. Last season Bayern were completely dominant; they won the league by 13 points, after a bumpy start that saw them fire coach Niko Kovacs and appoint Hans-Dieter Flick (Hansi Flick) as their coach. He was meant to be an interim coach while they found a more flashy appointment, but he did such a good job that he was given permanent charge of Bayern. It will be interesting to see how he does in his second season as head coach. He will be helped by the arrival of Leroy Sane from Manchester City, but conversely will have to find a way to replace Thiago Alcantra who has departed Bayern for Liverpool.
Borussia Dortmund: Dortmund is the perennial second-place team in this period of Bayern dominance. Dortmund also has a good recruitment strategy that has fueled their success. They recruit young players from other leagues and club academies in Europe. Their academy system is very good and produces a decent number of first-team players. Dortmund is primarily a development club; they buy young players and sell them for a profit later, and few players have left Dortmund worse than when they arrived. Christian Pulisic is one such example. He joined Dortmund's academy at age 15, broke into the first team two years later and played well for a season or so, and was then sold to Chelsea for 55 million dollars. Due to this strategy, Dortmund has rarely been able to build a sustained period of success; they won the league two years in a row in 2011 and 2012. Their coach Lucien Favre will have to construct a team capable of taking on Bayern if he wants to win the league. He will be able to count on a full season worth of goals from Erling Haaland and maybe the emergence of talented winger Jude Bellingham. Unfortunately, Dortmund does stand to lose Jadon Sancho in the coming months, it is clear that he is trying to leave and that he has outgrown the club, but no one has been able to match Dortmund's price yet.
Dark Horse
RasenBallsport Leipzig (RB Leipzig): RB Leipzig are one of the more recent additions to the German football hierarchy, they caused quite a fuss when they first arrived for their flagrant disregard for the 50+1 rule. Bureaucratic technicalities aside, Leipzig have seen heavy investment from energy drinks company Red Bull. This has not manifested itself in the transfer market but in club infrastructure like stadium renovations, the establishment of a fully-funded academy and building a new training ground. Last season they had a new coach Julian Nagelsmann who led them to a third-place finish, however this season he is going to be facing a big challenge. Over the summer both of Leipzig's main forwards Patrik Schick and Timo Werner left the club and Leipzig may still lose the services of standout defender Dayot Upamecano. They have not attempted to replace Upamecano yet but have tried to replace Schick and Werner. With Schick they have Yousef Poulsen who can be a replacement for him, and their Werner replacement is Hwang Hee-chan from RB Salzburg. It remains to be seen if those replacements will work but Nagelsman is a talented coach and might be able to make it work. Leipzig does not have to change much, in all other areas their squad is solid. Their fortunes will depend on the success of their Werner and Schick replacements; if they do well then Leipzig has an outside shot at the title, and if they fail then Leipzig get third or fourth at worst.
Most Exciting team
Borussia Mönchengladbach (Gladbach): Last season was coach Marco Rose's first season in charge of Gladbach and he managed to get them into fourth place with a fairly young squad. Gladbach is undoubtedly a team for the future; they are relying on players like Marcus Thuram, Denis Zakaria, Breel Embolo and Ramy Bensebaini to develop into world-class players. If that happens then Gladbach is in with a shot at the tile. If it does not happen, they will come in 4th to 8th depending on their luck. Either way, Gladbach is going to be entertaining to watch. Marcus Thuram is a dynamic forward capable of playing centrally or wide left, he loves to dribble at his opponents and beat them with his pace. Breel Embolo is another player in a similar mold to Thuram but plays exclusively on the flanks and Rose's tactics benefit both Thuram and Embolo. His high pressing style creates many goalscoring opportunities for the attackers but does leave a lot of space for the opposition to exploit, so there will be goals either way. Last season Galdbachs forwards did not perform well, they got lots of chances but failed to put as many as they should have. Their defense was also mediocre at best so that explains their 4th place finish. If Gladbach wants to improve them, he must hope that their forwards have developed over the last season and the break. Gladbach is going to live or die based on how efficient their forwards are in front of goal.
Promising Player
Reinier Jesus: The Brazilian prodigy was purchased by Real Madrid from Flamengo in January and loaned to Borussia Dortmund for two years this summer. The move looks to be a good one. Jesus will get plenty of time and opportunities to develop and get used to European football at Dortmund. Jesus plays as a central attacking midfielder or 10, but is also comfortable playing on either flank as well. Jesus's value comes mainly from his goal scoring ability. Jesus has excellent movement in and around the box meaning that he almost always has time and space to put his chances away. He is also unusually tall for a 10, he stands at 6'1 and this gives him the ability to be a threat on crosses into the box as well. Perhaps the most eye-catching skill he has is his shooting from distance, he is capable of directing powerful shots into the corners of the goals from 25 to 30 yards out. While his goalscoring is valuable his passing is a bit underrated. He loves to slide through balls behind the defense but is also very capable of neat one-touch linkup-play. His dribbling is also very good as is expected with Brazilian attackers. One thing that is very underrated with this new generation of attacking talent coming from Brazil is their attention to defense. Jesus is an excellent counterpresser and works hard without the ball. Keep an eye out for Jesus this season, he might light it up at Dortmund this season.