Freshman Nikki Mosaddegh paints an array of expression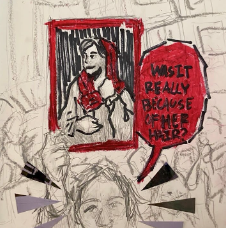 The school day is over and homework is finished and tucked away for tomorrow. Most teens jump into their favorite video game or TV show, but unlike them, freshman Nikki Mosaddegh has another passion.
Mosaddegh is an artist who likes to use uncommon materials to incorporate into her art. Traditional art is the most famous art form out there, due to its simplicity and accessibility. With the new age of technology, traditional art is not as common among artists around the world; but for Mosaddegh, it's everything.
"I've been using sketchbooks since fourth grade, and I've filled up 15, not including the one I'm working on currently," Mosaddegh said.
Sketchbooks are not uncommon for artists to have, but many wonder how they are planned and used.
"My sketchbooks contain a lot; a bit of scrapbooking, drawing and anything else that's sketchbook sized… I like doing a lot of full body [pieces] and using highlighters to create very vague silhouettes before going over them with a contour line… I actually like to draw cats, as it has brought me a lot of joy, especially over the summer, as my cat passed away. Drawing cats kind of gives me a little memory of him," Mosaddegh said.
Mosaddegh likes to use materials for art in her sketchbook that are not common, such as highlighters, cut up cans, wrappers and even homemade paper dolls.
"I work with a lot of mixed media. In my most recent piece, the background is actually the label from a bottle of Arizona iced tea. I took it off and thought it was about the same size as my sketchbook, so I put it in there and used a few other mediums to tie it together," Mosaddegh said.
Although general appreciation for traditional art is slowly dying, Mosaddegh continues to keep the medium alive.
"Making artwork about my culture and who I am is very important to me. I think if I ever stopped creating, that's basically me saying I've given up on living," Mosaddegh said.
Your donation will support the student journalists of Walter Johnson High School. Your contribution will allow us to purchase equipment and cover our annual website hosting costs.