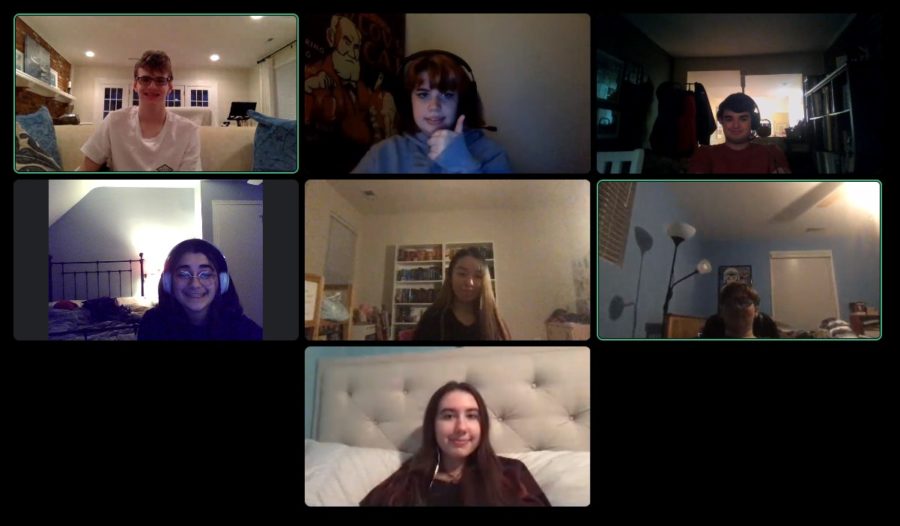 Moving forward by looking back: WJ S*T*A*G*E performs music through the ages
In mid-February, WJ S*T*A*G*E released its first major mid-pandemic production: radio shows. A deliberate throwback to the Golden Age of Radio, S*T*A*G*E produced a set of various radio shows that echoed and emulated the style of old-time radio, even reviving famous programs from the early-to-mid '90s, such as an episode of Inner Sanctum Mystery. Completely produced, played and edited by the student members, the theater program had begun work on the shows starting in October as a way to deliver content and entertainment for the WJ community even in this kind of situation, forgoing the traditional live set-based viewing experience for a style that better facilitated distanced production.
With that now over, S*T*A*G*E has begun looking towards new avenues of creativity, continuing to branch out from traditional live theater that had once defined it for many years prior. This time, S*T*A*G*E has partnered up with WJ's music department to produce a documentary concerning the history of musical theater in America.
"What we want to do is explain how we got from pure entertainment with just musical numbers, to having a storyline, to then having the musical as a legitimate art form," S*T*A*G*E director Colleen McAdory said.
Working with Andrea Morris and Kelly Butler from the music department, this upcoming production incorporates the skills of students from both S*T*A*G*E and students from advanced music classes to produce a performed study of musicals throughout the ages and the groundbreaking ways each featured show redefined musical theater.
"S*T*A*G*E is planning to do a musical documentary presentation, documenting the history of musicals through aspects of diversity, dance, historical storytelling, and more… Some of the chorus has been highly enthusiastic to perform and present in the show, from ensemble to solo and duet… I hope that by this, we will have made the best effort to continue the spirit of S*T*A*G*E, so it can hopefully resume in full strength next year," stage manager and senior Finn Hartman said.
Within the documentary, the production crew plans to discuss the genre-defining breakthroughs made with each musical, and create snippet performances from various musicals, using props, costuming and lighting to complement the aesthetic.
"I'll be helping narrate a section about musicals based on history and work with some friends to put together a virtual performance of 'One Day More' from Les Misérables. Everyone will also get the chance to submit a recording to a large ensemble recording of Circle of Life and Aquarius. Hopefully this fun project will allow the actors, singers and crew to have something fun to put together in place of our spring musical," junior Jakob Sandberg said.
The different parts of the production are meant to be filmed separately, with the scenes recorded by each cast member woven together with synchronized audio and visuals, much like what Madrigals, one of WJ's audition-based advanced choir programs, have been doing this past year.
The production is expected to be finished recording by the end of April to be edited and finalized in May for viewing before seniors graduate at the end of that month. A possible extraneous venue for broadcasting the documentary is through a local drive-in movie theater.
McAdory is hoping that by next fall, WJ's theater program will be able to deliver a full live stage production as with prior years. Despite this year's issues and downfalls, McAdory is proud of the commitment, motivation and affinity that the program's members have with one another.
"S*T*A*G*E has stepped up and come together [this year]… I miss seeing them and being with them terribly, but I'm happy that I can still have meetings with them. I tell them that 'this is the highlight of my week'… In spite of all the things that we don't have together, they have made it still a wonderful experience for everyone… They amaze me all the time," McAdory said.