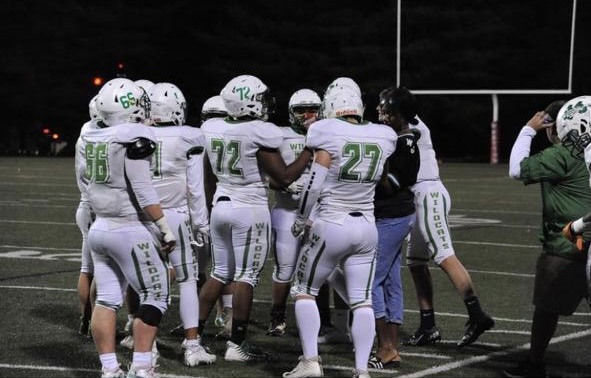 Photo courtesy of Daniel Ticktin
Football athletes reminisce and look ahead
WJ football is coming off their best season in school history. In the 2019-2020 season they finished with eight wins and two losses and got their first playoff win against Urbana high school.
The seniors on the team have been through it all. They've had really good, okay and really bad seasons. Their freshman year they finished with two wins and eight loses, their sophomore year they finished with four wins and five loses. This year they were projected to have another great year.
Coach Larry Hurd has been the mastermind behind the change in culture of the football team. In two years he took a team that couldn't get more than three wins, to a team in the conversation of a state championship. Hurd gives much of the credit to his senior leaders who, he says, pass on his vision to the underclassman.
"I am very grateful for the seniors on this team, as they understand the game so well and help out the underclassman learn faster," Hurd said.
The seniors have made so many memories that they will enjoy forever.
"The memories I have made with this team are unmatched. I have loved every second I've gotten to wear the green and white and hope we get a chance to wear it one last time," senior Anthony Villacis said.
Villacis is a three year varsity player and hopes to play in college.
"My favorite memory is my junior year when we beat Whitman, Churchill and B-CC all in the same year. It gave us big bragging rights around Bethesda," senior David Gardner said.
WJ got their first every playoff win in a 45-10 blowout against Urbana high school.
"My favorite memory is the game we played at Churchill my sophomore year in the pouring rain. We were expected to get blown-out but we only lost by a touchdown and playing in the mud was so fun. I also got my first career interception," senior Daniel Tictkin said.
Ticken also wants to play football in college.
"My favorite memory is the family that I've made. I'm not afraid to call everyone on this team my brother. It's unlike anything I've ever experienced," senior Chris Ramierez said.
Ramierez is going to attend Montgomery College next year where he hopes to throw shot put.
This year WJ football is looking for a repeat season as they await the next decision on if sports are going to be played.