Students share opinions on "Her Loss" by Drake, 21 Savage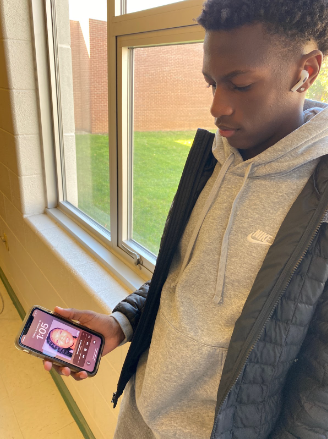 Junior Frankie Kpetigo strolls through the hallways on an uneventful Friday afternoon. As he walks from class to class, he shuffles through his favorite new songs, exhausted. Last night, he waited until midnight to experience one of the biggest album drops of the year.
Drake and 21 Savage released their first collab album "Her Loss" on Friday, Nov. 4. The two rap stars reclaimed their place at the top of the rap game yet again, with the album selling over 410,000 units within the first week, nearly doubling the first week sales of Drake's last album "Honestly, Nevermind."
"I stayed up until 12:00 waiting for it to drop and listened to it. I had been expecting it ever since they canceled the original drop because the producer got COVID-19. I was definitely excited to hear it." Kpetigo said.
Fans of Drake and 21 Savage were thrilled to get new music.
"I was excited to hear the album because I feel like this is Drake's comeback and his chance to prove that he's still one of the best," freshman Elijah Hoffman-Byer said.
"Her Loss" was immediately inspected for its musical quality, due to the mostly negative reviews of Drake's last release. Fans were pleasantly surprised by the album's broad stylistic difference from "Honestly, Nevermind." Drake sounds like his old self and 21 Savage is still pumping out great verses.
It was released on short notice, prompting the expectation that it would sound incomplete and lower quality than usual. However, the general consensus was that the majority of the songs were enjoyable.
"I would rate it a good 8.5 because there are some pretty good songs on it. A few hits, a few misses, but nothing like the last one," sophomore Amit Sabba said.
Students enjoyed the classic 21 Savage adlibs, catchy hooks and Drake's creative wordplay.
The most popular songs amongst students were "Rich Flex", "Backoutsideboys" and "P***y and Millions," all of which have been ranked in the top ten of the Billboard Hot 100. All of the remaining songs on the album are ranked throughout the rest of the Hot 100.
Out of all of the most popular songs, "P***y and Millions" seems to be the fan favorite. One interesting thing to note is Travis Scott is featured in the song, along with some other tracks, which was one of his first appearances since the tragic Astroworld incident last year.
"I liked the beat switch in the middle where Travis Scott came on. I felt like that was unexpected," Kpetigo said.
Though the album was largely well-received, some students disagreed.
"I thought the beats were great, but some songs were too slow and harder to listen to," sophomore Zoe Kleinbord said.
Another common criticism was the lack of featured artists in general.
"I would put some more features in the songs and get some more artists on the album. I think that would add a lot to it," Sabba suggested.
Other students justify the album's flaws and defend the artists' musical choices.
"Some people are unfair with their rating since they expect a Drake album to be an instant classic. But since he is out of his prime, for him to drop an album of this quality is impressive," Kpetigo claims.
Your donation will support the student journalists of Walter Johnson High School. Your contribution will allow us to purchase equipment and cover our annual website hosting costs.