That 90s Show Opens with Mixed Reviews
That '90s Show is a teen sitcom set during the summer of 1995 at Point Place, Wisconsin. Leia Forman (Callie Haverda) is visiting her grandparents for the beginning of summer vacation. She decides to stay for the rest of the summer, meeting and bonding with a new generation of Point Place teens under the watchful eye of Kitty (Debra Jo Rupp) and the stern glare of Red (Kurtwood Smith).
The show premiered on Netflix on Jan. 19. In Feb., the series was renewed for a second season. It is actually the second spinoff of That '70s Show, which was released in the late '90s. In 2002, in the middle of the original show's run, That '80s Show, which followed a group of teenagers in San Diego, premiered and only lasted one season.
The first season encourages excitement as we see special guest appearances of the original characters from That '70s Show, such as Eric (Topher Grace), Donna (Laura Prepon), Jackie (Mila Kunis), Kelso (Ashton Kutcher), Fez (Wilmer Valderrama) and Leo (Tommy Chong). The new characters definitely reflect the personalities of the original cast with a twist of their own personality, creating a sense of nostalgia for many viewers, including myself.
As a big fan of That 70's show, I was very interested in how the character relationships would pan out. While watching, I was trying to figure out which new cast members represent the old ones.
Leia is just as awkward as Eric, but as confident and smart as Donna. Gwen, who is bestfriends with Leia just like Hyde (Danny Masterson) was best friends with Eric, is a mix between rebellious, punk-rock Hyde and feminine-activist Donna. Ozzie is a sarcastic version of Fez with Jackie's attitude. Nikki is more of a mellowed out version of Jackie, but with the book smarts of Donna. I feel that two of Kelso's different personality traits are reflected in two different characters. Jay is the romantic-playboy-Kelso, while Nate is the lovable-dummy-Kelso.
All in all, the producers of the '90s version of the spinoff did a fantastic job with staying true to the original That 70's show vibe, with a nostalgic '90s twist. Viewers can see throughout the episodes of the first season that the cast starts off a bit awkward, but slowly becomes more comfortable in their characters and with one another. It is too early to fully judge the new cast and storyline of the show in comparison to the original, but it's on the right track.
Your donation will support the student journalists of Walter Johnson High School. Your contribution will allow us to purchase equipment and cover our annual website hosting costs.
About the Contributor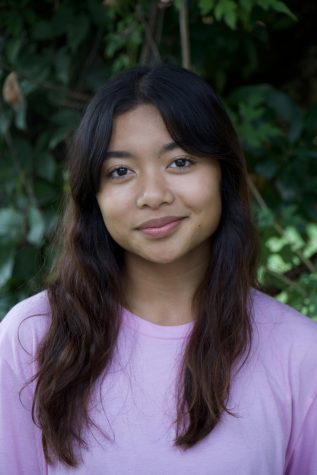 Laura Mata, Layout and Design Editor





This is Laura's second year as the layout and designer editor for the Pitch. She enjoys spending time with friends and family.