The past, present, and future of hallway art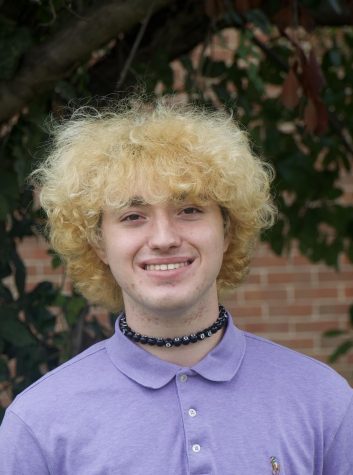 More stories from Liam Dorrien
After years of passing by the same hallways over and over, students often let the art that covers the walls fall into their periphery. Almost all of that art has been created by students, some of which going up as recently as this year.
Junior V Simlich-Vásquez is the artist responsible for the most recent of the numerous tape murals that have brightened the halls. Their piece features a colorful house filled with people and their pets on display near the front office.
"My theme for the piece was 'The Many Faces of Covid'. I wanted to show people being in their house, I wanted to show animals, they were really important to me especially during COVID. I dedicated the piece to my cat [Osiris] that passed away during quarantine, I wanted to do something to honor him," Simlich-Vásquez said.
Their work took them the entire first semester to create, from the planning process all the way to putting the final touches of tape together. They started with designing a thumbnail, which is a small first draft with only the most important details, then began increasing the thumbnail size, adding more detail each time until they had a complete draft.
"I had to take reference images all on my own. I used my classmates, my own pets Osiris and Athena…a lot of the people in the house are actually me," Simlich-Vasquéz said.
Art teacher Kristine Hrin has described the process of creation as very independent from teacher input, including from administrators.
"I give students a theme, and that's pretty much the only parameter. I told administration the theme, and asked if they had a preference where to put the mural…and they picked a hallway. Other than that, I work with the students to develop their thumbnails and help them brainstorm. That's all my input and it's mostly at the beginning," Hrin said.
While many roam the halls without giving a second thought to those who transformed them, some have reached out to artists during and after the process of their creation.
"There were a lot of people who would stop by while I was making it, the security guards would come by and give me compliments. There were a lot of people just walking by in the hallways who would tell me they've been watching it come along for a long time and they thought it was cool," Simlich-Vasquéz said.
Katie Spak, a former student, has used what she learned during her time painting hallway murals to pursue a professional art career after graduation.
"My work has changed a lot since high school, it's a lot less representative and more abstract…One thing is pretty consistent though, I'm still fascinated by nature and organic shapes," Spak said.
This continuity is shown in the work Spak did at her time in school, with pieces full of clouds and landscapes, the most well known one being the cow mural by the gym. Katie was heavily influenced by her mother, Spanish teacher Lori Spak, who encouraged her to break from tradition and pursue art from a young age, as well as others at the school.
"During my time at WJ, I was lucky to be surrounded by so many inspiring [people]. The guidance of Mrs. Ellis and Mr. Engelhardt had a huge impact on me, and I'm not sure I would've gone on to study art in college if it weren't for them," Spak said.
In comparison to the temporary tape murals that deteriorate and are replaced as years pass, Spak's work will likely stay at WJ even further past her years in high school.
"It feels great to have made a permanent impact on the school…I hope it inspires kids at WJ to pursue an artistic career," Spak said.
The Studio 4 art class, which was dedicated specifically to murals, has been discontinued as they were unavailable to continue during quarantine and lost momentum soon after. However, there are still students working on putting up murals outside of school, employed for SSL Hours instead of class credit.
"My goal is to keep doing at least one a year," Hrin said.
At least for the time being, the future of hallway art is secure.
Your donation will support the student journalists of Walter Johnson High School. Your contribution will allow us to purchase equipment and cover our annual website hosting costs.
About the Contributor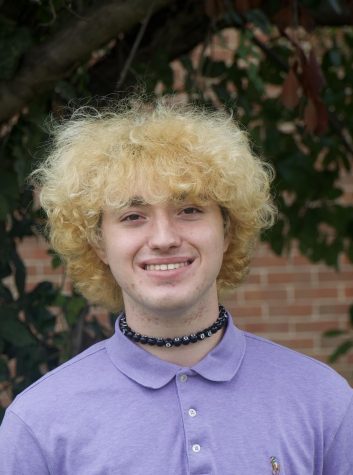 Liam Dorrien, Print Arts and Entertainment Editor
Liam is a Print Arts and Entertainment Editor and has been with the Pitch for two years. In their free time they enjoy playing guitar and watching movies.