Winter Sports are dying. It's our job to stop it
Climate change has had no shortage of negative effects. It is blatantly obvious that the global climate is, in fact, getting warmer. One of the most affected industries is winter sports. Lower temperatures are crucial for the smooth operation of ski resorts and other snow-based activities. To the naked eye, it may not seem like climate change has had much of an effect yet. Weather reports still show massive amounts of snow and great conditions, but for the unfortunate resorts at lower elevations, climate change is already very much a reality. If our local resorts are any indication of the future to come, action needs to be taken immediately.
Two such unlucky resorts are the twins Liberty Mountain and Whitetail resort. They sit at an elevation of a little under 600 feet, a far cry from the 10,000-foot average.
This elevation makes them somewhat of the canary in the coal mine for ski resorts. When conditions begin to get really bad, Liberty and Whitetail will be the first to know. To some degree, this process has already begun.
In the 2012-13 ski season, Liberty saw 60 inches of snow. Not that much to begin with but certainly not terrible. In the 2020-21 season, Liberty got six inches. In that season, it only snowed twice. In contrast, Heavenly Resort in Lake Tahoe got 146 inches.
The plight of Liberty and Whitetail is slowly becoming a reality for more and more ski resorts. The mountain conglomerate Vail has recognized this trend and begun buying up ski resorts across many different regions including Whitetail and Liberty. The goal of the buying spree is to diversify and avoid a lukewarm death in a certain region.
The biggest issue facing ski resorts is that any policy they take up to face climate change does almost nothing in the grand scheme of things.
"If you're in the ski industry, your direct emissions are less important than creating policy change," said climate writer David Roberts.
If resorts don't want to see snow slowly melting away, changing from plastic to paper straws won't do anything. They need to petition local governments to reduce net emissions. If they don't take action fast, we will find the crisis bearing down on us.
But what does all of this mean for WJ students? Almost certainly ski clubs will cease to exist in the next ten or so years. With the season getting shorter and shorter, it won't make sense to pay for buses and passes.
"Losing Ski Club would be the worst. I only get to ski when the school takes us so it would be really sad to lose it," said junior Jackie Ragheb.
It also means conditions will get worse and worse. Whitetail and Liberty are already known for having more ice than snow. In the future, it can be expected to have more grass than snow. In the 2020-21 season, Whitetail never opened to full capacity.
"Whitetail was only half open when I went and the rest was covered in ice," junior Nick Carneiro said.
Ski resorts are crying for help. Their internal attempts to slow the bleeding will mean nothing in the long run. Our generation is ultimately responsible for saving our ski resorts and by extension the whole planet. To pretend like nothing is happening is a crime against the very place we live. Major change occurs from the ground up. Shifting local policy decisions is far more important than making small lifestyle changes.
No one should enjoy the pleasures of skiing without somehow compensating. Donating to charities and pressuring local governments to change policy in favor of climate regulations are a few options to get the ball rolling.
Your donation will support the student journalists of Walter Johnson High School. Your contribution will allow us to purchase equipment and cover our annual website hosting costs.
About the Contributor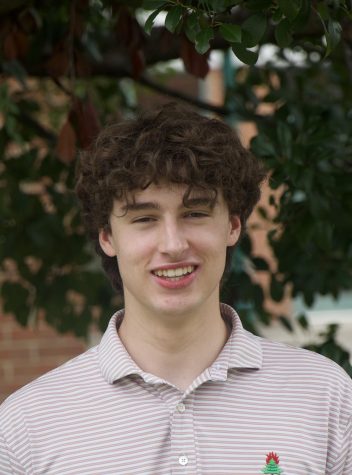 Baxter Roberts, Print Opinion Editor
Baxter Roberts is the Print Opinion Editor for the pitch. He enjoys rowing crew for WJ and hanging out with friends.