WJ looks to learn and move on after loss to Blair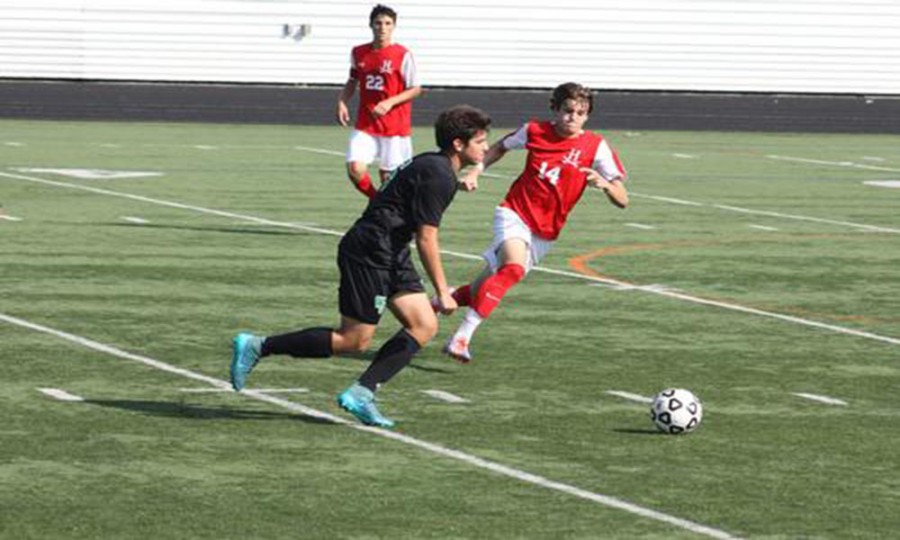 Alexander LaFontaine, Online Assistant Sports Editor
October 20, 2015
WJ boys' soccer had been as close to dominant as a team can get until the Oct 7 game at Blair. The boys' team was 9-0, outscoring their opponents 25-2. Due to this success, they were ranked first in the area entering a highly anticipated Wednesday night game at Blair. Unfortunately, WJ could not pull through, and lost the game 2-0. While this is a devastating blow, it should not end their state title hopes since it was a quality loss and they have many more important games left in the season.
WJ was playing a tough opponent that matched up with them very well. Blair was also a highly ranked team with a record of 9-1 entering the game, with the one loss of the season to Whitman, who WJ beat.  Some fans have questioned what went wrong on Wednesday's game but the team knows what happened.
"We weren't really focused and took the game for granted especially after our 5-0 win against Richard Montgomery,"  senior midfielder Cameron Park said.
Many may wonder whether or not WJ realized they were facing a tough opponent in Blair and played the game with a must win attitude. Did they expect for Blair to be that good when playing them last week?
"Yes, we expected them to be good. Blair always brings their best against us and we just weren't prepared," Park said.
WJ lost a very winnable game to a very good team as their first loss of the season. Losing their first game was hard for the team since they were looking to win every game. However, the way in which the team plays after a loss is huge as it could help them fix problems and bring them closer together.
"Losing our first game of the season definitely relieved a lot of pressure and it was a learning experience," senior captain Zach Labonski said. 
Many fans felt WJ had a chance to go undefeated and accomplish something very special this season as they entered the season with high hopes of winning that elusive state championship. Now that they have experienced that first loss, has their confidence in whether or not they can win a state title faltered or is it stronger than ever?
"I have no doubt that we can win a state championship, even after losing to Blair," Labonski said.
As WJ looks to the second half of the season, many students and fans are wondering how they will finish. Many are hoping for a possible state title. 
"I expect them to have a strong finish and certainly compete for states," senior fan Patrick Winter said.
Many look towards WJ to finish the season strong.
[playbuzz-item url="//www.playbuzz.com/thepitchonline10/soccer-trivia-quiz"]