WJ students recap this year's 'Pennies for Patients' events
The final event to wrap up WJ's Pennies for Patients fundraising was on Feb. 28 as students from the Leadership class and student body held a Burrito Mile, on the track after school.
"We got free [rice] burritos from Fish Taco. After you successfully ate it you showed the judges, [ran a mile] and hopefully you didn't throw up," vice president Erin Gardner said.
Many students participated in the event including freshman Gabe Mclellan.
"We all gathered outside in front of the stadium and they set up the table. You put in money to either watch or run, they did two heats and we all ate burritos and ran a mile. I liked the idea of the event and the person who played the music, because they played Kanye," Mclellan said.
Pennies for Patients is WJ's biggest fundraising event held every year. The Pennies for Patients drive is founded by the Leukemia and Lymphoma Society that supports the research to find a cure for blood cancer. Every year hundreds of schools around the world participate in fundraising. For over 10 years WJ has placed in the top 10 nationally for raising the most money with funds over $448,965. Not all the money has been counted yet but they estimate around $13,000-$15,000.
This year has been very different in terms of events WJ holds for fundraising because of Covid.
In recent years WJ has held a GLO party which had been WJ's biggest Pennies for Patients event bringing in over $15,000, but due to Covid safety they weren't able to.
"It was a winter party sometimes in the aux or main gym. They would split the gym in half, it was a rave and people would dress in neon clothes. It would always sell out," Gardner said.
To make up for the events that could not be held this year the leadership class and student body organized other fun ideas they thought WJ students would attend such as the Burrito Mile, a Mario Kart tournament, Cup Pong tournament, Clash of Classes and a Super Smash Bros tournament. They also held dine outs at local restaurants including Playa Bowl and Sarah's Handmade Ice Cream. Some events were also held on zoom such as Family Feud.
To encourage students to attend events the leadership class and student body continuously posted on instagram, created a bulletin board with a calendar, had morning announcements about events coming up and had prizes students could win at the end of each event.
The Mario Kart tournament was held after school in the Student Commons on Feb. 3.
"They wheeled in four different TV's and some of the SGA officers brought in some of their own Wii controllers from home. They also let us bring our own controllers which a lot of people did. For winning 1st place I got a $25 Amazon gift card," junior Alex Chang said.
The event was also open to spectators.
"I really liked Mario Kart because it was fun and exciting cheering for my peers and watching them race," Burns said.
Another event that they held was Cup Pong in the cafeteria after school on February 15th.
"Cup Pong was just water pong. You registered with a partner and everyone came dressed up in different costumes. Some of the guys dressed as frats and other people dressed as skiers," Gardner said.
"I think we were fairly successful this year and I feel as though we shouldn't compare it to past years because we were working hard to give it as much hype as past years had," president Halle Burns said.
Your donation will support the student journalists of Walter Johnson High School. Your contribution will allow us to purchase equipment and cover our annual website hosting costs.
About the Contributor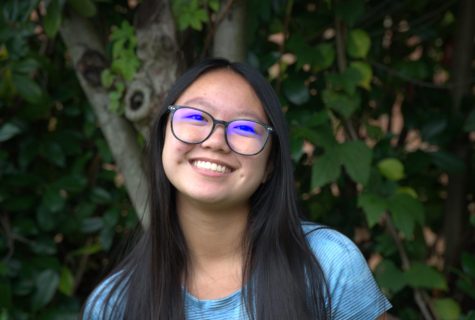 Abby Kee, Print News Editor
Abby is very excited for her second year on the Pitch. Outside of school, she likes to hang out with her friends and play tennis.