Leadership plans 2023 P4P fundraising activities
As WJ's biggest annual fundraiser Pennies 4 Patients (P4P) starts, the Leadership class has scheduled a variety of schoolwide events to raise money for the Leukemia and Lymphoma Society (LLS). Flyers were hung all around the WJ walls to promote each event.
The LLS has been raising money for hundreds of cancer research centers and universities around the world. WJ has partnered with LLS for over 16 years now. This year the leadership class hopes to raise a total of 25,000 dollars.
At staggering points of fundraising, the SGA posted on Instagram different incentives that each of the officers would complete. At $2,500, secretary Bryan Kibet is going to eat baby food, at $5,000, treasurer Lauren Kim will dye part of her hair green, at $12,000 president Ethan Mendes will shave his head and at $15,000 vice president Luke Liden will get a WJ tattoo.
"We want to make all of the events interactive and fun so we can get more people to come," sophomore treasurer Mane Torosyan said.
Feb 1-28: Flocking
Traditional P4P fundraiser favorite Flocking started this week as leadership flocked five students, and brought in $150. For updates on who and when students get flocked check out @getflockedwj on Instagram.
"Pretty much we put flamingos in people's yards. After we drop off a sheet of paper and they donate how much they want and then they get to pick who they want to flock next," leadership student senior CJ Newman said.
Feb 3: Dodgeball
A classic PE game, Dodgeball kicks off as the first P4P fundraiser activity. The game will be held in the cafeteria after school on Feb 3 from 3-5 p.m. Students who would like to participate will need to get their tickets in advance for $5. Tickets are sold at the kiosk near the student commons from Jan 31 to Feb 3.
Feb 7: Bingo
Feeling lucky? A family favorite on game night, Bingo will be held in the Student Commons during lunch. The event is open to both staff and students, and winners will be given gift cards of their choice. Playing one board starts at $3, two boards for $5 and five boards for $10. Tickets are only sold on Feb 7.
"We came up with the idea because we were thinking about low-cost events and that would be fun and community-based so we felt like it was a good way of including everyone, while not keeping it too extravagant," junior Sofia Hurwitz said.
Feb 10: Wildcats Got Talent
Like America's Got Talent, but turned into Wildcats Got Talent. Leadership will host a talent show in the Auditorium at 6:30 p.m. Students and staff who are interested in participating must message @walterjohnsonsga on Instagram prior to the event. Make sure to bring your student ID; tickets cost $5 for students and $10 for adults.
Feb 16: 3v3 Basketball
Bouncing into the fifth P4P event, 3v3 Basketball will be held in the Main Gym from 7:30-9:30 pm. To sign up, head over to @wj3v3tournament on Instagram and click the link in their bio. The deadline to sign up for the event is on Feb 13 at midnight, and to play each participant will need to pay $5. The top prize for the winning team is NBA Washington Wizards tickets. There will be games to seven, the quarter-finals games to 11 and the final championship game will go to 21.
Feb 21: Family Feud
Do you think you have what it takes to play against your classmates in a game of Family Feud? Join the leadership class in the Student Commons from 3-6 p.m. You and your friends can enter as a team of five or enter individually and be added to a team. The cost is still to be determined and updates closer to the event will be posted to @walterjohnsonsga on Instagram.
Feb 23: Mario Kart
Fan favorite, Mario Kart, brought back from last year will be held in the Student Commons at 2:45 pm. Students will be able to compete against one another and see who takes home the first-place prize, a Yoshie plushie.
"[Mario Kart is] one of the events that usually does pretty well because people are willing to come out for it. This year we are going to do it with a bracket and two Wii's," senior class SGA treasurer Lauren Kim said.
Feb 24: Burrito Mile
The last event but certainly not the least, the Burrito Mile will be held from 3-4 p.m. on the track. If you are thinking about running, you will have to pay $5, and spectators $3. Tickets will only be sold at the track entrance. This year leadership hopes to ask Qdoba to help supply the burritos.
"[It's a] very popular event. Basically, you run the mile as fast as you can, right after you have eaten a full burrito. It can be hard because of the digesting," leadership student junior Michelle Kim said.
Your donation will support the student journalists of Walter Johnson High School. Your contribution will allow us to purchase equipment and cover our annual website hosting costs.
About the Contributor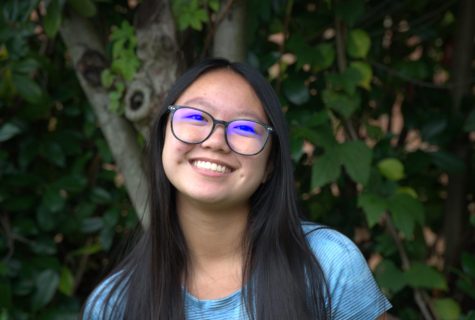 Abby Kee, Print News Editor
Abby is very excited for her second year on the Pitch. Outside of school, she likes to hang out with her friends and play tennis.