The unfortunate shift of dating through the years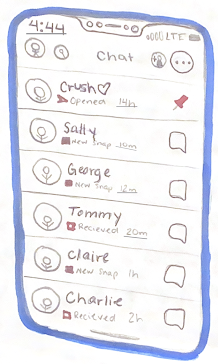 It's 1963 and you are finally going on a date with your crush. After knocking at your door, he hands off a beautiful bouquet of flowers and takes your hand to the car where he opens your passenger side door. Being a gentleman the whole time, he makes the date enjoyable, making you feel special the entirety of the night.
Unfortunately, these standards have been extremely lowered within the past few decades. We are all aware of the talking stage, performed through commonly used apps such as Snapchat, Instagram and even iMessage. Dating has lost the stereotypical "magic," as we have begun to lose confidence. Instead of being upfront with the person we are interested in, we avoid contact and this results in trying to get to know the person from afar.
Now it is 2023. A sound of the notification alerts you that the boy you like has snapped you back. Answering back too quickly will make it seem desperate, but waiting too long will show lack of interest. No conversation, just half of a face that disappears in a couple seconds. In fear of being left on open or "read", you try to take the best picture of yourself as quickly as you can. This may still make us excited as a first date would, but it takes away the developmental time to get to know the person you are interested in and this leads us all to wonder how we are supposed to get to know someone so well all online.
Being rejected is now referred to as being "ghosted" which is when someone stops responding and is trying to show they are no longer interested but in a hurtful, less direct way. Snapchat has contributed greatly to the lack of effort and romanticness in the dating world today. A trend has surfaced on TikTok which explains the awkward silence between you and someone who you Snapchat all the time but have never spoken to in real life. Snapchat may sound effortless, but comes with unexpected consequences when it comes to face to face confrontation.
A fear of commitment and talking stages is all a part of a culture called "hook up culture". Some find this side of dating easier. Having conversations with someone online is much simpler than trying to get all the words out in person. This new way of dating also allows people to not become attached to others; this is appealing to some, not having to worry about being in a defined relationship.
The truth that many teenagers and adults agree with today is dating has lost the spark it's assumed to have, people have become apathetic and turn to a less sentimental way of affection.
Your donation will support the student journalists of Walter Johnson High School. Your contribution will allow us to purchase equipment and cover our annual website hosting costs.