New Zealand music competition judges sparks sensation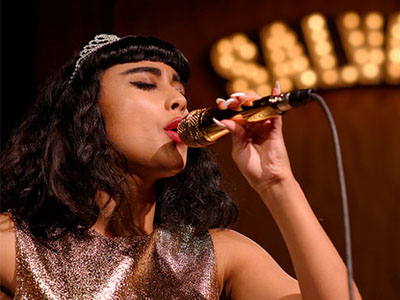 While New Zealand's pop culture typically stays out of American headlines, the past week has been a big one for New Zealand's music and television industry. "The X Factor", which is a worldwide popular singing competition franchise known for creating stars such as One Direction, Olly Murs and Fifth Harmony, recently landed in New Zealand, making its debut in 2013. Now on its second season, the show recruited married UK exports Willy Moon and Natalia Kills for the judging panel to join former girl group member Melanie Blatt and Oceanic sensation Stan Walker.
It was a poor choice on behalf of the show's producers to add Moon and Kills to the panel. Through social media, many expressed confusion for why these two were chosen, as both have had only one minor hit each in the small country and have never had a certified record in any country. This means the couple has never had a Gold or Platinum record. It was actually just released that Kills hasn't held her record contract with Cherrytree Records for a few months. Despite these complaints, the season was running smoothly with only few bumps on notoriously outspoken Kills' part, cursing at the audience once.
This situation really blew up after contestant Joe Irvine sang "Cry Me A River" by Justin Timberlake on the first live show last week. Blatt, Irving's mentor, gave him a standing ovation. Walker provided praise with understandable criticism. But, when the show's host, Dominic Bowden, asked for Kills and Moon's comments, this is what a nervous Irvine got: 
Call me crazy, but this is probably not what the producers were looking for on a televised competition. This video alone has five million plus views and there are hundreds, literally hundreds, of duplicate downloads. Kills has been trending worldwide for over 36 hours straight on Twitter, a feat that is practically unheard of. Not only were Kills and Moon completely out of line, but nothing qualifies them to say that this contestant is copying Moon, whose personal style is derivative of Mark Ronson and Frank Sinatra, artists more prominent that Moon.
Since then, more than the average number of viewers of "The X Factor" signed a petition urging the producers to fire Kills and Moon. They got their wish. About seven hours after the outbreak, the married couple were fired and sent packing back to their home country of the United Kingdom. While this may seem like a small thing to worry about, it exploded into a huge meme. Calvin Harris, Ellie Goulding, Ed Sheeran, Lorde and many more celebrities reprimanded Kills and Moon for their comments and offered their support to Irvine.
Now, the speculation is focused in on who will replace the deadly duo. Many names, including natives of New Zealand, Ginny Blackmore, Lorde and UK singer Dan Smith (of Bastille), are floating around the rumor mill. Luckily, rumors will be put to rest before next week's show and hopefully, we won't get another singer with the last name "Kills".