Senioritis strikes again, snatching students' spirits
ACCEPTED. The moment you've been dreaming of for months has finally happened and you've been admitted into an amazing college. Congrats, you are one step closer to getting out of high school! Except, you're not exactly there yet. Staring down another full semester before graduation can elicit a variety of reactions as seniors struggle with slipping motivation and waning focus. Senioritis has arrived.
Unlike previous years, the last three graduating classes of WJ have had their high school experiences significantly disrupted by Covid. The class of 2022 has experienced more than a fourth of high school online, which has shaped the way they study and learn. It has also reshaped priorities, which has created challenges.
"It's definitely decreased my motivation a lot and I'm getting into more hobbies and stuff so I've been spending more time on those rather than school work. Like before online school, I mainly focused on school," senior Sophia Lin said.
But for some seniors, the transition back to in-person school and the unknowns that came with it actually warded off senioritis for a while.
"If anything, I think it helped to ease my senioritis. Because I came into the school year with a lot of nervous energy because I was kind of like, oh what if I am not ready for math with Precalc being a little questionable. Or ready for any of my English or literature classes but I was definitely hyper vigilant at first, I felt like I had to overcompensate to keep up. But I quickly realized that wasn't true and I have kind of relaxed in that area as well," senior Juliana Lange-Asschenfeldt said.
Seniors all experience senioritis differently. The most well known version is definitely the outright lack of motivation after securing post-high school plans.
"It has hit me hard. I haven't wanted to do much of anything in any of my classes, doesn't matter if they are AP or whatever, I just don't want to do anything," senior Diego Santiago Rodriguez said.
However, some seniors find the confirmation of what comes next as a source of motivation instead of apathy.
"If anything, I think it's kept me a little more on my toes. Being accepted into one of my top choices was kind of when you get a little excited because I am going the premedical route, so Anatomy is a little bit more real now. It is things that I am going to be using, rather than classes that are a bit more stagnant than that can be a little rough to keep up with but generally speaking I am taking classes I like this year," Lange-Asschenfeldt said.
To cope with senioritis, seniors have been using different tactics to help keep them on track and focused until the end of the year.
"I've been using a planner and have been breaking down big projects. Like by this date, I need to get this done. It's been working pretty well," Lin said.
Regardless of how one experiences senioritis, June is five months away. Whether that seems like an instant or a forever, seniors just have to stick it out a little longer.
"It's such an unhelpful thing to say, but fighting procrastination is something you have to do. Especially with projects that sneak up on you, when you are a little bit laid back, like I got into college, it can wait. It can't, you really have to try to treat it as much as you can and for me I've kind of reminded myself that a lot of these colleges look at midyear reports or end of year reports and even though it's not likely to impact admission, it could. So that's how I mostly do it. I try to hold myself accountable and remind myself that there are certain standards I need to live up to," Lange-Asschenfeldt said.
About the Contributor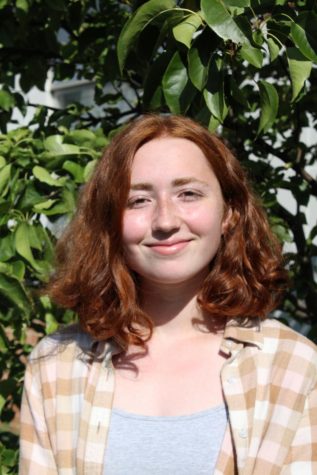 Cora Flynn, Print Feature Editor
Cora Flynn is a senior and in her second year on the Pitch. Aside from writing for the Pitch, Cora spends her time running, making art and hanging out...