WJ seniors surprise Romanian orphanages with gifts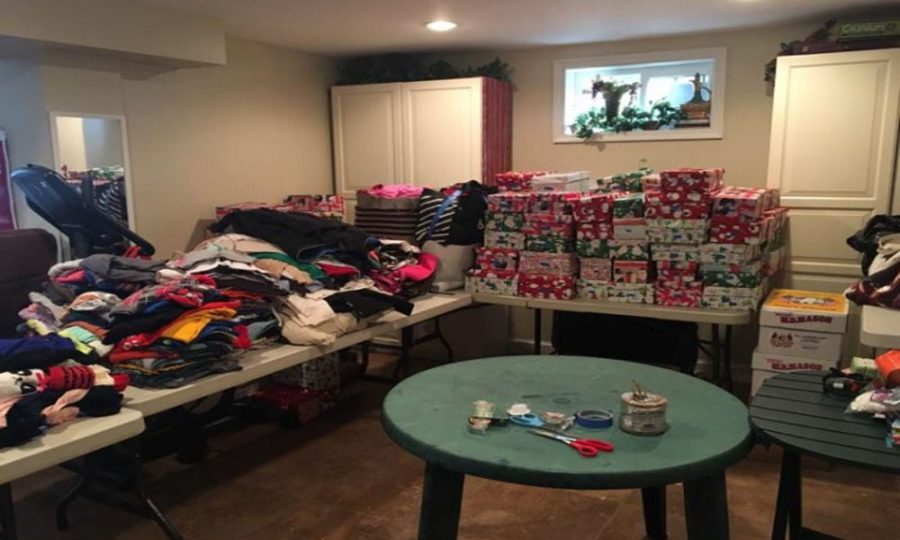 Hundreds of shoeboxes filled with gifts, covered in intricate Christmas wrapping paper crowd senior Ana Flake's basement as they wait to be shipped to the Codlea orphanage in Brasov, Romania at the end of October.
Flake, with the help of senior friends Sarah Mattingly, Mary Saint-Maxens and Parisa Rahbar, started the Codlea Donation Project in early September this year after returning from a service trip to Romania in late August.
"For two weeks in August, my mother, aunt and three of my friends visited orphanages in Brasov, Romania. The last time I was in Romania was in 2002, before I was adopted. It was an incredible experience to go back and I am glad I did," Flake said.
Flake and her friends visited five orphanages while they were in Brasov. The group brought toys with them and played with the Romanian orphans during visiting hours. They also went to a center and sorted donations and made care packages of toothbrushes, deodorant and other products for the kids in various orphanages.
"Seeing how little the orphanages had made us really want to give them more. Items that we would consider cheap trinkets brought the kids at the orphanages so much joy and seeing that in person really made a impact on us," Mattingly said.
Upon returning to the United States, Flake and her friends decided to start the project. The group ran the idea by their friends over at Hearts Across Romania (HAR), who said that if they sent HAR enough shoeboxes, HAR would get them to the Codlea Orphanage in time for Christmas.
"Asking for boxes may have been the hardest part. There were so many stores I would go into asking for empty shoe boxes, seeing plenty in the back room, and then be turned away," Mattingly said.
The group started collecting items to put in shoe boxes with the help of the The United Nations Children Fund (UNICEF) Club at Walter Johnson. The UNICEF Club serves to educate, advocate and fundraise to support the United Nations Children's Fund. They work to provide money and aid to children and mothers in developing countries.
"We started through the UNICEF Club to promote our project around school. The UNICEF club members brought us our first donations and then other students started bringing in even more items to Mrs. McAndrew's room," Flake said.
Flake and her friends continued to spread the word through the morning announcements, the PTA email listserv and neighborhood chains. The parents involved in the mission campaigned around their offices, helping to bring in more donations.
As for the boxes themselves, they are filled with various items. Each box is labeled as either "boy," "teenage boy," "girl" or "teenage girl." The boxes contain various toys such as barbies, journals, spinning tops and wooden toy cars, which were crafted by Kevin Daney's Foundation of Technology students at WJ.
"[The project] has definitely been a success so far. At first it was a little slow but we pulled it together with the help of the UNICEF Club and Mr. Daney's tech classes. Ana's basement was an absolute mess for weeks, so I'd say we did a pretty good job," Mattingly said.
The hundreds of boxes in Flake's basement will soon be shipped out to the Codlea Orphangage so that they will arrive in Brosov in time for Christmas.
Unfortunately, Flake and her friends will be graduating next year, but luckily, Cristina Flake, Ana's younger sister, will continue the Codlea project in her sister's absence.
"I think the Codlea orphanage project has a great message, and I hope we continue to do it in future years," junior Christina Flake said.
About the Writer
Sheridan O'Kelly, News Editor
Senior Sheridan O'Kelly is thrilled to be in her first year with the WJ Pitch as a News Editor. Sheridan is a part of the varsity girls soccer team and...