Diego Armando Maradona
More stories from Alex MacDonald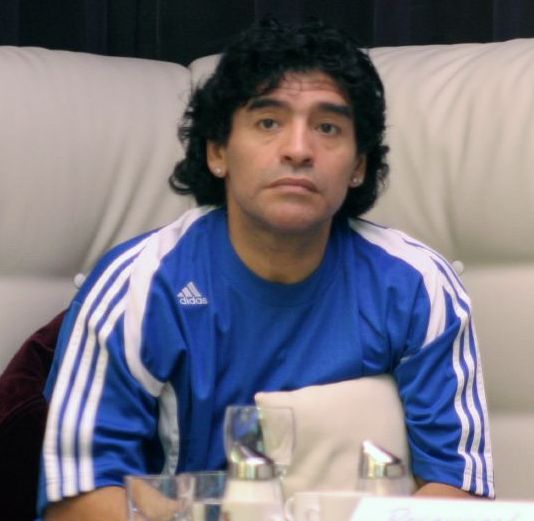 God is dead. That might seem like hyperbole, but for many futbol fans, Diego Armando Maradona was God incarnate. He was a god to those whose church was a field or stadium and whose sermon was 90 minutes playing or watching the beautiful game.
D10s was born on the outskirts of Buenos Aires in Villa Fiorito. His early life was hard, his family was poor and his neighborhood was tough, but like many before and after him, the ball was his ticket out.
Maradona's talent was quickly spotted by Argentinos Juniors; he made his professional debut for them at 15 and never looked back. From Argentinos, he went to Boca Juniors for a year and then to Barcelona for a two-year stint before moving to Napoli, Italy. At Napoli, he had the most successful stint at any club. He took the southern Italian club who had never won anything important in soccer and brought them two Italian league championships, "scudetto", a UEFA European Cup, and the Copa Italia. His time in Italy came to an end in 1991 when he left for Sevilla, Spain before returning home to Argentina to play for Newell's Old Boys, a team in Rosario, before finally returning to Buenos Aires to play two more years at his beloved Boca Juniors. He retired from club soccer at age 37.
Every club he played for, and against, told stories of his unequaled skill and desire to win, but in Napoli, they worship his memory. His accomplishments in taking an average Napoli side and making them champions of what was, at the time, the most competitive league in the world will never be forgotten. Even before his death a visitor to Naples would find murals of Maradona adorning the working-class districts and memorabilia of El Diego sold in practically every store. In many homes, his portrait hangs next to the ubiquitous Catholic cross.
Despite his storied and exceptional club career, Maradona's greatest achievements came in the "Albiceleste" of Argentina on the international stage. His crowning moment came in 1986 when he captained Argentina to their second World Cup title. The team around him was subpar, to put it politely, but there were two important things that the team had: Maradona and his will to win. Despite it being the goal of every team he faced to stop Maradona, his performances in that World Cup particularly in the knockout games are the greatest individual performances of all time. In some games, it seemed he scored at will. He scored both goals against England in the quarter-final, one so breathtaking that a plaque dedicated to "The Goal of the Century" remains outside the Estadio Azteca to this day. He had another two-goal performance against Belgium in the semi-final, before destroying the German game plan in the final and assisting the match-winner. He came close to winning a second World Cup in 1990 but lost in the final to Germany.
It is impossible to overestimate Maradona's importance to Argentina, especially for the average person. He was an outspoken leftist who often championed the cause of the working classes. While announcing the passing of the national icon newscasters openly wept and programs were cut short with journalists unable to contain their emotions. As news of his death spread, fans gathered in Buenos Aires's Plaza de Mayo to mourn his death.
On the day of his death, November 25, three days of mourning were declared by the president of Argentina. Maradona's body lay in state at the Presidential Palace, his casket draped in an Argentine flag and his famous #10 jersey. The Argentine Football Association has renamed their league cup competition the Copa Diego Armando Maradona, Napoli has renamed their stadium the Estadio Diego Armando Maradona, and hundreds of tributes from politicians, entertainers, current players, and old teammates have poured in from around the world. One million people packed central Buenos Aires for days to bid farewell chanting, "Diego is not dead, Diego lives in the people."
Clearly, Maradona meant more than words can describe to Argentina and to the soccer world. As a fan of soccer myself it feels like a family member or close friend has died despite Maradona being neither. Maradona the genius was, by his own admittance, flawed and made mistakes in his life. Yet he was perhaps the epitome of South American soccer and a perfect avatar for the South American game. Maradona's ability to score, create, and do the hard graft was unique and for all his talent there was a hard edge and competitive fury to his game that set him apart from the good players of the age and made him great.
Yet it was also his passion and lack of restraint that made him so loved, he lived every game he played, his antics were ridiculous at times but understandable to fans of the game or the team he happened to be playing for or managing. That is why he was the poster boy of South American soccer; he played with all the grace and skill that could be desired, yet lived each and every second of the game, he was not afraid to let his emotions show or be guided by them and at the end of the day he won, no matter what his opposition or anyone else did to stop him.
What will Maradona's legacy be? He is undeniably the greatest player in history and it should be left at that, but it will not be. Much of the world fails to appreciate just how significant Maradona is. To Europeans, (with the exception of Italy and possibly France), and Americans he is just a great soccer player, but Maradona is so much more than that to Latin Americans. Why is difficult to explain perhaps his actions carried more significance to Latin Americans than Europeans or Americans can understand.
Perhaps his off-field mistakes cloud people's judgment. Maybe his career is viewed through a eurocentric or anglophile lens of what professionalism is and what a star's image should be. Maradona did anything to come out on top in a soccer game, some of those things strained the bounds of legality but a bit of Garra is expected in South American soccer. All the most successful soccer players come from nothing, but once they make it big they tend to adopt a sanitized image. Maradona did not; he stayed true to himself and always spoke his mind. A famous anecdote tells that when attending an event at the Vatican to highlight the problem of world hunger he advised Pope John Paul II to sell the gold ceiling of the Vatican to fund the campaign.
In Argentina they tell a story of a man who played with such grace he would kick up the dirt, erasing his footprints, as he went back to his side of halfway. Why? So no one could recreate his magic. No matter how hard people try, no one will recreate Maradona's magic, and we will never see anyone come close to Diego Armando Maradona.
Adiós diez, adiós pibe de oro, este día todo el mundo llora con Argentina! Desde Buenos Aires, Sinaloa, Napoli, Barcelona y Sevilla también; un miembro de la familia de los fans se murió. Tú trajiste mucha alegría con tus goles, gambetas, y victorias. El D10s del fútbol se va a casa para jugar el partido de revancha. Yo deseo un dia ver el juego. ¡Viva Diego carajo!