Season helps age very young team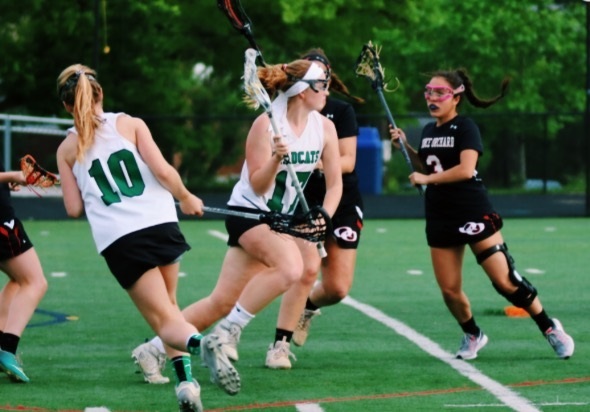 In the spring season, varsity girls' lacrosse finished with a record of 7-7. It was a mediocre season, but they still took some positives away from the campaign. They played some good competition, and were able to hold their own.
The first game was a 16-2 loss to Holton Arms School on March 22, but they came back in the next game, flipping the script. This time, they were the team who served up a blowout, 15-3 over Watkins Mill High School on March 24. In the two games after that, they won 17-6 over Magruder High school, and 8-7 over Wootton High School. It looked like they had found the formula to success.
"Our season was a lot better than last year's," senior captain Jordan Bryon said.
On May 5, the Wildcats went into their game against Quince Orchard High School with a record of 6-7. If they won, they could finish the regular season with a .500 record, but more importantly, they could enter the playoffs brimming with confidence. The Wildcats won the game, 17-7, to come out of the regular season on a high note.
It looked like there was certainly a carryover from the last game of the season into the first round of the playoffs. WJ came out firing on all cylinders at Richard Montgomery High School on May 10. They went up big and never looked back, defeating the Rockets 16-11.
On May 12, Walter Johnson again walked onto the turf at Richard Montgomery, this time to face Whitman High School. Earlier in the year, they had lost to Whitman, and they were hoping to avenge that loss.
"We weren't the most confident, but after winning our first playoff game, I think everyone really started on how to continue our season and play to our potential," sophomore Anna Nugent said.
The Wildcats lost 10-4. Although the season ended prematurely, they feel confident that future teams will carry the torch. With the mix of returning varsity players and incoming talent, the sun could be shining next spring for WJ girls' lacrosse.
JV season recap
One of the many reasons that Varsity is optimistic about the future of the team is because of JV. JV had a season worth celebrating, with a record of 7-0-1. In the process of dominating their schedule, they achieved the team goals they wanted, as well as some individual ones. They won the game against Churchill 13-4 on April 5 and tied Whitman 7-7 on April 27.
About the Writer
Bryce Auster, Sports Editor
Bryce is very excited to work on the Pitch his senior year. It is Bryce's second year on the Pitch and his first year as the Print and Online sports...