The hottest style trends for the summer!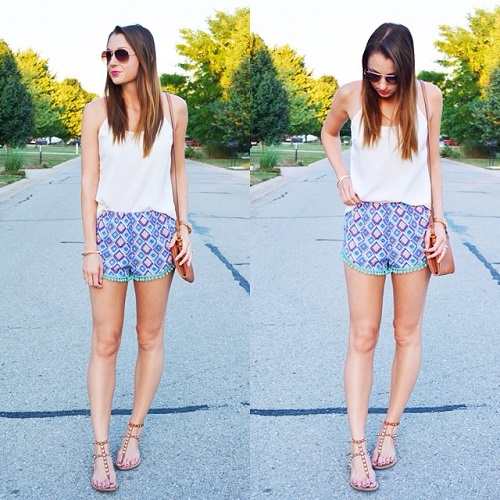 Everyone knows that the best time of the year is when school lets out and students are free for the summer. The changing of homework and bedtimes to sunshine and lazy days marks a change in students' styles as well. The warming weather means a shift to clothes that will keep students feeling and looking cool. Here is The Pitch's guide to the best summer style trends!
Gladiator Sandals: Summer is the season of sandals! Originating their name from the footwear of Italian and Greek fighters, gladiator sandals have become a summer must-have. Gladiator sandals are perfect for any occasion, a night out, a day at the beach, a morning walk and are easy to match with every outfit. Most types of these sandals have laces that spin around the calf and lace up right below the knee, creating a more formal look. Shorter styles are an easy way to keep your look casual.
One Piece Swimsuits: One piece swimsuits have finally come back in style! Crediting most of their comeback to celebrities, the one piece is now on every girl's summer shopping list. Allowing girls to cover up more, the one piece comes in many different styles that enable unique designs to be flaunted. One pieces are perfect for days at the beach or pool and usually contain special designs on the back of the suit.Cut outs are huge right now, and will find their way into the back or waist of most swimsuits this summer.
Printed Shorts: Forget about jean shorts and make way for printed shorts! The classic jean short is finally being replaced by the more fun and chic printed short. Usually paired with a basic top, the printed shorts make an outfit, adding pops of color and design that cannot be fulfilled by the jean short. Printed shorts can either be fitted or flowy, permitting even more style choices for summer shoppers.Another plus is the comfort of soft cotton shorts, a stark contrast from the scratchy denim of classic jean shorts.
Off-the-Shoulder Tops: The most popular top around right now is the off-the-shoulder top! These tops tend to be accompanied by a series of ruffles or layers that add to the fashionable outfit. Off-the-shoulder tops can be worn for a variety of occasions; whether it be a cover up for a beach day or an attention-getting top at a concert, the off-the-shoulder top is the perfect fit.
All of these items can be found at local stores and malls, so time to get your shop on!