Middle school friend groups flow into WJ
It's no secret that friend groups are divided up based on where students went to middle school; going to North Bethesda MS or Tilden MS is what typically makes up these circles of friends. But why?
The origins of these friendships date back to when parents were responsible for introducing students and planning play dates. When parents were invited into classrooms to check on their kids, opportunities arose for them to meet other parents and potentially set up times for their children to spend time together. At this point, parents dictated their children's schedules and the people they met up with.
"Georgia [Myers] and I have been close since we were babies. Our parents were friends when we met. We're also neighbors, so we became friends really young," senior Jocey Gaul said.
Gaul and Myers had been close friends since elementary school, so the transition into middle school was easier in this perspective. Students coming in from elementary school are usually overwhelmed by the jump in the number of classmates, but having a preexisting friendship carry over from elementary school makes this process more bearable.
The active and ongoing force to maintain stable friendships is what usually characterizes these friend groups. Simple things like past history, parental influence, close physical proximity and the simple importance of having friends is how WJ's friend groups have stayed so strong.
Friend groups primarily stay close because they have things in common from their middle school experiences. A popular one from North Bethesda was ski club. Seniors Katie Martin and Lexie Conaway have been close friends since elementary school, and being able to participate in ski club together has only made their friendship stronger. Tilden didn't offer a ski club–a vital event that strengthened friendships at NB.
"I'm so happy I was able to participate in the ski club because it brought more friends into our group and made our friendship stronger. This definitely helped going into high school—we weren't worried about our friend group falling apart," Conaway said.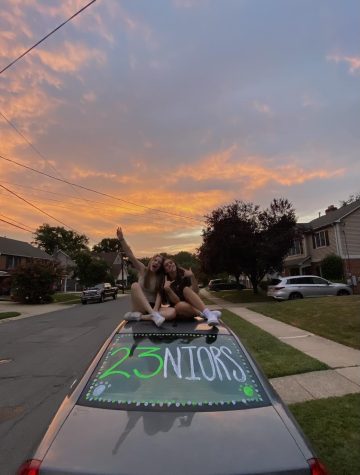 Covid was also a major factor in the structure of friend groups. The class of 2024 happened to be in their final year of middle school when Covid struck, so not having a traditional freshmen year forced students to stick to their original friend groups and limited opportunity to venture outside of their previous middle school circles.
It is especially hard when a new student who hasn't been a part of the WJ community attempts to join a friend group. It can be hard to be proactive and make new friends when all of the friend groups have been formed multiple years prior.
In some cases, word gets around at school, and people from different friend groups are more reluctant to accept a new member. All sorts of arguments, issues and falling outs -– normal, of course, for friends to disagree — could lead to a friend leaving the group and looking for a new one.
This is no easy feat to conquer, as navigating closed-off friend groups takes time and a strain on one's mental health.
"
[My old friend group] was really fake and would spread lies. They basically talked bad about everybody and about me. It was a very toxic environment. I joined my new friend group because they were inclusive; they're actually supportive of me and don't pretend to be happy about my accomplishments. We'd been friends before, so it wasn't too bad because it just felt like I was getting closer to everyone.
— anonymous source
Scattered through the halls of WJ, different friend groups can be found occupying space during lunch. Many of these spots have been established since their very first year in the new building, marking an area every friend could find, even as many struggled to make their way around such a large school.
"Me and my friends have been sitting at our lunch spot since the beginning of the year. We just recently switched our spot from last year. I find it that some of the other larger friend groups in the halls can be super intimidating. It's just weird because they're usually chaotic and never seated or civil," sophomore Anna Shetsiruli said.
Loud, spread out friend groups that formed in middle school makes approaching these circles as Shetsiruli said, intimidating. Trying to join one of these groups or simply trying to find someone to sit with during lunch can be challenging. Since groups like these are so close, and are less likely to be inviting, finding a new circle of friends is more difficult than it needs to be. In response, some turn to clubs to meet new people.
As freshmen flood the halls of WJ each fall, constructed friend groups reign over the school, and while many tight cliques will remain strong and untouched, the slow process of branching out and forming new bonds is still possible.
Your donation will support the student journalists of Walter Johnson High School. Your contribution will allow us to purchase equipment and cover our annual website hosting costs.
About the Contributor
Zsuzsanna Juhasz, Online Managing Editor





Zsuzsanna is an Online Multimedia Managing Editor for the Pitch this year. This is her second year on the Pitch and in her free time, she enjoys...