Churchill removes new, controversial 'No-Zero' policy after first week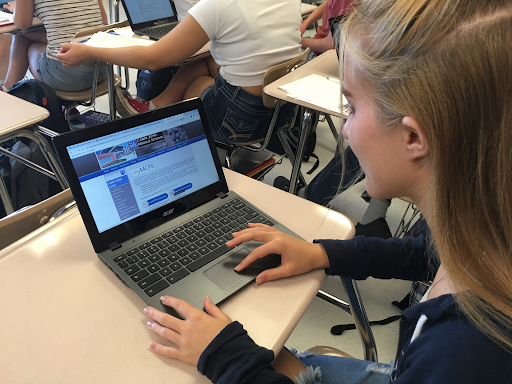 Within recent years, Montgomery County has allowed students to have the 50 percent rule in the grading system. Winston Churchill High School attempted to implement a new policy at the start of the school year\; that doesn't allow teachers to give students a grade of zero, even if no effort is being shown. However, after the county conducted an investigation to see if the policy violated MCPS's grading policies, it was removed within the first week of school.
According to an MCPS spokesperson, the decision to then remove the policy was made after the investigation since it didn't comply with the 50 percent rule that MCPS already had in place.
The county was not previously aware of the change Churchill had made and since no other school had created its own policy as well, the county wasn't aware of the situation right away. The original concept of the policy has brought many to wonder why it was implemented in the first place since Churchill is known to have a 97 percent graduation rate. A letter sent to Churchill students and parents by Principal Brandice Heckert explained their intention of the policy.
"Our intention in moving away from giving zeros was grounded in our efforts to ensure that we have a collective understanding of providing all students with multiple opportunities to assess their learning and understanding of concepts," Heckert said.
Despite this, many students and community members feel it was more of an effort to inflate grades or reduce pressure on students.
"The policy is a twisted way to make the school seem better academically than what it already is and it simply would be handing students easy grades without even trying," Churchill junior Madison Sunshine said.
Churchill's recent release of their new policy isn't the first time the county has faced controversy with the grading policy. Since the 50 percent rule was set in place, the county has experienced many allegations of grade inflation.
"There are so many students who just get by and pass the class with the 50 percent rule and I feel like it's just a way for the county to make us look good. I am not at all surprised that the county has a grade inflation since everyone just seems to be passing. It's not really letting students have a chance to challenge themselves since they know that even if they do bad it won't be a zero," WJ junior Samar Jahanbin said.
WJ has had its own controversies with the 50 percent rule Since instituted, it has created frustration and concerns for students, parents and teachers. Student standards all over Montgomery County including WJ, have lowered due to the change in the grading system.
" I think that grade inflation provides a safety net for Montgomery County but not necessarily for students",technology teacher Thomas Martin said.
The 50 percent rule will still remain in place as it has been in previous years, although it is still unclear if Churchill or other schools will continue to pursue the "no-zero" policy. This leaves students and teachers to wonder if the "no-zero" rule at Churchill is just the start?
"The thought that this no-zero rule could have been a thing at Churchill is so concerning, and I just really hope WJ doesn't come up with a policy like that," senior Marcia Manzengele said.
Your donation will support the student journalists of Walter Johnson High School. Your contribution will allow us to purchase equipment and cover our annual website hosting costs.
About the Contributor
Emily Speranza, Online Editor-In-Chief
My name is Emily Speranza, and this is my third and final year on Pitch. I'm a super adventurous person and I love doing anything that gets my adrenaline...