Pitch opinion: Hands off our snow days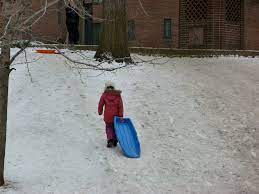 Recently, the MCPS Board of Education approved a plan to institute virtual learning on snow days on a case-by-case basis, meaning each time a snow day is declared, the Superintendent will have the option to force students and teachers to scramble online as the snow piles on the roofline.
The possibility of virtual snow days affects teachers the most. It is unreasonable that teachers are expected to be able to take their in-person lesson plans and adapt them to the virtual format in a matter of hours. The calls for snow days are often made the day of, giving teachers a minuscule amount of planning time.
And despite popular belief, teachers do more than grade papers and teach students. They are parents and members of this community. If daycares are closed due to snow, they have to be there for their children. We cannot expect them to hold Zoom meetings as well.
Students themselves also deserve a break from academic activities on snow days. It is a time for frolicking in the snow, making snow angels and snowpeople, hurling snowballs at extreme speeds and sledding down dangerously steep hills.
We are children only for a short time in life. Yes, maybe adults should telework when it snows, but children have the right to go outside and play.
We implore MCPS to consider the chaos caused by last-minute virtual school days and the socio-emotional value of kids and teachers getting the occasional day off.
Your donation will support the student journalists of Walter Johnson High School. Your contribution will allow us to purchase equipment and cover our annual website hosting costs.