Vivian Vendt Commits to VCU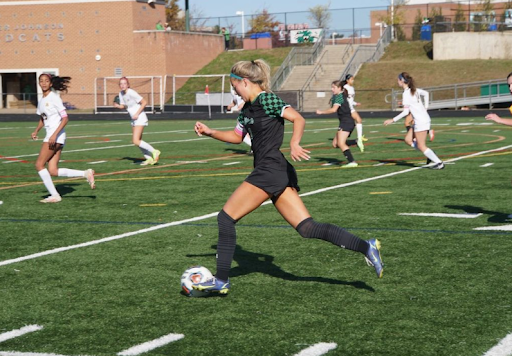 Vivian Vendt has always been in love with soccer. From the time she was the early age of six, she knew she wanted to have a career in the sport and make her mark in the soccer world. Every game and practice made her passion for the sport grow until she decided she also wanted to play in college.
Vendt committed to Virginia Commonwealth University (VCU) in April of last year, and ever since then, she's been excited and eager to meet her teammates and play for her future team. She's been preparing for the competition she knows is ahead of her. She is now one of the co-captions for Walter Johnson's varsity soccer team.
The recruiting process was challenging for Vendt as she knew she had to make sure VCU was the best option for her. She wanted her next four years in college to be memorable and to surround herself with supportive people.
"It's been tough and challenging to balance school and soccer these past four years but I wouldn't change it for the world. I love my team, the coaches I've worked with and I've built long-lasting friendships through this sport," Vendt added.
Vendt credits her family and friends for her successful recruitment to VCU because the support and encouragement she had from them gave her strength even when she doubted herself. She admits that without them, she wouldn't have been able to achieve this goal that she worked so hard to reach.
"They're the best people to have by my side, and I hope to make them proud," Vendt said.
Walter Johnson's varsity soccer season has already ended, but Vendt feels she ended her high school soccer career strong.
"There were a lot of ups and downs, but we put in our all, and that's all that matters. I'm so proud of us," Vendt said.
Vendt has also inspired her teammates to push themselves. Her performance on the field was strong and many admire her for the work she has put into being a stronger player.
"Vivian's a great teammate and player. My wish for her is for her is to keep believing in herself on VCU's soccer team. We're all rooting for her," senior and co-captain Aranda Hurge said.
Vendt is excited about what the future holds and can't wait to continue improving as a player on and off the field.
"Soccer is more than just a sport. It improves your discipline and character because you're constantly trying to be as positive, encouraging, and competitive as possible. It's made me a better player, friend, teammate and person," Vendt said.
Your donation will support the student journalists of Walter Johnson High School. Your contribution will allow us to purchase equipment and cover our annual website hosting costs.