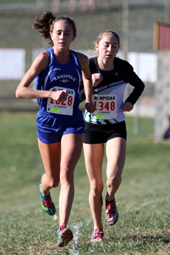 Indoor track has been historically good the past few years, including going to girls states two of the past three years. This years coaches include Tom Martin, who's been WJ's track coach for a very long time, and Muhammad Halim, an Olympic jumper who competed in the 2012 and 2016 Olympics.
"It's great that we have Muhammad," junior long-distance runner Abbey Green said. "You just want to do everything he's done because he's been to the Olympics, I feel he's very experienced at a competitive level."
Green has been to states in all three girls' running sports: cross country, indoor track and outdoor track.
"Over the past few years I've gotten a lot of experience," Green said. "This is only my second  [season]of indoor track but my fourth season of track. I think I can use my experience to help the freshmen improve."
Members of indoor track say that people don't understand that track is a team sport, which is why the freshmen are so important.
"They're the ones who are going to take over when we graduate," Green said.
"We have really good freshmen," junior Sadie Keller said. "We're going to have to set an example and help them improve so the team can be successful in the future."
One event that no one seems to pay attention to is the high jump, and a player to watch this season is senior Andrew Leverenz, who's a complete package, being able to sprint and high jump for the boys' indoor track team. Leverenz went to states last year and plans to do it again.
"I'm looking to break 37 [seconds] in the 300 meters and jump 6'' 4' in high jump," Leverenz said.
The boys have been overlooked in the past because of the girls' team sending more athletes to states than boys, but Leverenz expects that script to change.
"I expect that more [boys and girls] will go to states," Leverenz said. "We have good talent in both distance sprints and field events."
Indoor track is the complete package with a lot of talent, from leadership to diverse ability of skills. There aren't a lot of teams that can consistently do well over nine seasons from 2008-16. Look for indoor track to improve, even though they're already a great team.