Decorating Graduation Caps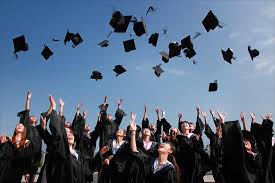 Graduations are rarely a place for individuality. The entire senior class lines up in uniform rows, wearing identical robes, and the cycle of diploma acceptance begins. It's a little bland if you ask me. Of course, some seniors choose to make the day their own through flashy outfits under their robes or chords highlighting their achievements, but a new way of expressing one's individuality in graduation has emerged from the creative community.  
The new trend in graduating artists is to decorate your cap. Nothing gets as personal as having an unique cap to throw in the air among hundreds of other, plain caps. People have decorated caps to express plans for the future by writing the name of their college. Others have celebrated the past by describing memories, achievements or simply their own personal identity.
Another great part about this trend is you don't have to be artistically inclined to take part. Some puffy paint, a sparkle or two and your cap just screams *you*. Some of these caps have even gone viral, so the idea is clearly appreciated by the online community.
Of course, artists can take the opportunity to shine and show up their peers with beautiful, intricate caps. These can be inspired by famous art, your own experiences or they can simply just look pretty.
Any way you interpret this trend is the right way because it's all about you! This is a chance to sum up your entire high school career in a single square foot, so use your imagination. But remember, there's no need to put the pressure on. This is just another way to make the most of the graduation ceremony. As fun as it is to watch all your friends meet this milestone, you're going to be watching lots of your friends, for a long time. I say spice it up anyway you can.