When are seniors making their college commitments?
With the May 1 decision deadline just a month away, seniors are at very different stages in their college decision process. While some have committed and are currently looking for roommates, others are still anxiously waiting to hear back from their top schools.
Deciding where you're going to live for the next four years and possibly the rest of your life can be an extremely difficult decision to make at just 17 or 18 years old. After weighing the pros and cons of each of the schools she applied to, senior Olivia Tetrault decided the University of Delaware was the perfect fit.
"Ever since I visited it felt like home and made me excited for my future," Tetrault said.
Tetrault decided Delaware was the one for her while driving with senior Leah Bregman.
"I was driving with my friend and I was going through each college I was considering and saying why I wouldn't want to go there. I just knew Delaware was the one and I didn't know why I would wait any longer to commit," Tetrault said.
Bregman has also committed and is planning on attending the University of Maryland, College Park in fall. She's already started looking for roommates through a Facebook group containing all the accepted students.
"I've been looking through the UMD Class of 2024 Facebook group and finding people who have similar interests and then dming them on Instagram. The process is kind of frustrating because it's difficult to tell who a person really is just by texting them and convos fade pretty quick so I'm thinking of just going random, but we will see!" Bregman said.
Some seniors aren't quite as far along in their decision process. Senior Chinhnam Nguyen is still waiting to hear back from a few University of California schools.
"I'm still waiting for the UCs to come out but I'll probably go to the University of Maryland because I don't think I'll get into them. Those are the last few schools I'm waiting on and even if I do get in my decision comes down to how much financial aid I get," Nguyen said.
Other seniors have a top pick but haven't made their decision official. Senior Jaidan Inniss is most likely going to Northeastern but her upcoming visit to the campus is the determining factor.
"I'm going to visit Northeastern which will determine whether or not I go there. Visiting the school is important because if I'm going to be spending the next four years there then I want to feel comfortable and excited about the area. It's all about the vibe," Inniss said.
Seniors have mixed emotions about leaving for college in just over five months. Some are excited to be in a new environment with new people while others are unsure of whether or not they're prepared for such a major change. Inniss is worried because of how different it will be from high school and everything she's ever known.
"Since senior year started I've felt an impending sense of doom. Probably because I'm going to have to start adulting. I've lived in the same place with the same people doing the same things my whole life and now I have to start over somewhere else. It's just crazy," Inniss said.
Senior Ava Barrios is excited to begin this next stage of life but she's also nervous to leave her familiar life behind.
"I'm super excited for college because I feel like I'm gonna get a lot more freedom and have a lot of fun and new experiences. But at the same time, I'm a bit nervous because it's going to be so different from high school and I'm going to be separated from a majority of my friends and family," Barrios said.
Your donation will support the student journalists of Walter Johnson High School. Your contribution will allow us to purchase equipment and cover our annual website hosting costs.
About the Contributor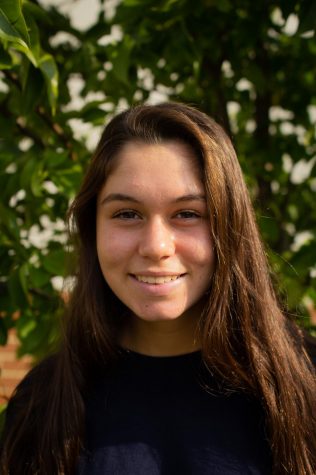 Kayla Kahrl, Online Feature Editor
Senior Kayla Kahrl is excited for her first year on Pitch as an Online Feature Editor. She loves writing feature because it allows her to talk to people...