From WJ to the WAPO: Kelyn Soong shares his career journey
The Washington Post may be a local newspaper for WJ students, but it happens to be one of America's most distinguished papers. It's hard enough to make it as a journalist, but to work for The Washington Post is a dream for any aspiring journalist. And it so happens that one of Walter Johnson's former graduates, and also one of WJ's cross country and track coaches, Kelyn Soong works for The Washington Post as a Fitness, Exercise, Running and Sports Reporter.
Soong graduated from WJ in 2005. Surprisingly, being a journalist wasn't something Soong always knew he wanted to be. It wasn't until much later that Soong realized he wanted to pursue a career in writing.
"I was a very late bloomer in journalism. So I didn't get into journalism until after college…But I've always liked writing. I always enjoyed story-telling and I didn't put it together that that could be a career until after college. I liked interviewing people, I liked reporting, I liked writing about the athletes behind sports. That's how I got into sports journalism," Soong said.
After completing college and an internship, Soong went back to get his master's degree in journalism, and from there Soong landed a job at The Washington Post in 2013. He stayed at the Post for five years before leaving in 2018 to become a Sports Editor for The Washington City Paper before eventually returning to the Post in early 2022 to assume the position he currently has.
"One of the coolest things is that you get to meet so many different people. I've gotten to interview Olympians, I've gotten to interview Medal of Honor recipients and the President of the Medal of Freedom. I've gotten to meet really interesting people that I wouldn't have gotten to interview," Soong said.
Included in this list of notables, Soong has interviewed tennis legends Billie Jean King as well as Serena and Venus Williams. He has also interviewed a Medal of Honor recipient, Florent Groberg (also an alum of WJ). He got to cover the 2019 World Series, the year the Washington Nationals won. In addition, Soong wrote about the year the Capitals won the Stanley Cup. Soong has covered the Citi Open multiple times, including the time when Rafael Nadal came out to D.C. to play.
But there are challenges to being a reporter, as Soong pointed out.
"I think you need to have a passion for [journalism]. It is very demanding. It's a deadline business so there's a lot of stress on writing on deadline. Sometimes it's unpredictable and you can never predict the news cycle. So you don't know when you're going to be busy sometimes," Soong said.
For many writers, it can be particularly difficult to find an angle when writing an article. Soong described what he looks for when he writes a piece.
"I think it's the people behind the sports. You try to find, like any storytelling, where the stories are. I wanted to find stories that other people weren't writing about…I think the best stories are the ones that are compelling but people aren't thinking of," Soong said.
For WJ students who are interested in journalism, Soong recommends that they work hard and focus on stories and topics that they're interested in.
"My advice would be … there's a place for you in journalism as long as you have passion for it…you may not be a writer — you may be a producer, you might be an editor, you might be a social media person. Journalism is not just writing… find what excites you…and work on those stories," Soong said.
Soong has thoroughly enjoyed being a journalist — from writing stories about cheating in youth tennis to the behind-the-scenes of athletes.
"I personally can't imagine doing something else right now. There are so many cool opportunities that I feel I wouldn't have had," Soong said.
Your donation will support the student journalists of Walter Johnson High School. Your contribution will allow us to purchase equipment and cover our annual website hosting costs.
About the Contributor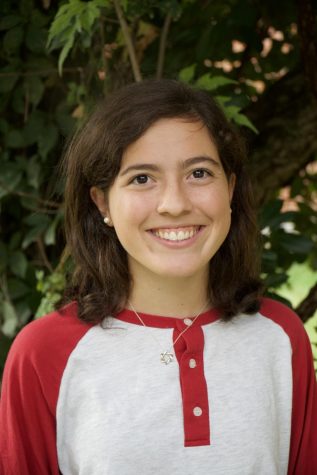 Rachael Wolfson, Print Opinion Editor





This is Rachael Wolfson's second year on The Pitch and second year as a Print Opinion Editor. She is currently a junior. In addition to The Pitch,...