Teammates of nine years part ways to play Division I lacrosse
The girls' lacrosse team is brimming with talent, with two juniors already having committed to play Division I Lacrosse before the upcoming season. Close friends Anna Zucconi and Natalya Krouse have committed to play for Kent State University and University of Connecticut, respectively.
Both girls are avid athletes: prioritizing lacrosse and playing additional sports in the off-season. While Krouse joins field hockey in the fall, Zucconi enjoys playing with the soccer team. Zucconi has been playing soccer since the first grade, even before she picked up a lacrosse stick. However, she decided to pursue the latter at a collegiate level.
"I always thought I was better at [lacrosse], and I always thought it was easier for me. It's easier to get recruited for college, so I may as well go for lacrosse…soccer is a lot more pressure to be better, because there's so many people who are good. [For] lacrosse, if you're good, you could be great, and if you're great, you're amazing," Zucconi said.
While committing to a school as a junior may seem uncommon, Division I lacrosse recruitment begins as early as Sept. 1 of an athlete's junior year. Krouse began her recruitment process during her sophomore year.
"Freshman year, I decided that I definitely wanted to [play lacrosse]. And sophomore year is when recruiting started, and [I] started going to camps and sending emails to coaches. There were a wide range of schools. I didn't really know what I wanted, but I knew I wanted to go north instead of south because I do not like the heat," Krouse said.
In view of the upcoming spring season, varsity girls' lacrosse coach Christina Fitzpatrick looks forward to seeing what they bring to the team this year and watching them grow as players.
"
The fact that they're juniors… their leadership is just going to continue to grow over the next two years, and we can really build the team and the program around that.
— Fitzpatrick
Zucconi and Krouse have been playing on the same club teams together for almost nine years. Now playing for WJ, lacrosse has brought the girls closer than ever.
"I think it helped with chemistry on the field and made the transition as freshman easier because we had each other if all else failed. We're just always there for each other when the other needs it," Zucconi said.
The pair agree that club lacrosse can be extremely strenuous and demanding of the athletes; the WJ team has been more enjoyable, allowing them to develop as players while making new friends in a light-hearted environment.
"Club is much more focused on the development part of it and making you a better player, even if you already are a good player. High school is definitely still competitive, but it's more fun, at least for me, because it's not as much pressure," Zucconi said.
Zucconi is looking forward to joining the Kent State lacrosse family. She knew the school was the right fit for her when she saw how large it was.
"From the very start, I'd always wanted a big school. It's got that aspect of it; it's a big sports school; they have football, basketball; their stadiums were gorgeous for both. And I really wanted the lacrosse team to play in the stadium, and they do, so that was a draw to it," Zucconi said.
Zucconi hopes to major in journalism and potentially pursue a career in sports broadcasting. Currently taking Journalism 1, she is excited to combine her passion for writing and sports.
"I've always had a knack for writing, and I feel like journalism is being able to be in the action. I've played sports my whole life, and I've always wanted to do a major that is related to sports," Zucconi said.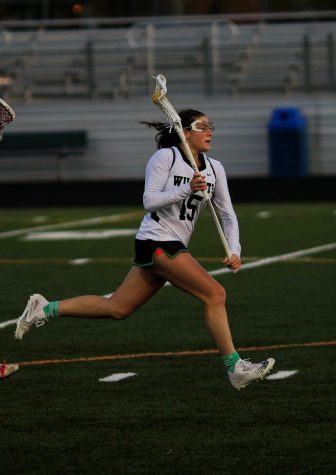 On the other hand, Krouse took interest in architecture and interior design.
"[University of Connecticut] doesn't necessarily have an architecture program, but they have design and landscape architecture, so I'm thinking I would do something [like] that," Krouse said.
Krouse hopes to make life-long friends and memories at University of Connecticut, just as she has with Zucconi and WJ's lacrosse team.
"My freshman year when I was meeting the juniors and seniors, I was scared at first, because they were kind of intimidating. And then, they really took me in, and they were all really nice, and it just felt like I was at home. I felt like I had known these girls for years, even though I had only been there for that season," Krouse said.
The girls still have an entire year ahead of them before they start their journeys in college, but they are excited to see where life brings them. In light of their diverging academic and athletic careers, Zucconi and Krouse look back on lacrosse as more than a sport, but a medium through which they met a life-long friend.
"Our relationship is different because after knowing Anna for 9 years, I think I really understand her and always know what she is thinking which gives us a stronger bond. No matter if it is on or off the field, we will always be there to back each other up and be someone the other can always talk to in any situation," Krouse said. "Anna is someone who I hope will always be in my life no matter the distance."
Your donation will support the student journalists of Walter Johnson High School. Your contribution will allow us to purchase equipment and cover our annual website hosting costs.
About the Contributor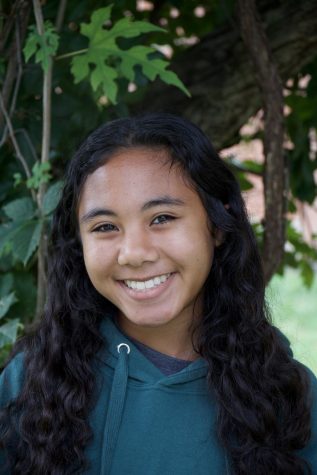 Katie Campbell, Online Editor-in-Chief





Katie is excited to spend her senior year as an Online Editor-in-Chief for the Pitch. She enjoys playing soccer, reading, and watching Monk.