Girls' distance dominates Track and Field State Championships
Excelling all season, the girls' distance team continued their dominance at the Maryland 4A Track and Field State Championships, which took place on Friday, May 26 and Saturday, May 27.  
The heat was on for the girls 4x800m relay to win gold, as they were the top seed and hold the school's indoor track record of 9:23.65. Though the race was closer than anticipated, the relay consisting of juniors Mackenzie Raue, Zuzana Huserova, Carolyn Hultman and sophomore Megan Raue, didn't disappoint. 
Mackenzie Raue ran a strong first leg, bringing the girls to the lead at the first exchange. Huserova, who had been sick the last couple of days, still ran a solid leg, and the girls were third at the second exchange. Hultman, who has been injured throughout the season persevered, as she got their team up to second place. Mackenzie Raue's younger sister, Megan, ran a strong race, as she chased down Severna Park, staying with the Severna Park runner the first lap and then passing her during the second lap, extending the gap as she crossed the finish line. 
The girls' 4x800m relay ended up winning by six seconds in a time of 9:29.82, which isn't even their best outdoor time of 9:25.70. Despite it not being their best race, the girls 4×800 managed to get the job done in emphatic fashion. 
"Winning the relay was definitely extra special with my sister, watching her improve so much has been awesome to see, and she ran an awesome fourth leg! I love being able to train with her, and it only strengthens the bond of our relay which lets us run faster," Mackenzie Raue said.
The boys' 4x800m relay, consisting of juniors Liad Simhony, Kendall Murphy, senior Koki Takizawa and junior Calix McCormick, gave a valiant effort to medal but ended up just missing the podium by thirteen one-hundredths of a second. The boys challenged for first place throughout the race including in the final leg before being passed by three teams. 
In the individual races, Megan Raue medaled in both the 1600 and the 800 which were run in the same day. Megan Raue won bronze in the 1600 with a personal best time of 5:06.05 and silver in the 800 with a time of 2:19.08. 
"I prepared by making sure to get a good cooldown and warmup in and staying hydrated! I also reminded myself that a lot of the girls in the 800 also ran the 1600 so they were just as tired as me," Megan Raue said.
Megan Raue ran a smart 800. For about a lap and a half, Megan Raue was in second place in her heat. The leading runner had built a large gap between herself and Megan Raue. But in the last 20m, Megan Raue had an unbelievable kick to just pass the girl and win her heat. 
"I knew I was seeded first in my heat but not by too much so I planned to stay right behind the leading girl for the first lap and then pass her with about 200 left, depending on how I was feeling, which didn't go exactly how I planned but I was able to eventually pass her," Megan Raue said. 
Hultman ran an impressive 800, as well. She stuck with Megan Raue throughout the entire race and she ended up getting a best time of 2:19.66, which just missed the podium by eighteen one-hundredths of a second. 
"I tried to stay with Megan in this race. Her 800 is faster than mine, so I decided to go out with her and hold on for as long as I could. While I was out injured, I did a lot of cross-training, which definitely helped me stay with her," Hultman said. 
Mackenzie Raue also had notable individual races, as she finished in the top ten for both the 1600 and the 800. She finished ninth in the 1600 with a time of 5:17.59 and sixth in the 800 with a time of 2:20.88. Mackenzie Raue's performance in the 800 was very key, as she scored team points for WJ. 
Obviously running is physically demanding, but the mental aspects often get overlooked. The Raue sisters described the mental factor of running. 
"I was really nervous for the 1600, and I didn't perform as well as I was capable of, but every race is a learning experience and I am definitely going to start working more on the mental aspect of running as we prepare for Nationals," Mackenzie Raue said.
"It's definitely a balance between [mental and physical strength] because a big part of it for me is being able to convince myself before races that I can do it and staying motivated but it's also definitely hard physically too!" Megan Raue said.
The girls' distance had a great performance this past weekend. States isn't the end of the season for them yet, as the girls' 4x800m relay state champions will be competing in Nike Nationals, which takes place in Oregon at Hayward field (the same track where the U.S. Olympic Trials were) on June 16. They're looking to break the school's outdoor 4x800m record of 9:24.38. The future is bright for the girls' 4×800, as they'll all be back next year for more success.
Your donation will support the student journalists of Walter Johnson High School. Your contribution will allow us to purchase equipment and cover our annual website hosting costs.
About the Contributor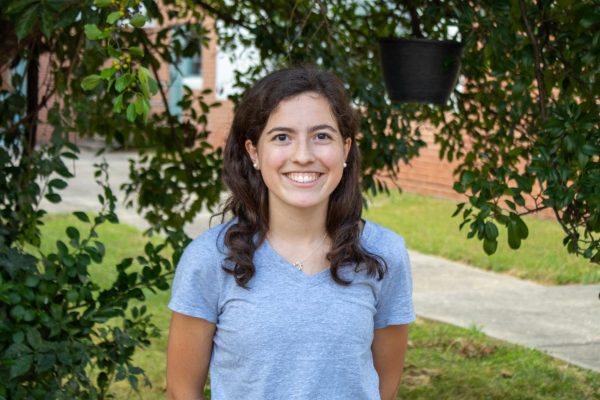 Rachael Wolfson, Print Editor-in-Chief
Rachael Wolfson is currently a senior. This is her third year on The Pitch. During her first two years, Rachael was a Print Opinion Editor and now she...