Schools across MCPS launched Mental Health Awareness Week from Oct. 30 to Nov. 4, offering a range of activities for students, staff and the community. At WJ, the school administration collaborated with the Bridge to Wellness Staff to design daily themes aimed at emphasizing mental health and providing support to uplift and energize our community.
The activities began on Monday, Oct. 30, with a commemoration of our WJ community, featuring a photo booth outside the Main Office.
"Even the smallest reminders for wellness are incredibly important. During the photo booth session, we had fun masks, face masks, glasses, hats and decorations, but we also displayed positive and vulnerable messages. While it may not seem like much, these reminders can have a significant impact on someone just walking by," Youth Development Specialist Payton Belisle said.
On Tuesday, Oct 31, students enthusiastically welcomed back a fan favorite: therapy dogs. This experience allows students to unwind and connect with animals from local shelters.
"My friends and I all went out to play with the dogs. It was a lot of fun, and helped relieve any stress or anxiety I was facing. I've heard that we may have alpacas in the winter months. I can't wait for that," senior Greta Magary said.
Wednesday, Nov. 1, was a day off, conveniently timed just after Halloween. Moreover, it coincided with both the final day for grading of the quarter and the early application deadline for seniors. This break offered a valuable opportunity for all students to recharge and prioritize self-care. The WJ Wellness Team ensured that virtual resources were readily available for students to access.
The theme on Thursday, Nov 2, was "It's Okay Not to Be Okay." Students gathered in the courtyard to create kindness paintings, preparing positive messages and decorations that were displayed in the Wellness Office and the Paws Den. This activity brought the entire student body together, providing an outlet during stressful times.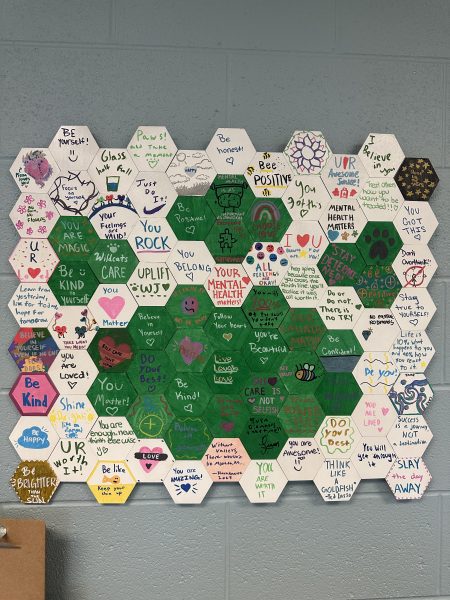 The week concluded with a Walk for Wellness activity on Friday, Nov. 3.
"Students and staff were able to walk together on the track, and connect to people they may not typically interact with. Many students are hesitant to ask for help, fearing that something is wrong with them or that they are different. Showing that everyone deals with mental health in their own way, and that we are all there to work together and support one another is crucial," WJ Social Worker Catherine Kennedy said.
Student leaders and Mental Health clubs across the school, including WJ Sources of Strength and Uplift WJ, also rose to the occasion, supporting wellness efforts.
"While the school has definitely taken positive steps towards building support systems and making students feel uplifted, there is still much to be done, especially when it comes to expanding awareness," President of WJ Sources of Strength Gillian Fannon said.
Looking ahead, the Bridge to Wellness team aims to increase student and staff engagement, through more activities and events throughout the upcoming months. They are hoping to reach underrepresented students, or those who don't feel connected and supported by the community.
"We are considering having an assembly or a larger event to celebrate and remind everyone that mental health matters. Right now, we are finding that the students who are already involved in mental health advocacy are often the ones participating in these activities. While this is great, the most vulnerable group includes those who need help but don't know where to look. We want every student to know they have a trusted adult at school they can turn to. You can visit us anytime, and self-refer." Kennedy said.
Over the past couple of years, WJ has made massive strides in providing mental health resources for students. From teachers, counselors, a school social worker, school psychologist and a Bridge to Wellness team, students have many outlets and opportunities to get help. As MCPS Mental Health week comes to an end, WJ's admin reminds students that this is a yearlong endeavor that the school is committed to honoring.
"It's our responsibility as a school to ensure we communicate that we are here to support our students. We have so many amazing programs that students still don't know about. Our primary goal this mental health week is changing that. We need to continue spreading the word and ensuring our students are served," Resource Counselor Imani Ladson said.