Songs to start off the spring season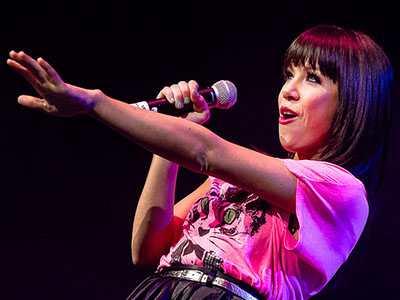 With a little over a week until the official start of spring, the music industry is gearing up for its seasonal releases. From rapper Kendrick Lamar to former folk band Mumford & Sons, spring 2015 is looking to pack a punch with new albums and singles coming out. Check out the playlist below to preview what's to come this spring.
Carly Rae Jepsen- "I Really Like You"
On Mar. 2, Canadian singer Carly Rae Jepsen, infamous for the chart-topping "Call Me Maybe", welcomed in the first month of spring with the sickeningly sugary "I Really Like You," which gives her most famous track a run for its money. The song excited fans and critics alike with its '80s inspired production and Jepsen's above and beyond vocals. Not to mention its music video features both Tom Hanks and Justin Bieber.
Charles Hamilton and Rita Ora- "NY Raining"
There's no doubt hip-hop melodrama "Empire" is taking over America's small screen, but don't sleep on its music. After a record-breaking first season, the FOX show released its first soundtrack produced by Timbaland, featuring favorites Jussie Smollett and Yazz as well as music from the show's many guest stars. The star-studded album features new content from Courtney Love, Jennifer Hudson and Estelle. One of the prime cuts from the guest stars is "NY Raining" by rapper Charles Hamilton and British superstar Rita Ora.
Alabama Shakes- "Don't Wanna Fight"
It has been two long years since Alabama Shakes has released any new content and they are proving it has been worth the wait with a taste from their sophomore album, "Sound & Color." Lead singer, guitarist and overall powerhouse Brittany Howard delights as usual, but the best part about "Don't Wanna Fight" is the combination of funk and grit packed in a delightful three minutes and 53 seconds.
Sam Smith and John Legend- "Lay Me Down"
Looking for something to relate to on those rainy days? Seemingly forever sad singer Sam Smith has partnered up with R&B crooner John Legend to re-record Smith's first-ever single and revive it for charity event Red Nose Day.
Frankie- New Obsession
Mainstream pop fans seem to be in a drought with a Katy Perry and Lady Gaga-less year. But, with Frankie, all will be solved. Frankie is the latest pop singer to step in the limelight through online streaming service SoundCloud. "New Obsession" is a reggae-inspired thirst anthem for the new generation.
Florrie- Too Young To Remember
If Frankie isn't your cup of tea but you're still itching for some good old bubblegum pop, look to Florrie's "Too Young To Remember", a track that evokes a nostalgic pastel daydream complete with blaring electric guitars. Florrie's music will have you blooming this spring.
Christine and The Queens- "Christine (English Version: Tilted)"
Call them an A&R steam engine; Neon Gold Records, once home to Charli XCX, Marina & The Diamonds, Haim, Ellie Goulding, Gotye and Passion Pit, now has the hottest Parisian act under their belt. Christine & The Queens, already a hit in their native country of France, are looking to make their debut in the US with their EP, "Saint Claude". The first single to be released from the EP is "Tilted", a chill electro dreamscape.