Madrigals Advance to Maryland All-State Music Festival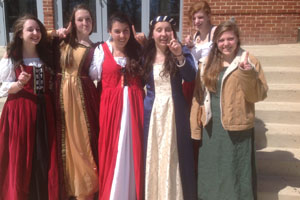 Grace Leslau, Online Feature co-editor & Print Assistant feature Co-editor
March 22, 2013
On Wed., March 20, the WJ Madrigals received straight 1's, which is the highest score possible, for their performance at the MCPS High School Chamber Choral Festival. The group will now advance to the Maryland All-State Music Festival which will take place in April at Morgan State University.
In class, the Madrigals begin by warming up. They then either split up to work on their individual parts or practice a piece as a whole, depending on their upcoming performances. The students are very dedicated to singing, but they also  manage to enjoy themselves in the process. In addition, before a festival, they always join for a breakfast.
"As the top vocal group at WJ, we are all so dedicated to sounding amazing, but we can goof off and do fun things too," said junior Carly Chase.
The competitions consist of an ungraded warm up, two songs and one sight–reading. In a sight-reading, students are given music they have never seen before and are judged on their ability to perform it.  The Madrigals practice such sight-readings in class to prepare for competitions.
The MCPS High School Chamber Choral Festival was held at the Fourth Presbyterian Church in Bethesda. The top choral groups from the high schools in the county performed.
"All the choirs we heard were very polished," said music teacher Kelly Butler. "It was good for the students to hear the other choirs."
In preparation for the All-State Festival, the Madrigals will listen to tapes of their performances and critique them.  Although they are very pleased with their accomplishments at the festival, they will continue to work hard.
"I was very proud of them. They worked hard and were very focused, but not too stiff," said Butler. "It was a solid performance."
The festivals also give the group an opportunity to receive feedback. A clinician works with the group and judges comment on the many different aspects of the performance. Additionally, the Madrigals gained valuable experience through the festival.
"Every time you perform, you become a better performer," said Butler.
However, the Madrigals can always find things to improve upon and will work hard in preparation for the festival in April, where the judges will be more exacting and the group will face stiffer competition.