Spring pep rally is a schoolwide hit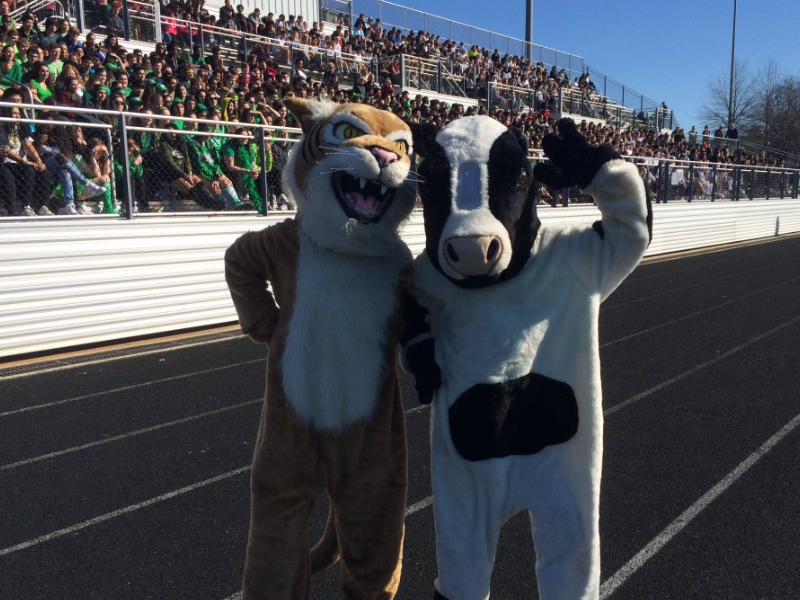 For every sports season, a pep rally is held for varsity athletes to get recognition for their team and to increase school wide spirit.
This past Friday, WJ held their annual spring pep rally, allowing for a double third period class, where all students had the opportunity to go to the field and cheer on the varsity spring athletes.
Spring sports teams were featured, along with other groups such as male poms, drum line and spirited pump up routines.
Each week leading up to the pep rally is a spirit week. Students dress in assigned school wide themes, and on Friday students dress in their grades 'color' or wear a specified outfit to support their varsity team's spirit.
It has become a huge tradition for the varsity sports teams to come up with clever themes to show off at the pep rally.
Sophomore Sadie Keller was a participant in the pep rally as a member of the girls'  varsity lacrosse team. This is her second pep rally with the team, as she was a member of the varsity team last year, too.
"I think it's an exciting and fun way to start off the season, and you get recognition for being on the team which is always fun," Keller said.
In addition, seniors are given special recognition for participating in a varsity sport, and captains will give 'nicknames' or short statements about the players to honor their senior year.
Junior Sarah Sabet was also a participant as a member of the girls' varsity lacrosse team and had a great experience. It is her second year on the team as well.
"I always enjoy pep rallies, especially dressing up and being spirited because it's an achievement to be on a varsity sport, and being on two varsity sports again this year, has been an overall fun experience," Sabet said.
Many people also enjoy watching the pep rally and seeing all the different themes of the varsity sports teams and the performance by the male poms team.
Sophomore Hayley Miller was a viewer at this spring's pep rally. She enjoys the spirited week and activities that go along with pep rallies.
One of her favorite experiences of the pep rally was watching the male poms team trying to do a synchronized routine.
"I'm a member of the girls' poms team, and it was fun to watch the senior boys perform their male poms act, because our seniors helped choreograph it, and it was fun to watch them try to do jumps and stunts like we do in competitions," Miller said.
Overall, the students always look forward to the pep rallies, because they are a fun break from school, and are a fun pep activity.