Students adjust to Homecoming changes
One of the biggest sources of excitement with the return to in-person school is the upcoming Homecoming football game and dance. Since it wasn't possible to hold these events in the last 18 months, there is a lot of pressure this year on the modified events. Decorating the Homecoming hallway and going to the football game are key parts of the Homecoming experience; however, the dance is the event that has had to change the most because of COVID concerns. Changes to the Oct. 9 dance have raised some concerns among students about safety and how the experience will differ from years past.
Leadership has been planning the dance since the beginning of September. A lot of changes have had to be made to allow for a good experience while also being safety conscious. Masks will be mandated, but the most substantial change has been that the dance will be held outside on the tennis courts instead of in the gym.
"It's no longer going to be inside, but that said we are going to have a large amount of people coming so that will be more fun. We lowered the prices as well to make it more accessible to all students. If students need financial aid that is still available. We are trying to do everything online because we feel that it is easier to sell tickets and in general just to kind of gage how many people are coming," SGA president senior Halle Burns said.
Holding the dance outside is a step into uncharted territory, so students don't really know what to expect. This uncertainty has led to some apprehension among the student body.
"I feel like it's going to be different and I know a lot of people are kind of not happy about it and it might be weird and awkward, but I am interested in seeing how it plays out. I am kind of concerned about how everyone is going to fit on the tennis courts," senior Emily Dueñas said.
Leadership is still figuring out how the dance will be organized outside, but they have a general idea of how to use the space efficiently.
"We are not entirely sure on that yet but we know that the tennis courts are going to be the main dance floor. We are probably going to have activities like cornhole or spikeball in the field. Then we might use the concessions to give out snacks and drinks and stuff like that," Burns said.
Other worries of students include space on the tennis courts and the threat of bad weather. In years past, the weather was not a major concern, but with the dance outside, it is much more of an issue. In the event of bad weather, the dance will likely be rescheduled to a later date.
"It's been raining a lot recently so I wonder what's going to happen if it rains," Dueñas said.
No matter what, this will definitely be a Homecoming dance to remember. After last year, just having the opportunity to get dressed up and spend time with friends is special for students.
"I hope I can just have fun with friends…yeah that's pretty much it. There might be some more fun things that I don't know will be happening," freshman Gil Gordon said.
About the Contributor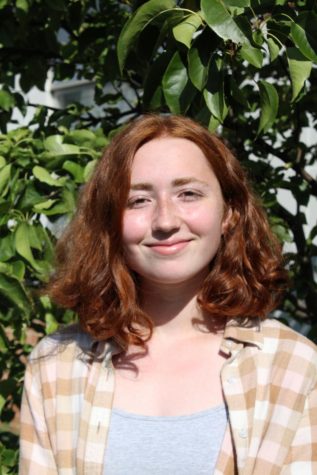 Cora Flynn, Print Feature Editor
Cora Flynn is a senior and in her second year on the Pitch. Aside from writing for the Pitch, Cora spends her time running, making art and hanging out...