Celebrities Show Support for Ferguson Protests
Advertisement
On Aug. 9, an unarmed black teen named Michael Brown was shot and killed by a police officer. This incident came right on the heels of George Zimmerman's acquittal for the murder of Treyvon Martin and caused violent protests in Brown's hometown of Ferguson and across the globe.
Protests (often violent) have continued in Ferguson. Protesters recently attempted to shut down a  local highway,  and many celebrities in the entertainment industry have come forth showing their support for both the deceased Michael Brown and the protests being held in his honor. Artists have recorded powerful songs, released moving videos, and posted thoughtful tweets about the incident.
Perhaps the most famous example is the song "Don't Shoot", recorded by an all-star group of rappers including Two Chains, DJ Khaled, The Game, Diddy and many more. The song's haunting chorus features children singing, "Time to take a stand and save our future, like we all got shot" and "God didn't put us on the earth to get murdered." The song then features a verse by each rapper encouraging people to stand up and take action.
The song includes powerful lyrics such as, "Michael Brown, another soul stole by the system, black men we pay the toll. The price is your life, Uncle Sam want a slice," and "The revolution has been televised. If I sit here and do don't do nothing, homie, that's genocide, f— that, we have arrived! And who cares who ain't on our side cause we on our own, how do you preach peace to a family that just lost they own?"
In a culture where performers are constantly battling and insulting each other in their songs, it's noteworthy that so many rappers came together to deliver their message, really illustrating the magnitude of the situation. Even if you aren't a fan of rap, the song is worth listening to for the lyrics alone. All proceeds from the song (which is available on iTunes) go to the Justice for Mike Brown charity.
While "Don't Shoot" features an all star cast of rappers, another song by a little known rapper called GAGE is quickly gaining momentum. The song, called "I Am Mike Brown," takes a very different approach than "Don't Shoot." While the former encourages listeners to take action and sometimes even crosses the line into encouraging violence, "I Am Mike Brown" preaches reflection and peaceful change.
The song starts out with audio of Brown's mother, describing through tears the future that her son could have had. "You took my son away from me. Do you how hard it was for me to get him to stay in school and graduate? Do you know how many black men graduate? Not many."
The song then goes on to describe the  college future Mike Brown could have had, and blame the police officer for taking it away from him, saying, "He would have started soon, now there's an empty seat in class. All because of these demons hiding behind a badge."
Unlike "Don't Shoot," the song shies away from making a statement about race, saying, "It's not a black and white thing it's about abusing the law." The stand out line from the song is the controversial statement, "We gotta stop rioting in these streets. We ain't doing nothing but proving we animals to police." The song then continues to preach peaceful protests, encouraging listeners to think of families caught in the riots. The chorus describes the way that everyone can relate to Brown, saying "I am Mike Brown because I stand for what he stand for."
The song doesn't have the same name appeal or production quality as "Don't Shoot," but it is just as moving and worth your time.
Many celebrities showed their support in other ways as well, most simply through a tweet or post on social media, but others have gone further. Rapper and Ferguson native, Nelly, has been particularly active in the Michael Brown movement. Nelly decided to travel to Ferguson himself and participate in the protests. He also created a scholarship fund in Brown's memory, hoping to send underprivileged teens who, like Brown, graduated high school, to college. Most recently, Nelly led the crowd at a charity flag football game in Los Angeles to put their hands up and yell, "don't shoot."
While many celebrities have shared their support for the movement in Ferguson or their sympathy, for Michael Brown and his family, others are upset that their colleagues haven't done enough to support the cause. What seems to rub many of these celebrity supporters the wrong way, is the fact that nearly every celebrity in America has released an ice bucket challenge video in support of raising money for those suffering from ALS, when in comparison very few have mentioned the situation in Ferguson.
The song, "Don't Shoot" features the lyrics, "I seen a lot of ice water tossed, and I know it's for a cause. My only question is, what we doing for the loss of Mike Brown?" and "I support the ALS just like the rest of them,but you have yet to pay your debt, so you just flexing then. Because everybody care for a minute, then stop. People only there for a minute, then stop."
Actor Orlando Jones echoed this sentiment in his recently posted "ice bucket challenge" video. The video starts out like every other celebrity ALS challenge video, but the actor pours bullets over his head rather than ice water. Jones tells the camera that he will happily be donating 100 dollars for the challenge, but then takes a moment to talk about Ferguson and the chaos that is going on. Jones himself is an active member of the NRA (National Rifle Association), a member of the Louisiana police force, and not the person you would expect to comment on the situation in Ferguson.
Rather than speaking about the corruption of police or placing blame on anyone involved, Jones decides to challenge himself to change the driving force behind all the pain that has been caused. Jones challenges himself to, "listen without prejudice, love without limit, and reverse the hate," and he challenges his viewers to do the same.
About the Writer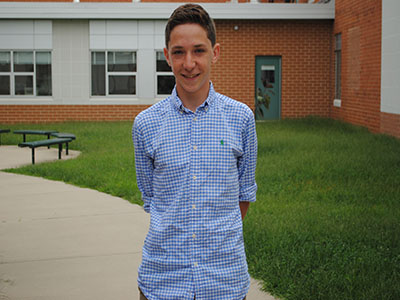 Zack Shapiro, Co-Online Arts & Entertainment Editor
Zack Shapiro will be spending his second year with The Pitch as the online Arts and Entertainment co-editor. He hopes to bring a dose of humor to his...