A Look Into Leighton Meester's "Heartstrings"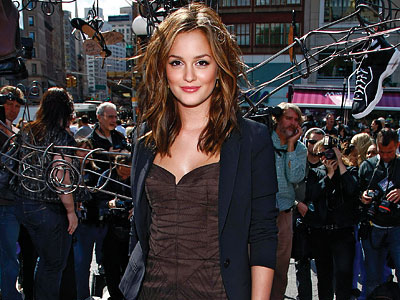 Evan Candelmo, Online Arts and Entertainment Co-Editor
November 6, 2014
The year was 2009 and emerging actress Leighton Meester was at the top of her game. In the middle of her largely successful run on The CW's "Gossip Girl," Meester signed with one of the biggest record labels in the music industry, Republic Records, and released a club-driven track titled "Somebody To Love" featuring R&B singer Robin Thicke. But just as things appeared to be going smoothly for the bright star, everything went immensely wrong. The single never took off, her album was delayed, the album was delayed again. And, it was eventually scrapped completely. Despite being featured on Cobra Starship's Billboard Top 10 hit, "Good Girls Go Bad," Meester's promising music career never took off. Two years after finishing her stint on "Gossip Girl" and five years after releasing anything music related, she has decided to release a new independent album, which will probably end up being one of the best, yet painfully overlooked albums of 2014.
This work, after listening to it in full, makes me feel sad for the artist. Aforementioned, this album is truly an amazing work of music yet its being overlooked by so many former Leighton Meester fans. How could this be the case? Well, first, the release date. While it is very respectable to release in quarter four in the industry, an artist, especially independent, has to be very careful to not release the same day as a huge artist. This is where Leighton Meester messes up: picking the same release date as the monster album that is Taylor Swift's "1989" is not the smartest choice considering Swift has a number one single while Meester chose not to pick an official, radio-friendly single to release, rather a "hype" single to try and let everyone know a new album is coming. This is definitely not the only reason why this album is being disregarded, as even albums of disbanded girl groups (i.e: Danity Kane) are in the iTunes Top 10 while Meester barely makes the halfway mark on the chart.
A second reason why this album will not get the credit it deserves is the advertising plan. While many music blogs such as Idolator and Billboard picked it up, the news virtually hit no fans of Meester, simply because there was no promotion on major platforms, like talk shows such as The Ellen Show, and there was no ad space for the pre-order on iTunes, despite being contracted to major management and publicity companies. Though this was an independent release, it could have gained ample attraction through contacts she had gained from her role in the Broadway play, "Of Mice And Men," the TV show "Gossip Girl," and her many celebrity connections. A simple tweet from Meester's former co-stars like Blake Lively and James Franco could have been the difference between "Heartstrings" reaching #44 (its current state on the iTunes charts) and reaching #10 and maintaining its place for a good 24 hours to get the word out to active followers of the chart.
Despite its current status, "Heartstrings," dubbed as Meester's debut album, not only channels a folk side to the singer/songwriter, but shows a possibility of her developing a cult following on Tumblr, as songstress Lana Del Rey did in the past. Unlike Del Rey, Meester uses various rhythms, making the listener engage in the album as a whole. Highlights of the album like "Good for One Thing," "Sweet" and the title track, "Heartstrings," show the diversity of her songs and show that Meester can be versatile, diverging from similar artists and appealing to fans of most genres of music like folk, jazz or pop.
While fans of Lana Del Rey, Bastille and HAIM could fully embrace this album, "Heartstrings" cannot be truly put in a box. To people discouraged by its decreed pop label, ignore it and just listen, as it truly is an album for everyone.