What makes a good Haunted House?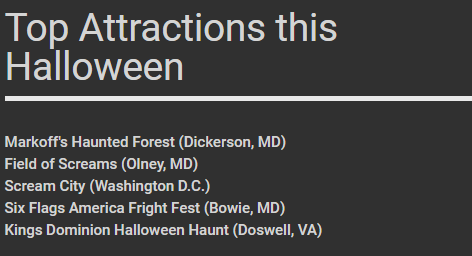 Halloween is a time for many students to let out their inner child by enjoying a variety of traditional fall activities. These activities may include trick-or-treating, costume parties and pumpkin picking. Another very popular activity on Halloween is attending haunted houses. The D.C. area has a wide range of haunted attractions which cater to different audiences. For some people, the most important quality in a haunted house is the fear factor.
"If I'm not scared, then the haunted house is kind of a waste of time. After all, that's the point of Halloween," junior Will Moulec said.
Two of the premier haunts in the area are Markoff's Haunted Forest in Dickerson, MD and the Field of Screams in Olney, MD. Trail passes at Markoff's cost $25 to $30, depending on which night of the week it is, and gives access to one of two trail walks. Tickets for the "Trail of Terror" at the Field of Screams cost $20 to $30, again depending on the night one chooses to attend.
"I've been to both the Field of Screams and Markoff's Haunted Forest before," sophomore Kendall Reed said. "I think Markoff's is better, because the people seemed like they had more passion."
For Reed, interaction between viewer and performer plays a large role in getting one's money's worth.
"It's not enough to have a creepy theme," he said. "The people who work there have to use the element of surprise. The jump scares are what get me. Field of Screams was too crowded, and wasn't scary enough for the money."
Many students enjoy spending lots of time at a haunted house.
"I think the most important thing quality in a haunted house is the length," freshman Marks said. "It could be the scariest haunted house in the world, but if it only lasts five minutes then it's not as memorable, and it definitely isn't worth the money."
No matter where WJ students go this Halloween, they're aiming to get terrified.