Valentine's Day recipes and date ideas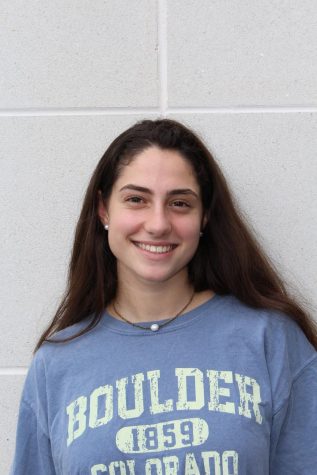 More stories from Sarah Epstein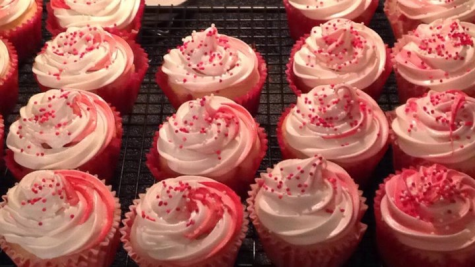 It's that time of the year again! Love notes, fancy dinners, hugs and kisses are things that most people look forward to on this special day. If you are stuck on what to do on Valentine's Day with your significant other or what to cook for that special someone here are some ideas:
Recipes:
Red Velvet Pancakes with Cream Cheese Glaze: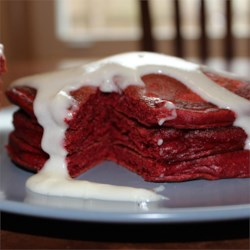 Photo courtesy of LindseaS on Allrecipes
Ingredients:
1 (4 ounce) package cream cheese, softened
1 cup confectioners' sugar, sifted
1 teaspoon vanilla extract
1 tablespoon milk, or as needed
1 1/2 cups all-purpose flour
2 tablespoons white sugar
2 teaspoons baking powder
1 tablespoon unsweetened cocoa powder
1 teaspoon salt
2 eggs
1/4 cup milk
1 cup buttermilk
1 teaspoon vanilla extract
1 teaspoon distilled white vinegar
2 teaspoons red food coloring
1/4 cup melted butter
Directions:
Prepare the cream cheese glaze by beating the cream cheese, confectioners' sugar, and 1 teaspoon vanilla extract in a bowl until smooth. Thin with 1 tablespoon milk or as needed to achieve a pourable consistency. Set aside.
Whisk the flour, white sugar, baking powder, cocoa powder, and salt together in a bowl until evenly blended; set aside. Beat the eggs in a separate mixing bowl until smooth. Whisk in 1/4 cup milk with the buttermilk, 1 teaspoon vanilla extract, vinegar, and food coloring. Stir in the flour mixture until moistened. Drizzle in the melted butter, and stir until the butter has incorporated and small lumps of flour remain.
Heat a lightly oiled griddle over medium-high heat. Drop batter by large spoonfuls onto the griddle, and cook until bubbles form and the edges are dry. Flip, and cook until browned on the other side. Repeat with remaining batter. Drizzle with the cream cheese glaze to serve.
Strawberry Cream Cheese French Toast: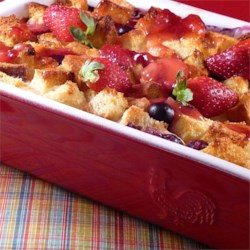 Photo courtesy of lutzflcat on Allrecipes
Ingredients:
12 slices home-style white bread, cut into 1-inch cubes, divided
2 (8 ounce) packages cold cream cheese, cut into 1-inch cubes
1 1/2 cups sliced fresh strawberries
2 cups half-and-half
12 large eggs
1/3 cup pure maple syrup
Sauce:
1 cup white sugar
1 cup water
2 tablespoons cornstarch
1 cup sliced fresh strawberries
1 tablespoon butter
Directions:
Generously grease a 9×13-inch baking dish.
Arrange half the bread cubes in the prepared baking dish. Evenly distribute cream cheese cubes over the bread cube layer; sprinkle 1 1/2 cups sliced strawberries atop cream cheese layer. Layer the remaining bread cubes over strawberry layer.
Pour half-and-half into a blender; pulse for a few seconds. Blend eggs into half-and-half until fully incorporated. Add maple syrup and blend until smooth. Pour mixture evenly over bread mixture. Cover the baking dish with aluminum foil and refrigerate 8 hours or overnight.
Remove baking dish from refrigerator 45 minutes before baking.
Preheat oven to 350 degrees F (175 degrees C).
Bake the covered casserole in the preheated oven for 30 minutes. Remove aluminum foil and continue baking until French toast is puffed and golden brown, about 30 more minutes.
Stir sugar, water, and cornstarch together in a small saucepan. Cook, stirring occasionally, over medium heat until mixture has thickened, about 5 minutes. Mix in 1 cup sliced strawberries; cook and stir until strawberries have softened, about 10 minutes. Add butter; stir until melted. Serve hot over French toast.
Sweetheart Cupcakes: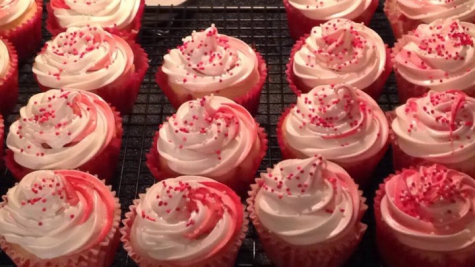 Photo courtesy of Jessica Mclain on Allrecipes
Ingredients:
1 (18.25 ounce) package white cake mix
1 1/4 cups water
1/3 cup vegetable oil
3 egg whites
8 drops red food coloring
2 drops raspberry candy oil
Directions:
Preheat an oven to 350 degrees F (175 degrees C). Line a standard muffin tin with paper cupcake liners.
Beat the cake mix, water, vegetable oil and egg whites together on low speed for 30 seconds, then on medium for 2 minutes, until smooth. Fill cupcake liners 1/3 full with white batter; set aside.
Stir 4 drops of red food coloring into the remaining bowl of batter to make the batter pink, stir in the raspberry oil. Pour 1/3 of pink batter into a resealable plastic bag and set aside.
Mix more food coloring into the remaining bowl of pink batter until it is an orange/red color and pour the batter into a resealable plastic bag. Cut a corner off the bag, stick the open tip into the center of each cup of white batter and squeeze in about two tablespoons of red batter.
Cut the corner off the bag with the pink batter, stick the open tip into the center of the red batter and squeeze about 1 tablespoon pink batter into each cup.
Bake the layered cupcakes in the preheated oven until a toothpick inserted into the center comes out clean, 15 to 20 minutes. Cool completely before frosting.
Raspberry Almond Kiss Cookie: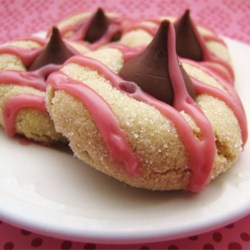 Photo courtesy of Dianne on Allrecipes
Ingredients:
1/2 cup butter, softened
1/2 cup white sugar
1/2 cup packed brown sugar
1 egg
1 teaspoon almond extract
2 cups all-purpose flour
1 teaspoon baking soda
1/4 teaspoon salt
1/4 cup white sugar for decoration
40 milk chocolate candy kisses, unwrapped
1 cup confectioners' sugar
1 tablespoon milk
4 teaspoons raspberry jam
1/4 teaspoon almond extract
Directions:
In a medium bowl, cream together the butter, 1/2 cup white sugar and brown sugar until smooth. blend in the egg and 1 teaspoon almond extract. Combine the flour, baking soda and salt; stir into the creamed mixture. Cover dough and refrigerate for at least one hour, or until easy to handle.
Preheat the oven to 325 degrees F (165 degrees C). Roll dough into 1 inch balls, roll the balls in the remaining white sugar and place them 2 inches apart onto ungreased cookie sheets.
Bake for 10 to 12 minutes in the preheated oven, or until golden brown. While hot from the oven, immediately press a chocolate kiss into the center of each one. Remove from cookie sheets to cool on wire racks.
In a small bowl, mix together the confectioners' sugar, milk, raspberry jam and 1/4 teaspoon almond extract until smooth. Drizzle over cooled cookies.
Strawberry HeartBark
Photo courtesy of Stasty Cook on Allrecipes
Ingredients:
8 ounces semisweet chocolate, chopped
8 ounces white chocolate, chopped
1/2 cup conversation heart candies (such as Necco)
3/4 cup freeze-dried strawberries
1 tablespoon pink sprinkles, or to taste
Photo courtesy of Stasty Cook on Allrecipes
Directions:
Melt semi sweet chocolate in a microwave-safe bowl in 15-second intervals, stirring after each melting, 1 to 3 minutes.
Melt white chocolate in a separate microwave-safe bowl in 15-second intervals, stirring after each melting, 1 to 3 minutes.
Line a baking sheet with parchment paper. Pour semisweet chocolate on the parchment paper; spread into a large rectangle. Drizzle white chocolate over the semisweet chocolate in lines and zigzags. Swirl chocolates together into a marble pattern using a toothpick or skewer.
Scatter conversation heart candies over chocolate. Scatter freeze-dried strawberries and pink sprinkles in the remaining gaps. Let stand at room temperature for about 20 minutes.
Refrigerate chocolate bark until firm, about 30 minutes. Break into large chunks.
With all of the great Valentine's Day recipes above figure out which is your favorite and cook it up with your significant other!
Date Ideas:
Themed dinner and movie night at home:
If you are interested in staying in with your significant other and having a relaxing night, order some themed food whether that be Italian, Chinese or Mediterranean. Cuddle up with each other and watch your favorite Netflix movie!
Great movies to watch on Netflix: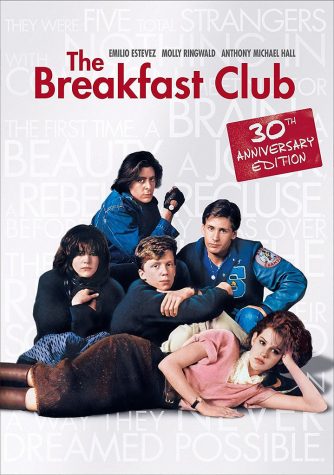 Photo courtesy of Flickr
The Breakfast Club
This classic movie is about five high school students in Saturday detention all for different reasons. They are being watched by the angry principal and share their stories with each other.

Photo courtesy of Pinterest
16 Candles
Another classic about a 16 year old girl (Samantha) facing her 16th birthday with typical adolescent dread. This movie is a perfect high school romantic comedy for couples to enjoy.
To All The Boys I've Loved Before
To All the Boys I've Loved Before is a new Netflix original film is based on a high school junior Lara Jean Covey who writes letters to boys she feels an intense passion for. Soon her letters are exposed and she must try and cover up her feelings for one boy by using another boy with whom she soon falls in love.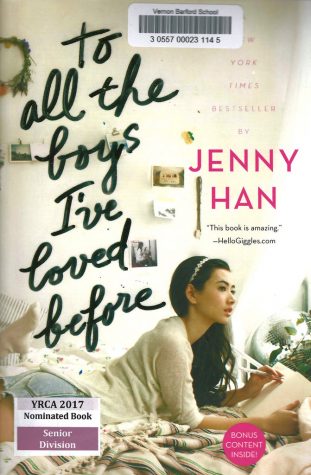 Photo courtesy of Flickr
Fancy dinner out:
Get all dressed up and go out to your favorite restaurant. Dress super cute and have a traditional night out!
Restaurants to go to:
Founding Farmers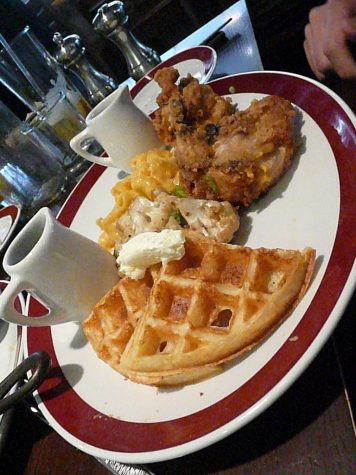 Photo courtesy of Flickr
Founding Farmers is an American upscale casual restaurant with diverse meals to choose from their delicious chicken and waffles to their quinoa bowl. It is perfect for any couple to be happy with their meal.
Ted's Bulletin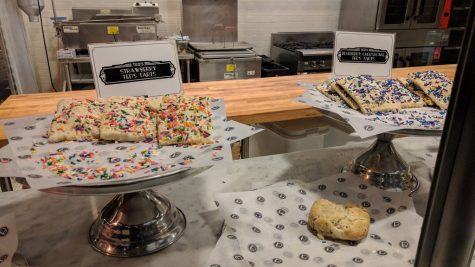 Photo courtesy of Flickr
Ted's Bulletin is located in Gaithersburg and is known for their sweet homemade pop tarts! The restaurant has a variety of food selections and large portions of food.
Del Frisco's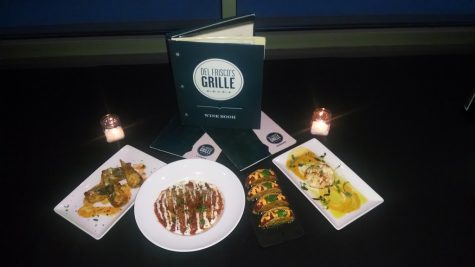 Photo courtesy of Flickr
Del Frisco's is a fancy restaurant perfect for a romantic night out. They are known for their amazing steak, seafood and sandwiches.
Go on a hike:
If you want to have a more active date planned, go out on an adventure at Great Falls! It is right near WJ and it is super calming for a nice couple walk.

Photo courtesy of National Park Service
Your donation will support the student journalists of Walter Johnson High School. Your contribution will allow us to purchase equipment and cover our annual website hosting costs.
About the Contributor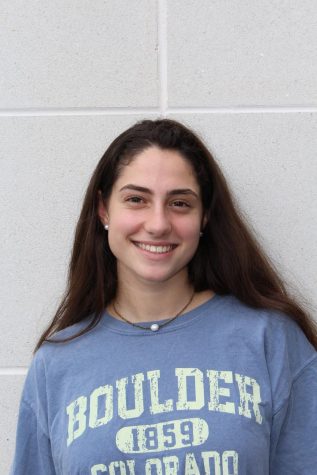 Sarah Epstein, A&E Editor
This is Sarah Epstein's first year as an A&E editor for The Pitch Online. She is very excited to be a part of such a creative and hardworking team....