Netflix's emerging melting pot
Netflix has long been on the cutting edge of media development, first with their DVD delivery service and later with their incredibly popular streaming platform. But now they're trying to break into a new market: global entertainment. If you've noticed an influx of foreign content on your Netflix homepage over the last year or so, you're not alone. A quick Google search of the term "foreign content on Netflix" will glean countless articles and forums dedicated to the topic, with complaints about the algorithm recommending shows from overseas, to people raving about "Dark", the German language psychological thriller that pulls 90% of its viewership from outside of Germany, and ranked top ten in multiple countries according to "Cnet News." "[Netflix] is tailoring video content for viewers by geographic market and then offering that diverse content worldwide. As a result, the service has become quite cosmopolitan," Investor's Business Daily said.
This boom in foreign content comes at a time when Netflix's major competitors, including Disney, are pulling their content off of the platform and starting their own streaming services, while increasing spending on English speaking programs (an activity that Amazon and Apple are also engaging in). Perhaps this is an effort by Netflix to distinguish themselves in an increasingly saturated market, where content is becoming more and more fractured over different platforms.
WJ student Gianna Schulp is an avid Netflix viewer, and has recently become interested in content coming out of Spain. The shows "La Casa de Papel" and "Elite" (the former is one of Netflix's top rated foreign shows) are her favorites, and she enjoys watching them with subtitles. She thinks audio dubbing is clunky and the voice actors are bad, though she admits that she would stick with subtitles instead of dubbing even if they improved the practice.
"I like to hear them speak in their own language because it sounds natural. Plus, I'm trying to learn Spanish," Schulp said.
A chrome extension that launched in December of 2018 called "Language Learning with Netflix" allows Netflix subscribers to utilize the platform as a language comprehension resource, showing subtitles in both the show's language and English at the same time. Despite this, the rest of the US isn't as open to foreign language content as Schulp.
"The appetite for shows made outside of Hollywood in languages other than English is high all around the world, except one place. A survey conducted by Netflix showed a high percentage of US viewers don't want to watch content in languages other than English," Cnet News said.
Another one of Netflix's surveys discovered that while Americans claim to watch foreign films and documentaries, the analytics tell a different story. However, there may be hope for American viewership. Studies show that Americans are far more likely to finish a show if it's dubbed rather than subbed. While many may say it isn't the purest way to consume content, it's a step in the right direction towards a truly global platform where Americans can experience different points of view.
"By exploiting our desire for a steady stream of new content, the company is subtly exposing us to new languages and cultures. The end result is millions of viewers who learn that human nature is universal and we are more alike than we might have thought," The Independent said.
In a world that is growing increasingly complex, it's important for Americans to understand their shifting role in global culture. Things are changing, and western culture is no longer dominating the world stage. The sooner we accept that and adapt, the better off we'll be.
Your donation will support the student journalists of Walter Johnson High School. Your contribution will allow us to purchase equipment and cover our annual website hosting costs.
About the Contributor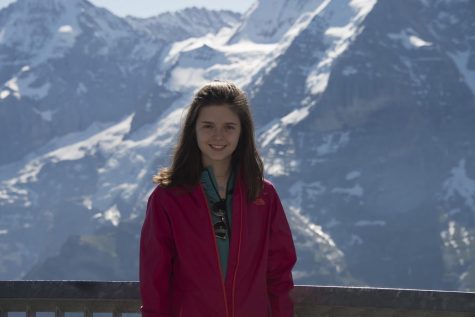 Chelsea Laurik, Print Feature Editor
Chelsea is a senior excited for her second year on the Pitch staff. She also sings with the Madrigals, is co leader of the all female acapella group Vanilla,...