Spring fashion trends: Quarantine Edition
As the April showers have come to a close and the month of May starts to roll in, WJ students are trading in their dark and heavy apparel for bright and vibrant Spring toned clothing. Although this Spring is like no other before, quarantine fashion has made its way into the trends. Even though they may be confined to their homes, students are sporting comfortable yet chic outfits this time of year.
One particular trend that has been quickly popping up into students' interest lately is tie dye sets. These sets usually consist of a tie dye crewneck sweatshirt with matching sweatpants. Just to name a few, brands such as LF, Pacsun, Revolve and Urban Outfitters have all been selling a variety of different tie-dye sets. However, many students, often due to boredom during quarantine, have decided to start making their own tie dye sets. These DIY sets are often cheaper to make than buying them from the store.
"I ordered dye and a plain sweatsuit set from a wholesale website, and I tie dyed it in a bucket. I really love the way it turned out because it is a super comfy and warm way to have a cool outfit without trying or looking like you're trying. The set I made is also monochromatic which is in right now, as is the baggy look," junior Abby Matson said.
Another spring trend that is popular among students is loose fitting pieces of clothing.
"I have been loving flowy tops and dresses lately, I recently purchased this new plaid ankle-length dress with tie up sleeves from my favorite online thrift store, Moby Thrift," senior Holly Darby said.
Some students, who used to wear multiple outfits in a day are now making a difference in helping the environment by sticking with wearing the same thing all day.
"I think it is actually really great that people have been wearing the same outfit for multiple days, cleanly I hope. For myself at least, it has reduced my carbon footprint because I don't have to do as many loads of laundry each day," Darby said.
Making their outfits, accessories and shoes look cohesive has been fun to experiment with during this quarantine for some students.
"I like a lot of contrast with what I wear, so I will wear something like a pastel mini dress with big boots, but I always make sure that there is an accessory to tie it all together. Hair clips, jewelry and socks are a few ways I like to pull my entire look together," junior Ashley Wallace said.
About the Contributor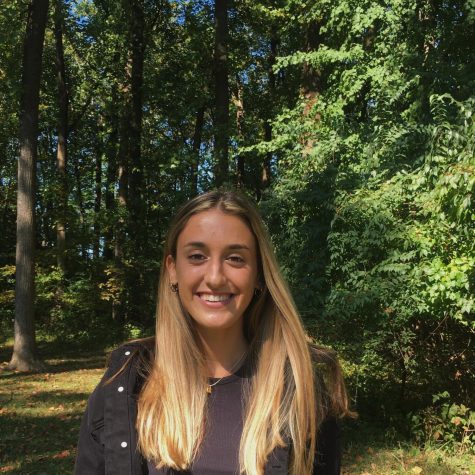 Sloane Morra, Online A&E Editor and Cartoonist/Illustrator
This is senior Sloane Morra's second year working on The Pitch. She is excited to not only be working as an A&E editor this year but also as an illustrator....