What WJ students watch for Halloween
As soon as October hits, the spooky season begins and the Halloween spirit rises! To celebrate the holiday, decorations are put up, costumes are ordered and scary movies surge. Watching Halloween movies is more than what meets the eye: it's an experience that extends beyond the screen, whether that be by dressing up, bringing your friends together or eating your favorite snacks.
The food
Halloween mixed-candy bags contain a variety of candy and chocolates. These pounds of candy are meant to be passed out to trick or treaters or demolished at home. According to Forbes, America's top 10 Halloween candies are:
Reese's Cups
Skittles
M&M's
Starburst
Hot Tamales
Sour Patch Kids
Hershey Kisses
Snickers
Tootsie Pops
Candy corn
Candy not only plays a big role in trick or treating, but is a necessity for many Halloween movie viewers. Children chow down on piles of candy while watching movies, even after trick-or-treating. Some parents go out of their way to make Halloween themed meals. One of the easiest and most creative meals I've seen is spaghetti with monster-eye meatballs. In order to make these, a small circle of cheese is placed on top of the meatball, then a smaller circular mushroom is placed on top of the cheese.
"When it comes to watching scary movies my friends and I normally order pizza. For snacks, popcorn is a must. [Whether] at home or in theatres, you can never go wrong with popcorn. And when it comes to candy or chocolate, my favorite chocolate is Twix," senior Valeria Guillen Sanchez said.
The ambiance
Movie theatres always turn the lights out but when watching movies at home, the light setting is your choice. The viewing experience can be changed in many ways to fulfill the watcher's content. Having no light is one of the main choices for those who enjoy being frightened. Another choice is to dim the lights in order to set a calming mood. Many teens have LED lights in their bedrooms; different colors and brightness set different moods.
"If I'm feeling dangerous, I'll turn off all the lights before putting on a scary movie," senior Kenneth Dempster said.
Guillen Sanchez enjoys watching horrors in the dark, to create more suspense and build fear amongst herself and her friends.
"With any movie, I always turn all the lights off. It just makes the movie better, especially with scary horror movies during Halloween," Guillen Sanchez said.
The location
Once in a while, movie theaters will feature reruns, but at home, you can always access both classics and modern movies. At the movie theaters, it's likely you're going to see a movie that has just come out. The majority of people go with their significant other or with a group of friends. It's always nice to have someone to latch onto when you're scared, as well as to laugh at each other's reactions. While at home, you can do the same but it is easier to access older movies that you haven't seen as well as classics.
Freshman Jasmine Williams enjoys watching Halloween movies in the comfort of her home. "Being at home gets you more into that holiday feeling," Williams said.
The movie content
There is a Halloween movie for everyone. Some of the different movies are horror films, thrillers and comedies. Halloween movies aren't just geared for teenagers and adults; there are plenty of Halloween movies for little kids. If you're feeling a little bit adventurous watch some sci-fi ("Alien" or The Thing) or if you want to laugh you can watch a comedy ("Madea Boo 2"), or if you want to be scared watch a horror ("Nightmare on Elm Street") or a thriller ("Get Out").
"My favorite Halloween movie to watch with friends is 'The Nightmare before Christmas' because my friends and I sing off-key during each of the songs," Williams said.
Dempster likes to watch Halloween movies that remind him of his childhood.
"I watch 'Monster House' every year, it's one of my childhood movies. It's funny and has cool animations," Dempster said.
Your donation will support the student journalists of Walter Johnson High School. Your contribution will allow us to purchase equipment and cover our annual website hosting costs.
About the Contributor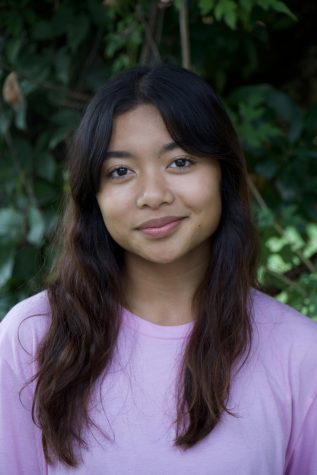 Laura Mata, Layout and Design Editor





This is Laura's second year as the layout and designer editor for the Pitch. She enjoys spending time with friends and family.